China's Economy Grows By A Record 18.3% In Q1; It's Not Enough
China's economy grew by a record 18.3% in the first three months of 2021, its fastest annual growth rate in history reflecting the weak comparison to the lockdown period in early 2020. However, in keeping with the recent theme of China's slowing credit impulse, the GDP print wasn't nearly enough and disappointed markets which were expecting an 18.5% number.
The Chinese slowdown was even more visible in the quarter-on-quarter growth which slowed to just 0.6% from 2.6% in the previous three months – the second lowest quarterly growth rate since the financial crisis with the sole exception of the covid crash quarter a year ago, while the picture in the monthly data dump was mixed at best.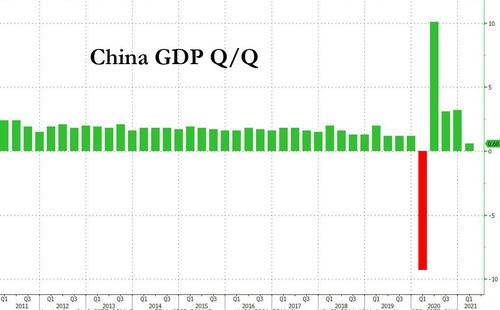 China's expansion was supported by household consumption, which had previously lagged behind the wider recovery but is expected to play a greater role in driving growth this year. Retail sales beat expectations to add 34.2% in March, rebounding from a period of lockdowns a year earlier. Industrial production also boosted growth, with the metric adding 24.5% in the first quarter and alongside booming exports has helped prop up growth over the past year, it did, however, miss expectations in March and only rose 14.1% year-on-year.
Other data was also mostly disappointing with both industrial production and fixed asset investment missing, while only retail sales beat:
March industrial production came in at +14.1% yoy, well below the 18.0% consensus forecast. Based on IP by major product data, cement production decelerated to 33.1% yoy in March from 61.1% yoy growth in January-February; steel product production grew 20.9% yoy in March vs. 23.6% yoy in January-February; electricity production decelerated to 17.4% yoy, from 19.5% in January-February.
Fixed investment growth also also slowed in March. FAI growth was +25.6%Y/Y in Q1 2021, below market expectations of 26.0% On single month basis FAI growth was +19.4% yoy in March (vs. +35.0% yoy in January-February).
Retail sales were the only bright spot and beat expectations.  March retail sales growth was 34.2% Y/Y vs. +33.8% in January-February and above the 28.0% consensus. Still, automobile sales growth slowed to +48.7% yoy (vs. +77.6% yoy in January-February).
The nationwide unemployment rate dropped to 5.3% in March, vs. 5.4% in January-February; and was at 5.3% for the 31 major cities in March, vs. 5.5% in January-February.
China Jan.-March Property Development investment rose 25.6% Y/y

Jan.-March property sales value rises 88.5% y/y to 3.84t yuan
Jan.-March home sales value rises 95.5% y/y to 3.51t yuan
Jan.-March property sales area rises 63.8% y/y to 360m sqm
Jan.-March home sales area rises 68.1% y/y to 323m sqm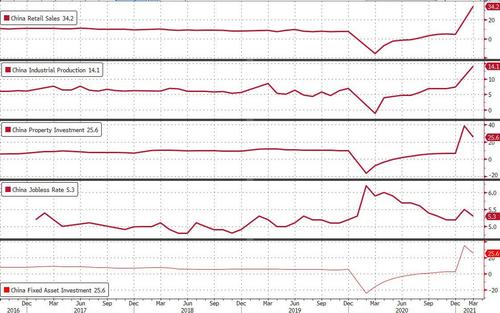 The Chinese recovery from the pandemic also helped it dominate global trade, with exports rising every month since June last year. In March, exports added 30% in dollar terms compared with the same month a year earlier.
In light of China's recent aggressive deleveraging which has pushed China's CSI300 just shy of dipping below the 200DMA, focus has shifted to the prospect of rate rises, with signs of overheating across parts of the economy despite persistently low consumer price inflation. The government is trying to curb leverage across its property sector, as well as rein in record rates of steel production following a construction boom.
Several high-ranking officials have warned about the risks of high asset prices in recent months. Guo Shuqing, China's top banking regulator, said in March that the country was exposed to "bubbles" in international markets and its own real estate sector.
And sure enough, with China's CSI300 down 15% since hitting a record high in February, the overall economic direction points to an ongoing, broadening slowdown in China's economy whose peak hit some time ago. That probably explains, why National Bureau of Statistics spokeswoman Liu Aihua talked up the recovery, especially among consumers, though she also flagged sectors such as services industries, smaller business and young workers who all need ongoing support.
"Generally speaking, the national economy in the first quarter presented continued momentum of stable recovery," China's National Bureau of Statistics said in a statement.  "However, we must be aware that the Covid-19 epidemic is still spreading globally and the international landscape is complicated with high uncertainties and instabilities."
Markets were choppy on the data release with the CSI 300 Index falling as much as 0.6%, and briefly sliding below the 200DMA key support level, while the Shanghai Composite reversed its early losses to gain 0.2%. The benchmark 10-year sovereign bond yield fell 1 basis point to 3.166%; the onshore yuan lost 0.17% against the dollar.
Asian stocks traded slightly lower as China's record economic growth failed to inspire new investment in the region's equity markets. Across the Pacific, US 10Y yields were unchanged as were US equity futures.