Philippines Summons Chinese Ambassador Over Reef Dispute As War Games With US Kick Off
The United States and the Philippines have just kicked off two weeks of military drills at a moment that Manila and Beijing are locked in a war of words over a disputed area surrounding Whitson Reef.
The exercises are annual – though last year's were canceled due to the coronavirus – and this year is dubbed the "Balikatan" (shoulder-to-shoulder) exercises. The drills have been cut in terms of troop numbers due to the pandemic, and will involve some 700 US and 1,300 Philippines troops.
Philippine Defense Secretary Delfin Lorenzana said the drills "inspire confidence" in both the US-Philippine as well as relationship of regional allies at a moment the Visiting Forces Agreement (VFA) is being negotiated for an extension, and a moment of maritime territory disputes with China.
The Associated Press describes of the drills' opening: 
U.S. and Philippine officials hailed the strength of their treaty alliance in an opening ceremony in Manila. They made no mention of their earlier denunciation of Beijing for the swarming of suspected Chinese militia vessels at a Philippine-claimed reef in the disputed South China Sea.

Philippine Defense Secretary Delfin Lorenzana said the combat drills called Balikatan, Tagalog for shoulder-to-shoulder, represent "a rock-solid commitment to keep our ties ironclad."
The Philippine government has over much of the past month been vehemently denouncing Beijing for sending a "maritime militia" near the contested Whitson Reef (alternately spelled Whitsun Reef), which lies some 175 miles west of the Philippine province of Palawan and lies in the hotly disputed and heavily trafficked Spratlys region.
China has responded by saying the ships are merely "civilian fishing vessels", but the bellicose rhetoric has only grown between the two sides over the past week.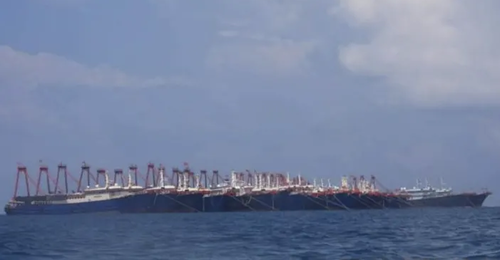 Above: March 7, 2021 photo by the Philippine Coast Guard showing a very large group of Chinese vessels off the reef. Some 220 Chinese vessels were seen moored there.
Manilla believes China is using a massive presence of over 200 vessels to effectively establish control over the area as we previously described last month.
Escalating the crisis further the Philippines on Monday summoned the Chinese ambassador to protest China's actions, with Philippine Foreign Undersecretary Elizabeth Buensuceso expressing Manila's "displeasure over the illegal lingering presence of Chinese vessels around Julian Felipe Reef," according to an official statement released Tuesday.