"Looks Like Nuclear Winter" –  St. Vincent Awaits Next Volcanic Explosion 
One day after a powerful eruption at La Soufriere volcano in the eastern Caribbean flung a massive column of ash more than 33,000 feet high, geologists warn, perhaps, a much larger eruption could be nearing. 
"The first one might not have necessarily been the biggest one. It's possible you could have explosions that could go higher and carry plumes higher in the atmosphere than this one did," geologist Richard Robertson of the University of the West Indies' Seismic Research Center said during a press conference who was quoted by Loop News Caribbean. 
Robertson then warned: 
"The first one is not necessarily the worst one, the first bang is not necessarily the biggest bang this volcano will give," adding that volcanic activity could last days or weeks. 
Since the early morning eruption on Friday covered homes, cars, streets with heavy ash, conditions are worsening on the island and surround islands. 
Ashes from the volcano in the Red Zone in St Vincent 🙏 pic.twitter.com/NU5F3Xf0l3

— Mush D Vagrant (@FasalMohamed1) April 10, 2021
JUST IN – North coast of Barbados falls into darkness at NOON due to volcanic eruption on the island of St. Vincent. Eerie scene, almost like a nuclear winter. pic.twitter.com/fwdn92Drpc

— Empress-Elect Viking-Goddess Lisa (@brasiwaiian) April 10, 2021
St Vincent is covered in Ash post volcano eruption. This is awful #StVincentAndTheGrenadines pic.twitter.com/VEoJexSRS4

— Ama Rock (@ARockWorld) April 10, 2021
Prime Minister Ralph Gonsalves was quoted by a local radio station on how to remove ash. 
"It's difficult to breathe," Gonsalves said, adding that "What goes up, must come down."
In late December, we first briefed readers about the prospects of the upcoming activity at La Soufriere volcano on St Vincent, located in the Caribbean Sea, between Saint Lucia and Grenada.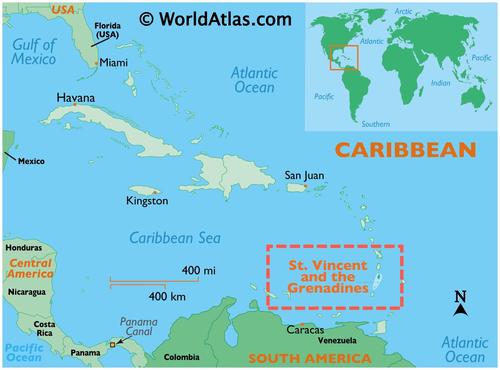 Then on Friday morning, we were one of the first to report the eruption of the volcano as St. Vincent's National Emergency Management Organization (NEMO) tweeted: "Explosive eruption at La Soufriere." 
The initial eruption was caught on camera by one Twitter user. The picture below is stunning.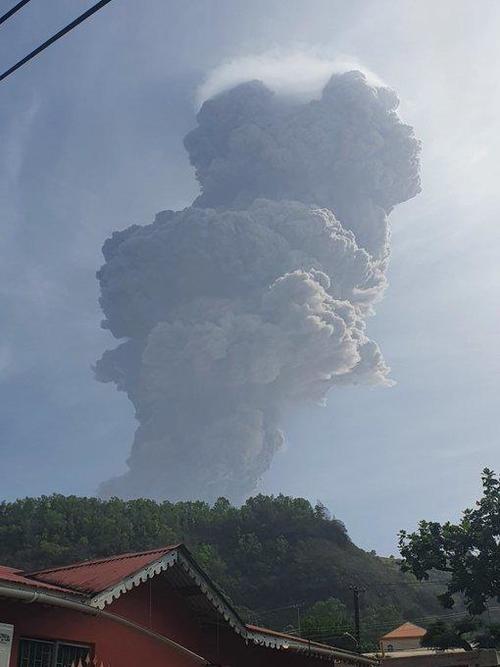 The ash plume was so large that it was captured on satellite imagery and also visible from space. 
The La Soufrière volcano on Saint Vincent island erupted today spewing its plume eastward across Barbados. This IR satellite animation shows the action earlier today. pic.twitter.com/RuJDyldrNs

— Damian Peach💙 (@peachastro) April 10, 2021
The ash forced the cancellation of several flights as thousands evacuated via cruise ships. Barbados, Antigua, Guyana, and St. Lucia are surrounding islands offering evacuees arriving via Carnival and Royal Caribbean cruise ships a safe place to wait out the volcanic event. 
The volcano has had six eruptions — in 1718, 1812, 1814, 1902/03, 1979, and 2021.  
Here's a live feed of St Vincent, 
It has become a waiting game for the next possible eruption.