Stimmy Bonanza: Here Comes Another Blockbuster Retail Sales Print
Bank of America's economists have been on a roll in the past two months.
Back in February, the bank looked at its credit and debit card spending data and concluded that consensus was far, far too low, predicting that the Jan retail sales print would be above 4.1%.
Not only was BofA's outlier forecast right, but the headline retail sales number came in even higher: at a whopping 5.3%, nearly 5x higher than the consensus estimate of a 1.1% rise.
One month later, when the Wall Street herd scrambled to make up for its clueless January forecast by being overly optimistic, Bank of America once again took the contrarian approach, not because it wanted to but because that's what the data showed: spending on BofA branded credit and debit cards tumbled in February, prompting BofA to predict a -3.0% retail sales print.

Once again, BofA was spot on to the dot, with the official retail sales print coming at -3.0%.
So with the March retail sales on deck, Wall Street can take its perpetually wrong consensus estimate and shove it, all that matters is what BofA's economists expect. And that, according to the latest note from BofA economist Michelle Meyer, is nothing short of March Madness, which just so happens is what the bank titled its retail sales preview…

… which expects the March retail sales to print a blowout 11.1% (ex-autos, and 11.5% headline), which would be the third highest monthly print on record (and nearly 3x the consensus estimate for retail sales ex-autos of 4.4%).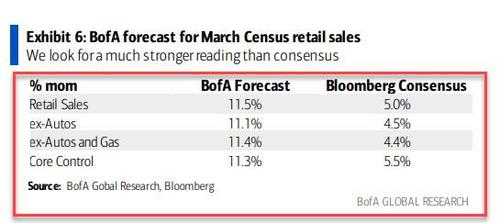 Here are the details: based on aggregated BAC credit and debit card data, total card spending increased 67% on a 1-year change and 20% on a 2-year change, over the 7-days ending April 3rd. The 2- year change, which captures the underlying trend, was steady compared to last week and roughly double the growth rate prior to the stimulus distribution. More remarkable was the monthly data: based on aggregated card spending, retail sales ex-autos increased 11.1% mom SA (seasonally adjusted) in March.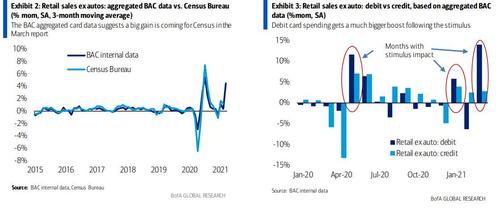 A breakdown of spending by category saw the biggest jump in airline spending, which rose 37.5% sequentially, with groceries up just 1.9% M/M, even though travel spending has yet to return to pre-pandemic level. That said, goods spending is now running well above pre-pandemic levels!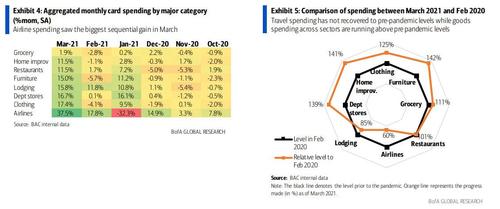 Of course, the reason for the surge is simple: stimmy checks. As BofA notes, over the 7-days ending April 3rd total card spending was up 33% yoy over a 2-year period for stimulus recipients vs. a 14% gain for non-recipients (defined as those who did not receive the stimulus payment through direct deposit on Mach 17). On Day 17 after stimulus distribution, stimulus recipients are spending 24% more than others.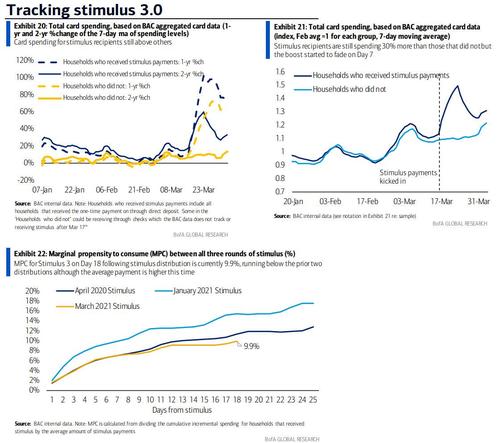 A big driver of the incremental spending is restaurants, where spending was up 13% over the 7-day period (2-year change) vs. mid-March when it was still in negative territory. Notably, NYC in-person dining is now running at -39% over a 2-year period vs. nearly -70% in the beginning of February.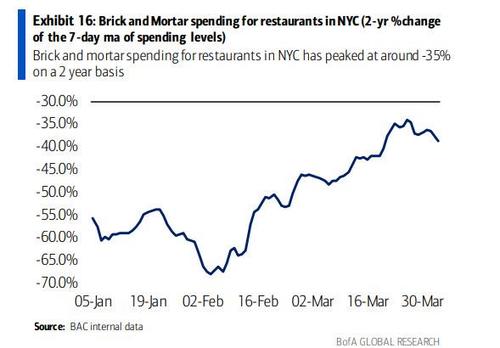 BofA also looked at activity in Florida where there was a boost from travel: in-person dining in Florida by out-of-state residents is up 21% on a 2-year basis vs. 10% on a 2-year rate for FL residents

Another interesting observation from the latest BofA data: investors are starting to turn their back on online spending, and after a year of lockdowns, are now far more interested to spend their moeny at traditional brick and mortar outlets.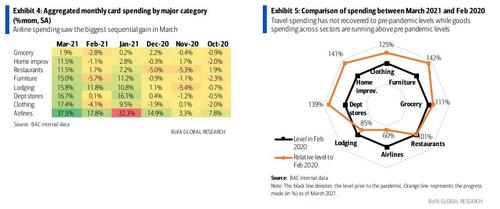 Going back to the monthly data which pro subs can find in the usual place, BofA concludes that the blistering 11.1% surge in March "showed the impact of stimulus, reopening and better weather" and "should set up for a very strong Census Bureau report" indeed, BofA sees upside for the official Census number even relative to the bank's 11% growth rate. As the chart below shows, the Census showed an even bigger gain following the last two stimulus distributions than BofA data.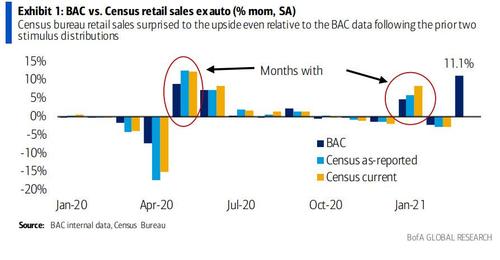 According to BofA economists, "this reflects the likely increase in cash usage which is consistent with the relatively larger gain in debit vs. credit spending during stimulus distribution months."
Finally, here is what the retail sales data will look like chart in historical context: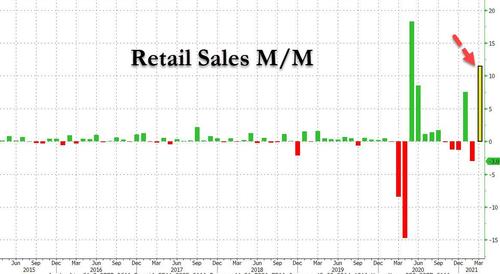 Since by now we have little reason to doubt BofA data, which is derived directly from spending patterns, expect the third biggest jump (and maybe second if there is enough upside) in retail sales on record. The question, of course, is what then – with far fewer direct stimmies on the horizon, is this as good as it gets for a long, long time?