Housing Market Euphoria Craziest In Years As Inventory Sinks To New Low 
The housing boom sparked by the Federal Reserve during the virus pandemic was built on historically low mortgage rates (thanks to Powell), and accelerated by a combination of record low inventory as city-dwellers moved to rural areas amid remote-work phenomenon. 
According to Zillow Group Inc, the past year has been the hottest real estate market since 2007, with median sale prices in dozens of metro areas recording double-digit percentage increases from a year ago. Simultaneously, the number of homes for sale in March was approximately half of what it was a year ago, according to Realtor.com. 
This means that record-low inventory coupled with low mortgage rates has resulted in about 59% of homes that recently went under contract had an accepted offer in under two weeks of being listed, a record said the Redfin report. 
Goldman Sachs' Marty Young, citing the Redfin report, told clients demand for single-family housing is outpacing supply. 
The Case-Shiller US house price index came in up 11% year over year through January 2021, with prices growing at a 16% seasonally annualized pace over the three months from November 2020-January 2021. More timely indicators of house prices point to similar or even stronger growth, with prices on new listings in March 2021 up 15% year over year, according to data from Redfin.

Demand for single-family housing remains solid, driven by still-low mortgage rates and an improving economy, but supply of homes available for sale remains highly constrained, with new listings and total active listings as of March 2021 down 14% and down 52% vs. year-over-year levels according to data from NAR. We look for US house prices to grow 4.7% for full-year 2021, but constraints on housing supply pose an upside risk to the forecast.
Young shows 2021 housing inventory continues to slide. The emerging problem is low inventory plus low mortgage rates resulted in soaring home prices, making it harder for buyers to afford a home. 
Ultra-low inventory in 2021 has sparked a competitive market for first-time and existing buyers who submit offers well over the listing price. These speculative episodes are commonly referred to as bidding wars.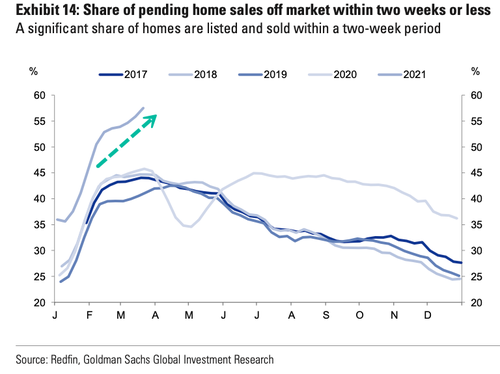 Goldman shows a stunning chart on the number of single-family homes available for sale has hit three-decade lows.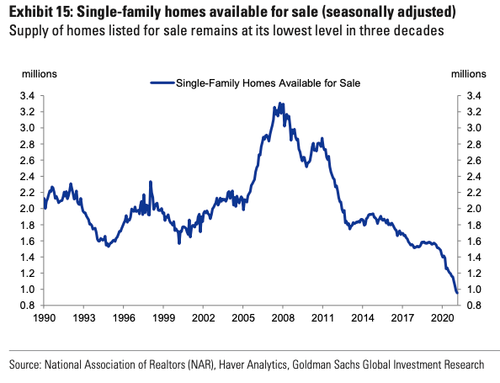 It would take about two months to exhaust the current supply of existing single-family homes and about five months of new single-family-homes at the current sales pace.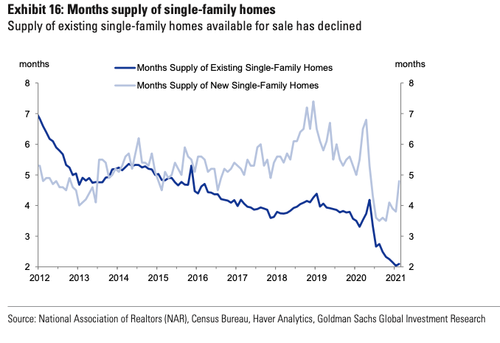 There are early indications homebuyer demand could be waning as housing becomes unaffordable.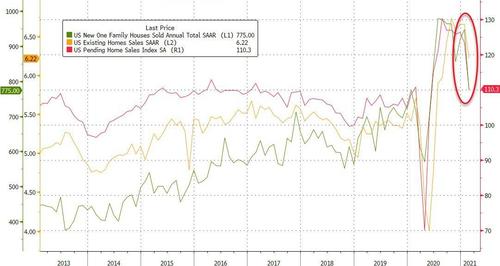 Tight supply and low mortgage rates risk producing a redux of the housing mania seen in the mid-2000s. 
"More inventory could come on the market this spring, which is typically the busiest season for home sales, real-estate agents say. But there are unlikely to be enough new listings to cool the market," WSJ noted. 
… but as we all know, manias don't last forever and today's housing boom is beginning to develop red flags as bond traders start pricing in rate hikes.