New COVID Cases Jump In 27 States As Fauci Urges Them To "Take It Easy" On Reopening
As Germany joins the growing list of EU nations expanding or reinstating lockdown measures, the US is eyeing Europe's "third wave" nervously, especially as genetic sequencing has uncovered new fast-spreading mutant strains in the US, while also revealing that strains first isolated in the UK and South Africa have also come to dominate newly diagnosed cases in some of the largest states.
Meanwhile, the latest data from the CDC show the number of newly confirmed COVID cases in the US increased by 1% last week, yet another troubling sign that the dramatic slowdown in the pace of the pandemic might itself be running out of steam. Some are looking at places like Texas and Florida and insisting that the rollback of certain restrictions was to blame.
Across the US, an average of 54,308 new cases per day was logged over the past week, a rise from the prior week after months of rapidly declining case numbers.
What's even more concerning: 27 states saw increases of more than 5%, even as the US appears on track to beat President Biden's target as it reaches 2.5MM vaccinations per day.
The numbers arrive as NJ Gov Phil Murphy announces that he will pause the Garden State's reopening just after raising indoor dining capacity (as well as capacity at gyms and other 'recreational' facilities) to 50%. NYC Mayor Bill de Blasio is urging Gov. Andrew Cuomo to do the same in NY (though we wouldn't be surprised to see Cuomo's political priorities get in the way).
After announcing plans to open vaccine access to those 50 and up, Cuomo said he has no plans to increase restaurant capacity.
Of particular concern is a jump in new cases reported in Michigan, where the CDC has projected that the more contagious and potentially more deadly B117 variant might be behind the surge. New cases are up by 50% compared with a week ago, with the average rising to 3K new cases per day.
Some health officials have said that the B117 variant could be what's behind some particularly worrying surges seen in various states, including Michigan, where cases have risen dramatically in recent days. According to data from Johns Hopkins, Michigan is reporting an average of almost 3,000 new cases per day, up by about 50% from a week ago. And, as the NYT points out, new cases have more than doubled over the past 14 days.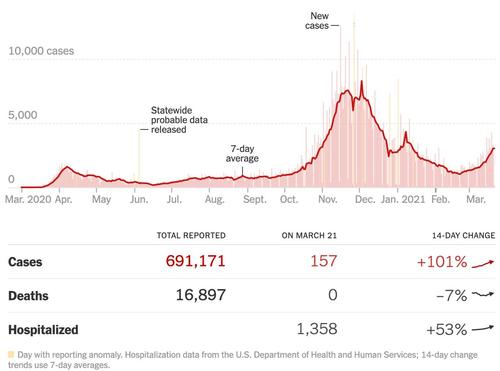 Source: NYT
The rise comes after the Democratic-controlled state allowed restaurants to reopen for indoor dining on Feb. 1, pushed for schools to offer in-person learning by March 1, and eased restrictions on restaurants and gatherings earlier this month. The recent surge there even prompted Dr. Anthony Fauci to plead with Democratic Gov. Gretchen Whitmer to "hold off for a bit" on the reopening plans. Though she isn't the only blue-state governor who has been criticized for pushing ahead. Aside from Cuomo, Conn. Gov. Ned Lamont has also been criticized for signing off on reopening measures that went into effect last week.
All the while, the US is nearing the 30MM case mark. Although Brazil has surpassed the US in terms of daily new COVID cases and deaths, there's still plenty of reason to panic. If America's vaccination successes are driving deaths lower, then what's driving all the positive tests? Are we certain it's the variants, like Dr. Fauci believes?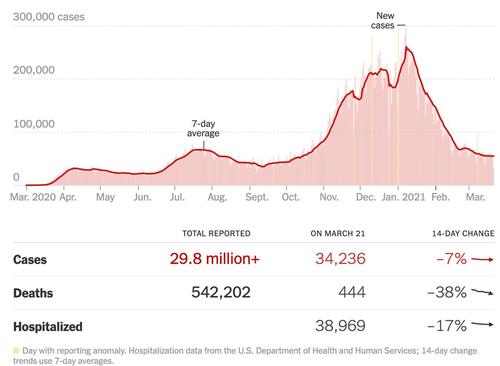 Or might there be another explanation? Could nurses, teachers and others be testing positive 'by accident' after receiving the jab be contributing to the rising case numbers?
The RNA vaccines makes your own cells produce the spike protein that your immune system is supposed to attack. The same spike protein is searched for in the PCR test – so you may test positive after getting the c-jab

— Jesper Faerch Jensen (@FaerchJensen) March 7, 2021
Take the case of Pakistan PM Imran Khan, who tested positive two days after being vaccinated. It was reported in the press that he may have been infected beforehand.
Imran Khan, the prime minister of Pakistan, has tested positive for the coronavirus. He received his first dose of a Covid vaccine two days ago, and doctors believe he was infected beforehand. https://t.co/XeL2VxKPwj pic.twitter.com/wT7IPd54sy

— New York Times World (@nytimesworld) March 20, 2021
But if the vaccine contains the spike protein DNA…shouldn't a positive test in the days after vaccination not be a surprise?