Sub-Hunting Drone Completes Successful Test Off California Coast
The US Navy and General Atomics tested a Reaper drone for the first time ever with new submarine-hunting technology, according to Defense News.
The General Atomics' MQ-9A Block V Reaper drone dropped ten sonobuoys were used to track an underwater training target that mimicked a submarine. 
The test was conducted in November. The MQ-9A Block V Reaper is part of a research and development project with the Navy's Naval Air Systems Command.
The successful completion of the test may lower submarine-hunting surveillance costs and divert more expensive human-crewed airplanes, such as the Boeing P-8 Poseidon, to more critical missions. 
A General Atomics tear-off sheet shows the MQ-9A Block V Reaper has four pods that can carry up to 40 'A' size or 80 'G' size sonobuoys. During the test, the drone dropped sonobuoys to track an underwater target in real-time. 
"This demonstration is a first for airborne antisubmarine warfare. The successful completion of this testing paves the way for the future development of more Anti-Submarine Warfare capabilities from our MQ-9s," said General Atomics Aeronautical Systems President David Alexander in a statement. "We look forward to continuing collaboration with the US Navy as they explore innovative options for distributed maritime operations in the undersea domain."
Using drones for anti-submarine warfare could be the cheapest bet for the military to monitor the Pacific Ocean as China continues to expand its underwater capabilities. 
Suppose the MQ-9A Block V Reaper is deployed in the future. In that case, courtesy of BofA is a map of US military bases and presence in the Pacific Ocean and, specifically, in proximity to China.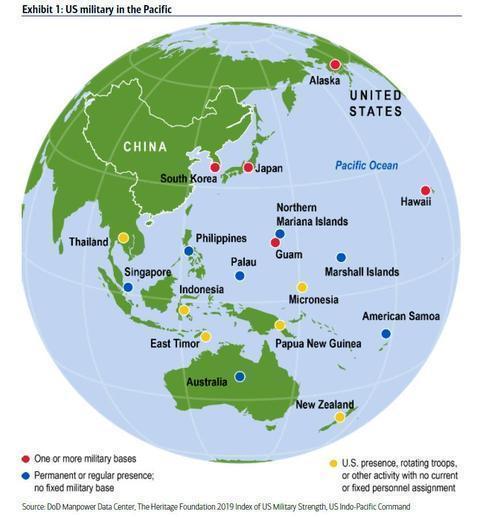 To sum up, the US Navy has likely found a new countermeasure against China's growing fleet of underwater drones and submarines.