BoJo Deploys Military To Help Secure UK Schools Against COVID As Cases Surge
Boris Johnson is bringing in the troops to help prepare British students to return to schools across the country after the winter holiday is over, even as his government continues to jack up new "Level 4" restrictions due to surging case numbers allegedly caused by a COVID strain that had mutated to become more infectious.
To help ensure that COVID-testing systems are up and running in British schools before they reopen next week, the Ministry of Defence is deploying 1.5K troops who will be tasked with assisting in the national endeavor. Students who are facing public exams this year are expected to return to classes on Jan. 4, with other students returning later in the month. However, as BoJo juggles the twin albatrosses of carrying the Brexit trade deal through a Wednesday high-wire vote in Parliament, along with managing the ongoing war at home against COVID-19 as daily case numbers see new record highs.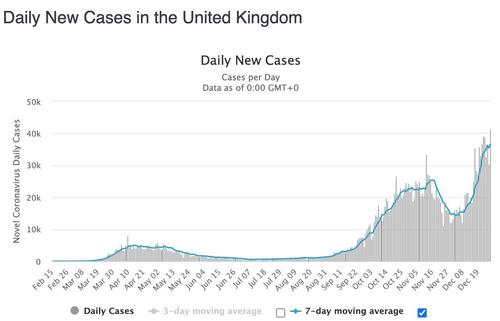 The PM is seeing growing pushback from certain groups – at least, according to Bloomberg – who have demanded more time to prepare for the return to in-person classes, something that has been a priority across Europe.
But a growing number of unions, politicians and scientists called for more time to prepare testing to prevent virus transmission in schools.

The number of new cases in the U.K. surged to a daily record of more than 41,000 on Monday and hospitalizations exceeded the peak recorded in the first wave in the spring, as a more virulent strain of the virus takes hold.

Johnson has made keeping schools open a key priority as he looks for ways to kick start the U.K. economy after months of restrictions left it facing its worst downturn for 300 years. Ministers threatened legal action to stop schools offering home learning before Christmas, but a government statement late Monday left open the possibility of that position being reversed in the new year.
Steve Chalke, founder of the Oasis chain of academy schools, told BBC radio on Tuesday, that British schools should remain closed for another "week or two" to give them more time to prepare.
"We would ask government to pause, to come up with a clear strategy for the continuity of education," Chalke said. "We think that if you really care about kids you would do this well — to invest now, to give time now makes sense."
The government's Scientific Advisory Group for Emergencies – better known as SAGE – advised Johnson to close secondary schools in January and consider another national lockdown, according to media reports published yesterday.
Even some of Johnson's fellow Tories are starting to question the PM's priorities.
Teachers and parents need a clear and definitive statement that schools will not be required to reopen in January until effective vaccination is made available to teaching staff. 1/2

— Sir Roger Gale MP (@SirRogerGale) December 28, 2020
Education is important but so are the lives and wellbeing of teachers and key working parents need time to plan for the care of their children. 2/2

— Sir Roger Gale MP (@SirRogerGale) December 28, 2020
Remember, keeping schools open has remained controversial since the government ordered closures back in March (which caused a national outrage over the UK's ever-important university admission exams). But growing discontent over BoJo's domestic priorities isn't exactly reassuring, especially ahead of Wednesday's last-minute Parliament vote on BoJo's trade deal.