Boeing 737 Max Has Landed Safely At New York's LaGuardia Airport
Update (1334 ET): Flightradar24 data shows American flight 718 has safely landed at New York's LaGuardia Airport after a 3-hour flight from Miami.
Here's footage of the landing from within the plane. 
A greasy touchdown on RWY04 at @LGAairport despite some wind gusts. The 737 MAX has landed safely. pic.twitter.com/5h2kDXxF1i

— Ryan Ewing (@FlyingHighRyan) December 29, 2020
NBC's Sam Brock was one of the passengers on the flight. He posted a video on Twitter from within the plane showing a decent amount of passengers on board. The pilot could be heard on the intercom telling passengers that his wife was on board. Brock also noted the president of American Airlines was on board. 
On the first 737 Max commercial flight about to leave from Miami- a brief applause when announcement was made.

Pilot says his wife is on the plane… Pres. of @AmericanAir is on the plane. Company has "worked tirelessly to bring us to this day."

Here we go…@NBCNightlyNews pic.twitter.com/wW2M462K9c

— Sam Brock (@SamBrockNBC) December 29, 2020
How did the internet respond? 
FIRST 737 MAX FLIGHT AFTER US GROUNDING LANDS AT NEW YORK-LGA pic.twitter.com/t33xdGfHoF

— NOD (@NOD008) December 29, 2020
No one in my family will fly in a 737Max. Ever.

— 💫 Stacey (@Markandstacey) December 29, 2020
* * *
Update (1055 ET): The first Boeing 737 Max has taken off with passengers from Miami to New York after being grounded for more than 20 months following two deadly crashes. 
LOOK: Boeing's 737 Max returns to U.S. commercial service with its first flight since 2 deadly crashes prompted its grounding.

Here, the aircraft takes off from Miami International Airport to New York's LaGuardia Airport pic.twitter.com/RmmgCRdOqW

— Bloomberg Quicktake (@Quicktake) December 29, 2020
The Max is officially airborne with passengers. 
* * *
Boeing's troubled 737 Max plane was grounded in March 2019 for 20 months after two crashes killed 346 people. The Max is expected to return to the skies on Tuesday morning, carrying passengers between Miami and New York's LaGuardia, according to Reuters.  
The Max's grounding was lifted in November by the Federal Aviation Administration (FAA) after Boeing made critical changes and software upgrades to the Maneuvering Characteristics Augmentation System (MCAS), an automated flight control system that was responsible for two crashes. 
American Airlines Flight 718 (N314RH) is expected to depart from Miami around 1032 ET and land in New York at 1330 ET, ending a near two-year debacle for the US planemaker.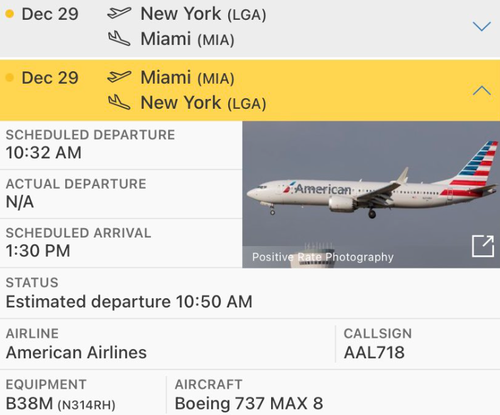 Earlier this month, American Airlines held the first test flight of a 737 MAX 8 since the grounding. The flight involved mostly members of the media, to prove the jet is safe for passengers, an issue that the crash victims' family members protest the return to service.
The flight from the airline's base in Dallas, Texas, to Tulsa, Oklahoma, was in preparation for Tuesday's flight, as was a PR effort by Boeing and the airlines that are its biggest customers to rehabilitate the jet's image following a record 20-month ban.
Flightradar24 shows N314RH has had a busy December, with multiple test flights across the country.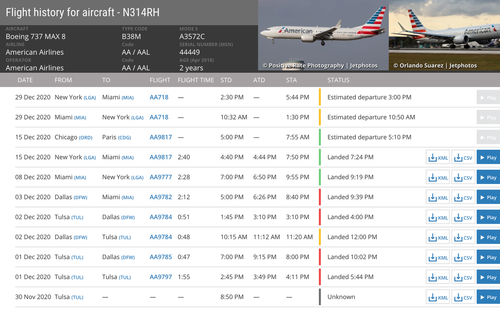 Aeronews recently tweeted a video of a 737 MAX conducting a test flight from Miami. 
@BoeingAirplanes 737 MAX 8 @AmericanAir (N308RD) departing @iflymia, flight AA9750 operated for employees. AA's MAXs will return to commercial service on December 29th. Video: Alexandru Pascale. 🇺🇸 @Boeing pic.twitter.com/K5A5bnnkrV

— Aeronews (@AeronewsGlobal) December 22, 2020
After N314RH lands in New York this afternoon, the plane will prepare for another flight back to Miami later this evening. 
CBS Miami provides more details on today's historic return to service for Max jets. 
Arguably, the Max debacle has been the company's worst crisis in its 104-year history.