New Single-Family Homes Sold Not As Large As They Used To Be
The average square footage of new homes sold in the United States increased from 2,457 in 2010 to 2,724 in 2015 but then dropped again in 2019 to 2,518, according to the U.S. Census Bureau's Characteristics of New Housing. The report is based on data collected in the Survey of Construction (SOC) and provides national and regional details on new privately owned single-family and multifamily residential structures. Characteristics include square footage, number of bedrooms and bathrooms, types of wall material, parking, sales prices and more.
No Downsizing
Despite the decline in average square footage, the share of homes with four bedrooms or more that were sold increased from 41% in 2010 to 49% in 2019.
In 2010, 27% of the 323,000 new single-family homes sold in the United States had three or more bathrooms. In 2019, 36% of the 683,000 U.S. homes sold had three or more bathrooms.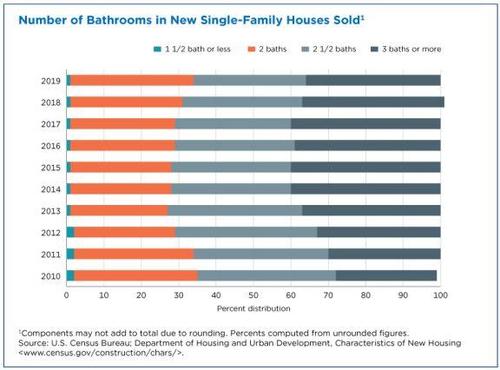 Rising Prices
The average sales price of new single-family homes sold in 2019 was $383,900, up from $272,900 in 2010. Prices are not adjusted for inflation.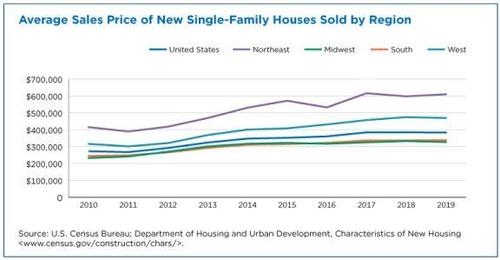 In 2019, 69% of new single-family houses sold were purchased using conventional financing (and other types of financing excluding Federal Housing Administration (FHA), Veteran's Administration (VA) or cash purchases), up from 58% in 2010.
Conventional financing, the primary way new home buyers paid for their purchases, is a mortgage loan not guaranteed by any government agency, such as the VA or FHA.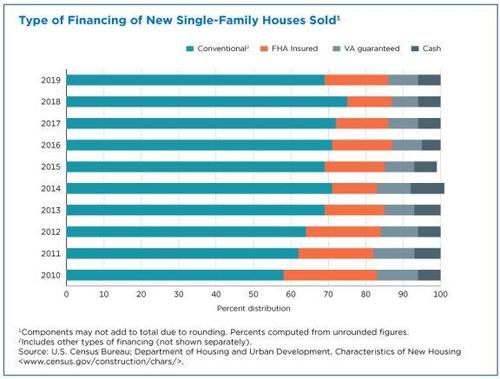 Features of New Homes
Of all the 903,000 new single-family homes completed in 2019:
849,000 (or 94%) had air-conditioning.
102,000 (11%) had two or fewer bedrooms and 386,000 (43%) had four or more bedrooms.
32,000 (3%) had one and one-half or fewer bathrooms and 296,000 (33%) had three or more bathrooms.
366,000 (41%) had a heat pump. Of these, 352,000 were air-source and 14,000 were ground-source.
814,000 (90%) were framed in wood and 86,000 (10%) were framed using concrete.
296,000 (33%) had a patio and a porch, while 71,000 (8%) had no outdoor features.
549,000 (61%) had no fireplace.
 In 2019, 683,000 new single-family homes were sold, up 111% from 2010.
A Virtual Tour of America's New Homes
One way to get more details on new single-family homes is through this infographic. Simply hover for a quick fact on completed or sold homes and click on the legend to go to the tables with the information.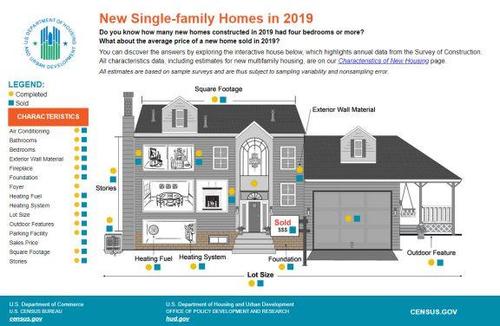 Multifamily Housing
Multifamily housing is defined as residential buildings containing units built one on top of another and those built side-by-side without a ground-to-roof wall and/or common facilities, such as attic, basement, heating system and plumbing. There were 352,000 new multifamily units completed in the United States in 2019, compared to 155,000 in 2010. The numbers include units for sale as condominiums or cooperatives.
What new multifamily units look like:
149,000 (42%) had one bedroom and 40,000 (11%) had three or more bedrooms.
349,000 (99%) were conventional apartments and 3,000 (1%) were townhouses.
203,000 (58%) were in buildings with four or more floors.
304,000 (86%) had individual laundry facilities and 29,000 (8%) had shared laundry facilities.
251,000 (71%) were in buildings framed in wood and 33,000 (9%) were in steel-framed buildings.
There were 321,000 multifamily units built for rent, a 157% jump from 2010.