Futures Flat In Quiet, Holiday-Shortened Session
Global stocks rallied and the British pound gained as Britain and the European Union closed in on a free-trade deal although S&P futures were flat in a very quiet session ahead of today's shortened trading day. In China, Alibaba slumped after China launched an antitrust investigation into the e-commerce giant. The dollar and TSY yields were both slightly lower. Markets close at 1:00 PM ET today and will stay closed for Christmas holiday on Friday.
Energy stocks, including Exxon Mobil Corp and Chevron Corp, rose slightly in premarket trade, tracking strength in the crude market as a drop in U.S. stockpiles and hints of an imminent Brexit deal underpinned oil prices.
The S&P 500 and the Dow ended higher on Wednesday as investors rotated to cyclical and small cap stocks that stand to benefit most during a recovery, encouraged by COVID-19 vaccine rollouts and passing of the coronavirus relief bill. The rotation weighed on the Nasdaq, which ended lower. Investors largely shrugged off comments by Donald Trump that a nearly $900 billion stimulus bill, agreed upon after months of wrangling in Congress, was "a disgrace" that he might not sign.
"Right now we have a lot of animal spirits surging into year end," Michael Purves, founder and CEO at Tallbacken Capital Advisors, said on Bloomberg TV. "As constructive as I am on markets in the broader term, I do expect there will be a hangover of sorts to process this over-extension some time later this winter."
The MSCI world equity index rose 0.16% after solid gains in Asia. In Europe, the Stoxx 600 Index edged higher ahead of an expected press conference from Prime Minister Boris Johnson on Thursday, which was delayed over last-minute haggling. Negotiators worked through the night putting the finishing touches on the historic pact, which will formally complete Britain's separation from the European Union. The pound rose to the highest in a week, while the euro was steady. The FTSE 100 rose 0.07% while the more domestically-focused British mid-cap FTSE 250 index hit its highest levels since February, and UK small caps a record high. The STOXX 50 added 0.17% while Germany's DAX gained 1.26%.
Sterling rose as much as 0.9% to $1.3619, close to its highest level in two years. Still, the pound's 5% rally since early November means much of the Brexit relief has been priced in to the currency, analysts say.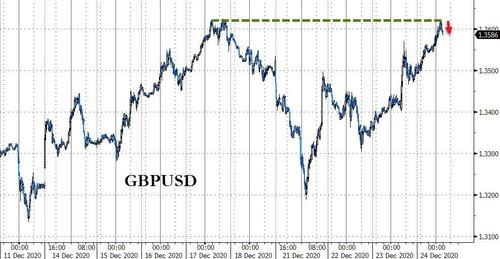 The Brexit deal will add to an end-of-year bullish mood in markets, where investors have looked beyond a spike in new COVID-19 cases globally and rising unemployment to the hope that vaccines and more fiscal spending will help spur an economic recovery in 2021. Mizuho analysts dubbed it the "mistletoe effect", whereby anticipation of a trade accord meant that "despite being subject to the approval of PM Johnson and EU governments the outline deal was enough" to stoke a rally in markets.
Asian stocks advanced, driven by energy and technology shares, as the outline of a post-Brexit trade deal helped lift investor sentiment. Gains in South Korea's Samsung Electronics and Japan's Keyence helped put a gauge of regional tech shares on course for another record close. Energy was the other top-performing sector as the MSCI Asia Pacific Index rose for a second day. Thailand's SET Index rallied more than 2% to lead gains among national benchmarks, but was still on course for a weekly drop owing to its sharp plunge Monday on concerns over coronavirus cases and related lockdowns. Key gauges in South Korea and India also climbed. However, China's Shanghai Composite Index dropped. Shares of Alibaba plunged 8% in Hong Kong after China started an investigation into its alleged monopolistic practices as part of an accelerating crackdown on anticompetitive behavior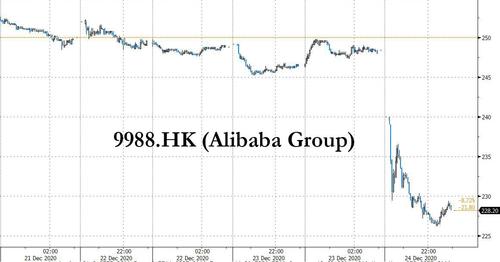 Vietnam's benchmark also slumped as investors booked profits following its recent rally. Markets closed early in Australia, New Zealand, Hong Kong and Singapore, while those in Indonesia and Philippines were shut
"While the pandemic meant lost lives and lost jobs in 2020, a successful vaccine rollout during 2021 is set to be a game changer: governments will gradually lift mobility restrictions and societies will return to most pre-pandemic habits," Candriam told clients. "The swift recovery during the third quarter in the Western hemisphere and the ongoing expansion in Asia, where a second infection wave has mostly been avoided, serve as a template for the near future."
In FX cable was the outlier move; elsewhere the dollar edged 0.1% lower while the euro held above $1.22.
In commodities, Brent rose 37 cents to $51.57 a barrel, while U.S. West Texas Intermediate crude increased 34 cents to $48.46, buoyed by a drawdown in U.S. stockpiles and the potential Brexit trade deal. Gold prices rose, with the spot price of the precious metal at $1,878, 0.3% higher on the day.
No major economic data releases scheduled in today's holiday-shortened session.
Market Snapshot
S&P 500 futures up 0.3% to 3,691.00
MXAP up 0.5% to 195.65
MXAPJ up 0.6% to 648.33
Nikkei up 0.5% to 26,668.35
Topix up 0.5% to 1,774.27
Hang Seng Index up 0.2% to 26,386.56
Shanghai Composite down 0.6% to 3,363.11
Sensex up 1.2% to 46,997.76
Australia S&P/ASX 200 up 0.3% to 6,664.77
Kospi up 1.7% to 2,806.86
STOXX Europe 600 up 0.2% to 396.34
German 10Y yield rose 4.8 bps to -0.547%
Euro up 0.09% to $1.2198
Brent Futures down 0.2% to $51.09/bbl
Italian 10Y yield rose 3.0 bps to 0.474%
Spanish 10Y yield rose 2.4 bps to 0.074%
Brent Futures down 0.4% to $51.01/bbl
Gold spot up 0.3% to $1,877.77
U.S. Dollar Index down 0.2% to 90.25
Top Overnight News from Bloomberg
The U.K. and the European Union are on the verge of unveiling a historic post-Brexit trade accord as negotiators work through the night to put the finishing touches to a compromise. Prime Minister Boris Johnson is planning a press conference on Christmas Eve after he's touched base with Commission President Ursula von der Leyen
President Donald Trump on Wednesday vetoed the $740.5 billion U.S. defense policy bill, touching off a battle with Congress that could end in his first override by lawmakers, with House Speaker Nancy Pelosi promising action next week
House Minority Leader Kevin McCarthy told fellow Republicans Wednesday that House Speaker Nancy Pelosi's attempt to pass a bill boosting stimulus payments for individuals to $2,000 will fail, according to a person who participated in a private call with GOP House members
The Chinese yuan regained some traction as a global payments currency last month — although it continues to trail its biggest developed-market peers — while the euro slipped back behind the dollar as the pre-eminent medium of exchange
Oil was poised for its first weekly loss since October as the discovery of a potentially faster-spreading variant of Covid-19 in the U.K. raised the risk of more energy demand- sapping lockdowns.
A look at global markets courtesy of Newsquawk
Asian markets traded mostly higher following a similar lead from Wall Street, whereby the S&P and Dow closed in the green but off best levels amid year-end profit taking coupled with holiday-thinned trading conditions. US equity futures overnight remained stable and Eurex is today closed for trading in all derivatives. Over in Asia-Pac, the ASX 200 (+0.3%) was led higher by gains across some of the cyclical names, with its heavyweight financial sector also underpinning the index throughout the session. Nikkei 225 (+0.5%) was also supported by cyclical stocks but with upside somewhat hindered by a pullback in Softbank shares, whilst South Korea's KOSPI (+1.7%) extended on opening gains after the country reported less than 1,000 COVID-19 cases. Elsewhere, the Shanghai Composite (-0.6%) moved between gains as losses following a tepid liquidity injection by the PBoC and against the backdrop of heightened tensions with Washington, whilst the Hang Seng (+0.2%) was initially dragged lower by losses in heavyweight Alibaba, whose shares fell over 5% at the open and extended on losses, after China announced a probe into the Co. over suspected monopoly, although the index then conformed to the broader gains across stocks. Finally, 10yr JGB futures were mostly softer amid the gains across equities, with the Japanese curve broadly steeper.
Top Asian News
China Probes Alibaba Group on Suspected Monopoly
Asian Stocks Rise for Second Day as Tech Shares Keep Rallying
Iran Sees $25b in Petchems Revenue in 2022, up From $11b in 2014
In Europe, with several markets closed across the region ahead of the festive break, price action in the equity space has been relatively contained thus far. Of the indices open, the FTSE 100 (+0.1%) has trimmed its modest opening gains with investor sentiment in the UK solely focused on the expected pending announcement of a Brexit deal. Despite some minor details on fishing that are still to be resolved and a delay in the announcement of the deal, it appears that the prospect of a no deal has now been avoided. Accordingly, most of the FTSE 100's gainers are comprised of the typical Brexit-sensitive names with banking stocks such as Lloyds (+5.4%), Barclays (+2.7%) and Natwest Group (+1.9%) firmer on the session. Additionally, homebuilders are also cheering the news with Berkeley Group (+3.7%), Persimmon (+2.5%) and Barratt Developments (+2.8%) trading higher. Note, the more domestically focused FSTE 250 trades higher to the tune of 0.5%. Elsewhere, there's not much worth highlighting in Europe with the CAC 40, FSTE MIB and IBEX all near the unchanged mark on the session. Stateside, ahead of the early close, US futures are modestly firmer (e-mini S&P +0.2%) with the only notable incremental news over the past 24 hours being events on Capitol Hill as President Trump's intervention on the COVID relief/stimulus bill poses a headwind to progress. In terms of the latest updates, House Democrats plan to try to plan to pass USD 2,000 stimulus payment via unanimous consent today. If that does not work, they will push a bill on Monday to increase the USD 600 payment in the existing relief package to USD 2,000, according to WaPo's Stein. Unsurprisingly, reports suggest that GOP Leader McCarthy will object to this. Additionally, in a move that will be opposed by Democrats, McCarthy plans to offer a new CR (Continuing Resolution) separating State and foreign aid from the omnibus.
Top European News
U.K., EU Set to Announce Brexit Trade Deal After Fish Compromise
U.K. Banks, Homebuilders Rise as Market Awaits a Brexit Deal
In FX, notwithstanding, all the missed deadlines, dashed hopes and disappointments, the Pound remains elevated if not effused with Brexit deal optimism in line with overwhelming odds via bookmakers that negotiators from London and Brussels will get over the line this time. Indeed, Cable has probed above 1.3600 and to within striking distance of the 1.3625 ytd high, while Eur/Gbp is back below 0.9000 awaiting confirmation of a post-transition agreement via UK PM Johnson and European Commission President von der Leyen, assuming no leaks and tweets before their official joint news conference, which is expected at some unspecified time. It goes without saying that Sterling could be prone to a buy rumour and sell fact set-back even if a pact is forthcoming, while the reaction to yet another false dawn will doubtless be pronounced to the point of immeasurable given seasonally sparse liquidity.
USD – In stark contrast to the Pound, albeit partly as a result, the Dollar continues to limp towards Xmas and the New Year, with the DXY fending off numerous assaults on the 90.000 mark and only just keeping afloat of the 2020 low at 89.723 between 90.151-313 parameters. Aside from Cable's exertions, the Greenback has lost safe-haven appeal broadly and barring any last minute shocks on the election front, looks set for life under a Democratic President that promises to be more fiscally expansive. Meanwhile, after benefiting from heightened demand when the first wave of COVID-19 sparked a FTQ and liquidity squeeze, the Buck has been in a virtual and almost constant downward spiral from a 102.99 peak in index terms at the end of Q1. Moreover, any month end selling for portfolio rebalancing could be compounded by quarter and year end positioning, while the Fed is sticking to an accommodative and it remains to be seen how forcefully the incoming Biden administration (assuming he is formally sworn in of course) bangs the strong Dollar drum.
AUD/NZD – The next best G10 currencies, as the Aussie and Kiwi revisit round numbers at 0.7600 and 0.7100 respectively amidst the aforementioned Greenback travails, but with the former also drawing some encouragement from China looking at lowering an array of import tariffs to compensate for other goods, like beef, barely, beer and wine that have been embargoed, suspended of subject to high tariffs.
EUR/CAD/CHF/JPY – All narrowly mixed vs their US counterpart, with the Euro straddling 1.2200 against the backdrop of heightened Brexit accord expectations that are providing tailwinds for the headline pair to offset some of the Eur/Gbp headwinds, while the Loonie is holding within a 1.2852-31 range ahead of Canadian building permits that might provide some independent impetus given no scheduled US data. Elsewhere, the Franc is hovering just over 0.8900 and Yen under 103.50 following more jawboning from Japan about 100.00 forming a line in the sand (per former currency official Watanabe in wake of current PM Suga last weekend).
In commodities, WTI and Brent have, unsurprisingly in the holiday conditions, lacked clear direction or impetus and as such are in relative proximity to the unchanged mark. Fundamentally, updates explicitly for the complex have been incredibly sparse with attention focused more on the macro themes of Brexit and the progression of fiscal aid stateside following the veto 'threat' by the POTUS; focus points that are likely to capture attention for the remainder of the session given the light calendar. In terms of precious metals action has been relatively contained with spot gold and silver are only modestly supported by the softer USD; perhaps hindered somewhat by the imminent Brexit deal. Currently, the yellow metal is firmer by ~USD 3/oz and is towards the top-end of a USD 10/oz range in a continuation of the similarly lacklustre APAC performance.
US Event Calendar