Fast-Moving Wildfire Threatens Major Marine Corps Base Near San Diego
A major Marine Corps base in southern California is under emergency evacuation orders as a wildfire has grown out of control and is now encroaching on the area. 
Marine base Camp Pendleton, which is home to the 1st Marine Division, Marine Expeditionary Force, infantry training schools and many other key units, is under threat by the Creek Fire.
#CreekFire on Camp Pendleton [update] Fire is 300 acres, 0% contained. Significant new evacuation orders for 7,000 residents on west side of Fallbrook (roughly south of Main Ave/S. Mission Rd). Please visit https://t.co/kFNyPzwgZX for the latest info. pic.twitter.com/TeoHoFSsNz

— CAL FIRE/SAN DIEGO COUNTY FIRE (@CALFIRESANDIEGO) December 24, 2020
The fast-moving brush fire resulted in the overnight emergency evacuation of about 7,000 residents. The fire is said to be burning entirely on Camp Pendleton, which given its vast mountainous training areas includes a lot of brush areas.
The fire has scorched some 3,000 acres of the base's about 125,000 total acres. The base lies along the coastline in northwestern San Diego County.
The fire is said to be at least 35% contained as of Thursday morning.
A number of grids on the county map identified by local North County Fire personnel were designated for a mandatory evacuation notice early Thursday.
"We have a lot of populated areas both on and off base, so we're still very concerned," Cal Fire Capt. Thomas Shoots said.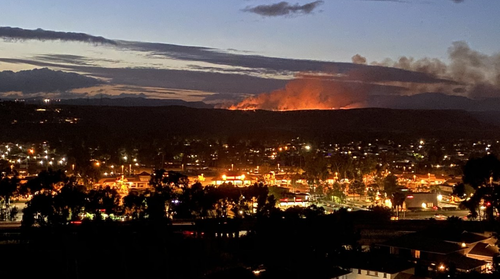 One local news report described conditions as follows: "Crews are battling the fire under critical conditions fueled by Santa Ana winds bringing 30-50 mph wind gusts over the county. A Red Flag Warning has been called for the inland and mountain areas until 12 p.m. Christmas Eve. Gusty winds and low humidity levels between 5 and 15% will create critical fire danger."
High winds are now said to be pushing the blaze further into the base.