China Is Still Miles Behind Phase 1 Trade Deal Targets
By Michiel van der Veen
Phase One Monitor: A December Update
Summary
Despite reversing the downward trend in September and October, China is still miles behind the target of USD 230bn set out for imports of US goods and services in 2020
China already fell short by USD 78 billion in the first 10 months of 2020 and only has two months to crank up imports by an additional USD 104 billion
There is a clear divergence on the progress towards targets for agricultural and energy imports, and manufacturing and services imports.
We expect that the future Biden administration will not adopt a softened stance on US trade with China
Before the inauguration ceremony in January, Trump might pull the plug from the Phase One deal to cement his legacy as being the 'only president that stood up against China'
China is preparing for further bilateral tensions by adopting an export control law
China is still miles behind target
This report provides an update of our Phase One Monitor (POM), which keeps track of China's progress towards the targets set out in in the Phase One trade deal signed in January 2020. Specifically, China pledged to import an additional USD 200 billion worth of US goods and services by 2021 (compared to 2017 levels).
Despite reversing the downward trend in September and October, China is still miles behind the target of USD 230bn set for imports of US goods and services in 2020 (Figure 1). Between October 2019 and October 2020, China imported USD 125bn of goods and services covered by the Phase One deal.1 This means China already fell short by USD 78bn in the first 10 months of 2020 and only has two months to crank up the import of goods and services by USD 104bn. Given that the year is almost out, it seems all but impossible that China will reach the 2020 target for imports of US goods and services.
Developments by product group
When shifting our focus to the individual product groups, we observe diverging trends. Agricultural and energy imports are closing in on the target, while manufacturing imports have been stagnant and services imports are even exhibiting a downtrend.
Energy and agriculture
China's import of US energy products maintained upward momentum (increasing from USD 6.1bn to 7.3bn) but is still far off the USD 24bn target set for 2020 (Figure 2). The increase in US energy exports to China is mainly driven by crude oil (Figure 3). China's ramping up on oil is closely linked to the recovery from the COVID-19 crisis. But it could also be explained by China's strategic goal of becoming more self-reliant, which requires stockpiling of commodities that China lacks.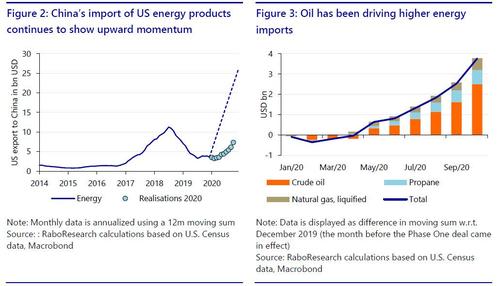 China's demand for US agricultural goods also increased significantly in September and October to USD 22bn, but this too is well below the target agreed upon in the Phase One deal (of USD 33bn, see Figure 4). A substantial percentage of China's higher imports of US agricultural goods is driven by soybean import (Figure 5). Demand for US soybeans slipped in 2018 and 2019 when China's pig herd was struck by African swine fever. Soybean exports reached peak levels seen before 2018 despite the herd rebuilding was in very good progress. China also started to import more other agricultural products, such as grains and cotton. Ultimately, from the perspective of energy and agricultural goods, we clearly see that China is making an effort to follow up on the agreements in the Phase One deal.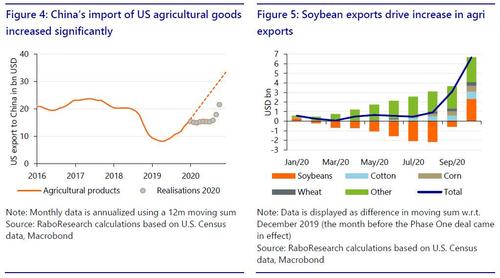 Manufacturing and services
China has made little progress towards the target when it comes to imports of US services and manufacturing goods (Figure 6 and 7). Annual US manufacturing exports (USD 56bn) to China are still below the level seen before the Phase One deal was signed. Import of US aircrafts (both order and deliveries) and vehicles have contracted since the deal was signed at the beginning of the year, although the decline in vehicle trade seems to have bottomed out.
On the services front, the trend is the diametric opposite of what it should have been (Figure 7). The annual services import currently stands at USD 40bn, whereas the ultimo 2020 target in the Phase One deal stands at USD 70bn. Admittedly, total US services exports have decreased steeply this year during the corona crisis. Yet, US services exports to China fell even more in Q3 (Figure 9). This is at the least remarkable given the fact that China seems to be closest to a pre-pandemic economy.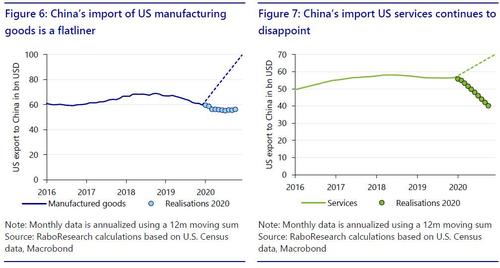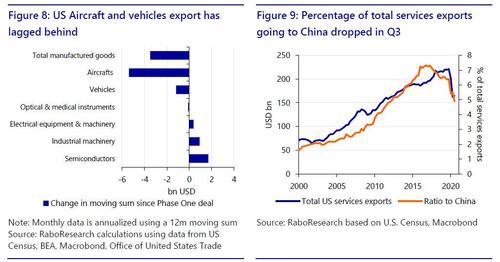 Looking ahead
The White House will soon welcome a new resident, but we do not expect the US administration under president Biden to adopt a softened stance on trade with China. There is bipartisan opposition against China's trade practices. In a recent interview, Biden already stated that he will push back on issues such as intellectual property theft, subsidies to state-owned enterprises and forced technology transfers. He also said he will not immediately roll back tariffs on Chinese goods that were imposed by the Trump administration. Neither is he planning to immediately revoke the Phase One deal that was signed at the beginning of 2020 between the US and China. Beijing has signaled that it wants to renegotiate the Phase One deal when Biden is inaugurated as president, as the import targets in the deal are perceived as unrealistic.
Will Trump pull the plug?
There is still a chance that Biden will not even have to decide the fate of the Phase One trade deal. China's inability to live up to its trade promises in the Phase One deal is the perfect opportunity for Trump to launch a final protectionist push towards China in the final weeks of his presidency. True, agricultural commodity prices (especially soybeans) are at multi-year highs, which means the Phase One deal is probably regarded favorably amongst one of Trump's core constituencies. That being said, pulling the plug on the trade deal would fit the scorched-earth strategy that Trump has already initiated by, e.g. banning investment in 89 Chinese companies and the travel visa restrictions for Chinese Communist Party (CCP) members from 10 years to one month and single entry.
The motivation for Trump to strike a final blow against China is that it will cement his legacy as being the 'only president that stood up against China'. The President runs the risk that Biden will keep the Phase One deal alive and showcase its (future) success as a Democratic achievement. In any case, the tough-on-China stance resonates well with US voters. Moreover, it might give one of his children a head start if they run in later election cycles. Note that both Donald Trump Jr. and Ivanka Trump are popular among Republicans as candidates for future presidential elections.
China is preparing for further escalation of trade tensions
Meanwhile, China is also preparing for a further escalation of US-China trade tensions. On December 1, a new export control law came into force in China which grants Beijing power to block exports if it feels that national security or national interests are being threatened. A comprehensive list of goods subject to export controls is not yet available. Even if a product does not end up on the list, China's government would still be able to impose temporary export controls for up to two years. The export control law could be interpreted as a response to a series of US measures aimed at curbing Chinese tech firms.