Treasure Hunter Stays 5 Years In Jail Rather Than Reveal Location Of Gold Coins Worth Millions
In a bizarre legal saga which sounds like something out of a Hollywood movie script, a former deep-sea treasure hunter has remained in an Ohio jail for a fifth year for contempt of court after refusing to tell the court where a haul of previously sunken and recovered treasure is located that's said to be worth millions of dollars.
Scientist and deep-water explorer Tommy Thompson is keeping mum as to the precise whereabouts of 500 gold coins that in 1857 went down with a ship called the "S.S. Central America" off the coast of South Carolina. 
The coins that the court is inquiring about are believed to be worth at least up to $4 million, part of a much larger haul from what was once dubbed the "world's richest shipwreck". Thompson is still at center of a controversy which has raged for decades. Prior reports have estimated that additional gold he could have hidden away in his possession to be worth much more.
Here's how it all began:
The steamship's sinking off the Carolinas in a hurricane with 105 mph winds stands as this country's worst passenger ship peacetime disaster.  Of the 578 aboard, 425 perished.

It also has been called the world's richest shipwreck because it carried 3 tons of gold commercially shipped from the California Gold Rush, and perhaps an equal amount being carried by the passengers. There were rumors of another 15 tons of gold in a secret Army shipment.
A team of scientists and engineers with specially designed equipment began after the shipwreck site was located in the late 1980s to work on recovering the ship's treasures, a nearly impossible feat:
They were the engineers, technicians and owners of high-end sonar equipment who were promised a small share of the wreck's bounty in return for their work, which found the Central America in 1988, some 160 miles off the South Carolina coast, 7,200 feet down on the ocean floor.

It took nearly 30 years of litigation and reams of legal documents before a court settlement got them at least a portion of what they were owed.
In total well over $50 to $60 million worth of gold was brought up, according to previous reporting and statements:
Over 10,600 gold coins, 577 gold ingots, over 14,000 silver coins, and over 100 pounds of gold dust and nuggets were recovered, according to Bob Evans, chief scientist in both expeditions.
But Thompson, one of the key team leads on the efforts that recovered the gold has allegedly held on to some of it all these years even though he was already paid by investors for his work in recovering it.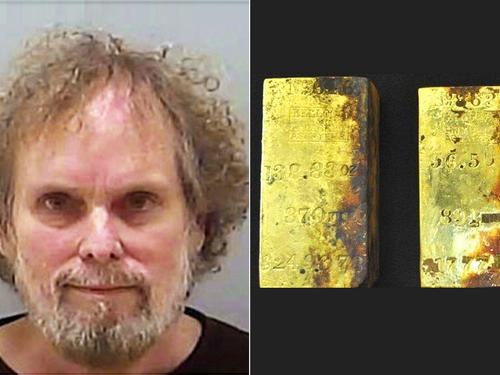 Thompson's legal woes were compounded, and then he flat refused to reveal where the gold that allegedly remained in his possession was located, before going on the run:
Thompson took the money but never returned the gold, leading the investors to sue him.

After failing to appear in court in 2012 to disclose the coins' whereabouts, Thompson lived in Florida in hiding for three years before U.S. marshals tracked him to Boca Raton and arrested him.

Thompson pleaded guilty for his failure to appear and was sentenced to two years in prison and a $250,000 fine, but he had to answer questions in closed-door sessions about the coins, which the government estimated to be worth $2-4 million.
Below via AP file: "This 1989 file photo shows gold bars and coins from the S.S. Central America, a mail steamship, which sunk in a hurricane in 1857, about 160 miles off the North Carolina coast. Columbus-America Discovery Group, owned by fugitive treasure hunter Tommy Thompson, argues that it has the exclusive rights to the treasure from the shipwreck."
Thompson's defense has been that he doesn't actually know where it is. "Your honor, I don't know if we've gone over this road before or not, but I don't know the whereabouts of the gold," Thompson said during a 2017 hearing. "I feel like I don't have the keys to my freedom."
But in 2018 he admitted that he "doesn't know" where precisely they are because "I put them in an offshore trust. The trustee can put them anywhere he wants," as he told a judge. "The judge ordered him back to prison until his memory improved," as The Seattle Times later wrote.
But investors who feel cheated out of the remaining haul from the historic find believe he's waiting out the legal clock and will try and cash in the moment he gets released from his confinement.