Franchise Relations Deteriorate As Pandemic Wreaks Havoc On Small Business
According to a new WSJ report, the virus pandemic has unleashed enormous stress, destroying the cozy relationships between franchisees and executives at burger chains, hotels, and other types of shops. 
WSJ's Micah Maidenberg and Heather Haddon outline how the virus-induced downturn in the economy has led store owners and corporate execs at Subway, Econo Lodge, and other companies "to bicker publicly like never before." 
While the economy stumbles and brick and mortar stores see significant sales declines, companies ask franchisees to purchase new equipment and adopt new safety protocols. Store owners tell companies that they cannot afford to make the purchases and/or are pushing back on promotional discounts that hurt their profits. 
"I get that franchising isn't a democracy, but at the same time, it's not a dictatorship," said Keith Miller, who was among Subway franchisees resisting when the company asked operators during the summer to offer two-foot-long sandwiches for $10, a price they said was unprofitable.
Rohit Chopra, a member of the Federal Trade Commission, said franchisees "feel they have no choice but to accept coercive contract terms and red tape." 
WSJ says most of the franchisees' complaints are "granular" and appear insignificant. Store owners say over time, the added costs add up and pinch margins, leaving many franchises feeling like the companies are taking advantage of them.  
A group of Econo Lodge franchisees and operators of other lodging brands under Choice Hotels International Inc. were forced to purchase 10 pounds of frozen sausage for $34.50 that cost $22.37 at the local supermarket. The group launched a lawsuit in federal court in the Eastern District of Pennsylvania, alleging Choice Hotels forced them into a "pay-to-play" scheme with suppliers that require vendors to make payments to Choice Hotels, which would then be passed on to franchisees. 
Another example of this "pay-to-play" scheme was seen with U.S. Tim Hortons franchisees. Operators were charged $104.08 more per case of Applewood bacon than Wendy's Co. operators paid. 
Rising tensions within franchised companies have mostly become publicly visible during the virus pandemic. Many of these franchised companies are significant contributors to the economy, such as generating jobs and investing in local communities. 
Owners Of Franchised Businesses Increasing Over Last Decade
According to hotel data via STR, franchisees account for 55% of US hotels. They are 85% of all US chain restaurants last year, according to restaurant data firm Aaron Allen & Associates. Across the economy, there were more than 774,000 franchised establishments, employing about 8.4 million people last year, according to the International Franchise Association, a trade group.
Percentage Of Hotels That Are Franchised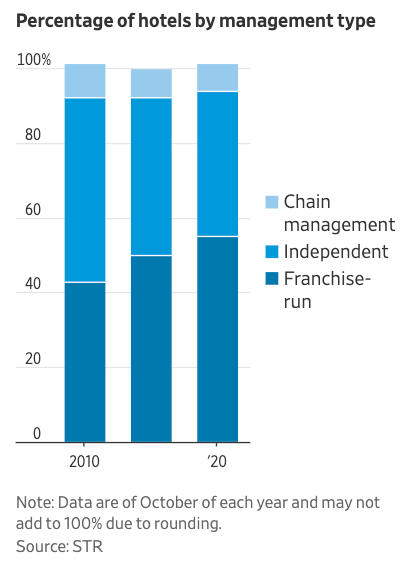 Percentage Of Restaurants That Are Franchised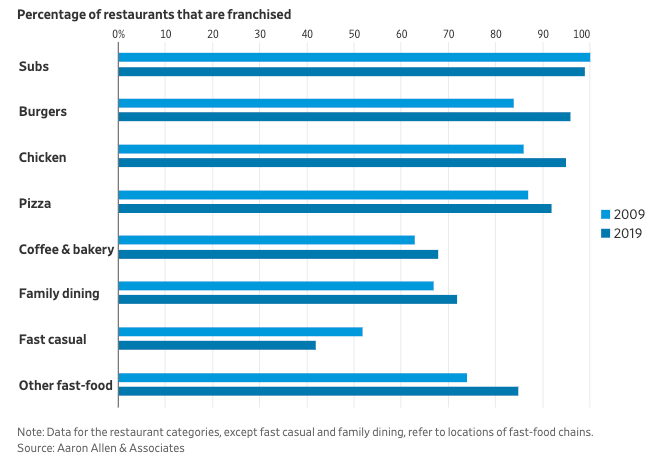 According to the trade association, the tensions also come as the virus pandemic has led to the temporary or permanent closing of about 33,000 franchise outlets.
"Franchisee relations are 100% correlated with how things are going," said Chief Executive Steve Joyce of Dine Brands Global Inc., owner of the Applebee's and IHOP restaurant brands.
Many of these franchises are operated by small businesses and have received some form of aid from the government during the virus-induced downturn. By now, readers understand that small businesses are in collapse (see: here & here & here).
In recent years, WSJ notes some franchisees have formed organizations to increase their leverage, including hotel operators, owners of McDonald's restaurants, operators of Massage Envy studios, and franchisees of Edible Arrangements LLC fruit-basket and flower shops.
Some executives say franchisee complaints are "shortsighted."  
Rajiv Trivedi, a former La Quinta executive, said operators should not expect vast business improvements just because they joined a franchised system. 
Earlier this year, Yum Brands Inc. appointed an interim president at its Pizza Hut division after franchisees accused the company of releasing unprofitable promotions that crushed their businesses. 
"We have to build back our relationship with our franchisees, so we are partners in this," said the interim US president, Kevin Hochman.
The souring relationship between owners and store operators is the latest example of how the virus pandemic has disrupted the broader economy. The micro view here is an eye-opener for the outside world that franchised companies must change their ways to cater to their operators or face collapse like Pizza Hut franchisee, NPC International Inc., filing for Chapter 11 bankruptcy in July.