Trump Unveils List Of Potential Supreme Court Picks, Challenges Biden To Do Same
President Trump unveiled a 'short' list of 20 potential Supreme Court nominees on Wednesday – a move which will put pressure on the Biden camp to do the same, according to USA Today.
"My nominee will come from the names I have shared with the American public," in the event of a vacancy, said Trump, adding "Joe Biden has refused to release his list, perhaps because he knows the names are so extremely far-left."
"Apart from matters of war and peace, the nomination of a Supreme Court justice is the most important decision an American president can make," Trump added – saying that presidential candidates "owe the American people" a list of potential Supreme Court picks.
Supreme Court appointments are one of the few issues that majorities of both Biden supporters (66%) and Trump supporters (61%) see as "very important" to their vote in November, per a summer @pewresearch survey. #SCOTUS https://t.co/m0Ww3gPv0I pic.twitter.com/kD4ywHaK2c

— John Gramlich (@johngramlich) September 9, 2020
The move comes nearly two months after Justice Ruth Bader Ginsburg, 87, disclosed that she is receiving treatment for a resurgence of liver cancer. Ginsburg was previously treated for pancreatic cancer in 2019 and 2009.
Trump's list includes Sens. Tom Cotton of Arkansas, Ted Cruz of Texas and Josh Hawley of Missouri – who has already turned down the potential nomination.
The most serious nominee, however, is believed to be Judge Amy Coney Barrett – who Trump nominated to the US Court of Appeals for the 7th Circuit.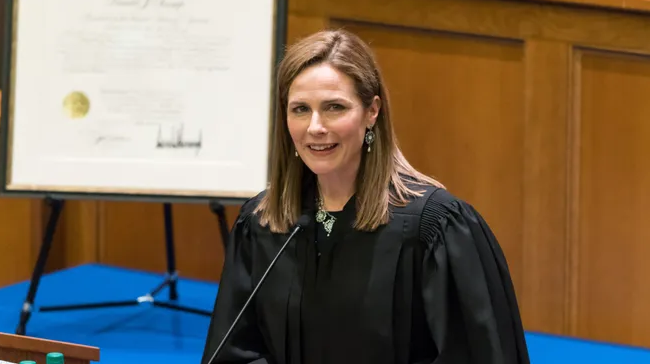 Other leading contenders for Trump's third high court nomination include Judge Amul Thapar of the 6th Circuit appeals court, a favorite of Senate Majority Leader Mitch McConnell, and Judge Neomi Rao, a relatively recent appointee to the District of Columbia Circuit appeals court and a favorite of many conservatives.

Trump's first two Supreme Court nominees have solidified the court's conservative majority. Associate Justice Neil Gorsuch, 53, was confirmed in April of 2017 to succeed the late Associate Justice Antonin Scalia, who had passed away 14 months earlier. Associate Justice Brett Kavanaugh, 55, was confirmed in October of 2018 after a bitter battle that included allegations of sexual assault in high school, charges that he denied. –USA Today
"By the end of my first term, we will have confirmed a record number of federal judges, over 300, all of whom will faithfully uphold our Consitution as written," Trump said on Wednesday.
"What has always made America exceptional is our reverence for the impartial rule of law," he added. "Equality under the law is the bedrock of our society, it is the principle that inspired American heroes to abolish slavery and end segregation, secure civil rights, and build the most free and just nation in history."