The latest housing data shows soaring mortgage rates, elevated prices, and limited inventory continue to worsen the affordability crisis. 
New data from real estate brokerage Redfin Corp. indicates homebuyers now need a whopping $114,000 salary to afford a median-priced home of $412,000 in September – assuming a 30-year fixed mortgage rate of 7.2% with 20% down. This is a near doubling in salary needed to afford a home since Covid, and since inflation wiped out real wages for two years, more Americans than ever can no longer afford the 'American Dream' of a single-family house with a white picket fence, instead, trapped in a cycle of renting. 
Redfin's next report, for this month, will likely show another jump in the salary needed to afford an average home because the 30-year fixed mortgage rate has risen 80 percentage points to 8%. 
In 2012, the salary Americans needed to afford the average home was about $38,000. As a rule of thumb, buyers should never exceed 30% of their income on shelter costs.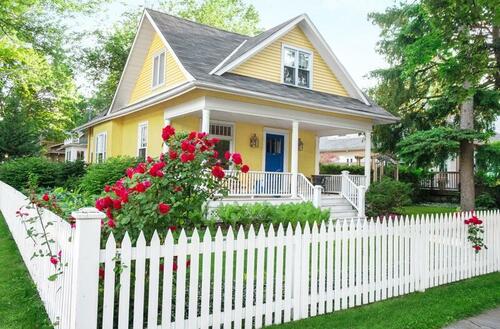 "US homeownership first became a six-figure club in 2022, thanks to borrowing costs rising at the fastest clip in decades while home prices remained high," Bloomberg said, adding, "It's only gotten more expensive with mortgage rates hurdling towards 8%. Existing homeowners are reluctant to move because they're locked in at lower rates, and new buyers are struggling to find properties they can afford, pushing mortgage applications to a multi-decade low."
The NAR Housing Affordability Index clocked in at 91.7 in August, down from 93.9 in July – anything below 100 indicates a household with a median income does not earn enough to be approved for a mortgage on a median-priced home. This was the lowest reading since at least the early 1980s.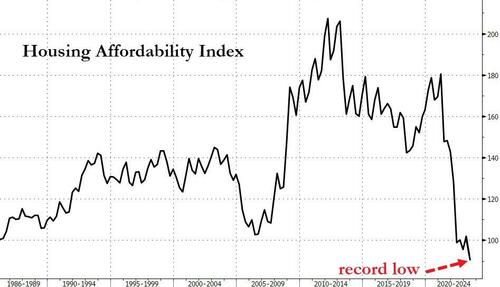 Mortgage rates are likely to stay high over the next few months. 
*POWELL: EVIDENCE IS THAT POLICY IS NOT 'TOO TIGHT' RIGHT NOW

— zerohedge (@zerohedge) October 19, 2023
For all those millennials and GenZ-ers who are trapped in a cycle of renting with no personal savings and insurmountable credit card and student loan debt, have you ever thought about moving back home to survive the inflation storm? 
Loading…