Oil prices slipped lower this morning after treading water for most of the night after the API report.
Disappointing data on European economic activity helped weigh on oil prices Tuesday, as did the release of more Hamas hostages and the delay of the expected Israeli ground invasion of Gaza.
"The fears of a further escalation in hostilities between Israel and Hamas remain, but have lost some of their intensity," said David Morrison, senior market analyst at Trade Nation, in emailed commentary.
Brent crude prices have remained stubbornly within the $90 per barrel range, emphasizing the medium-term outlook's dependence on demand rather than supply.
API
Crude -2.688mm (+10k exp)

Cushing +513k

Gasoline -4.169mm (-300k exp) – biggest draw since March

Distillates -2.313mm (-1.1mm exp)
DOE
The official data was very different to API's with crude and gasoline both seeing inventory builds (as well as Cushing stockpiles rising off tank bottoms)…
Source: Bloomberg
The SPR remained untouched for the 3rd week in a row (what about refilling it?)
Source: Bloomberg
Cushing stockpiles remain barely off tank bottoms…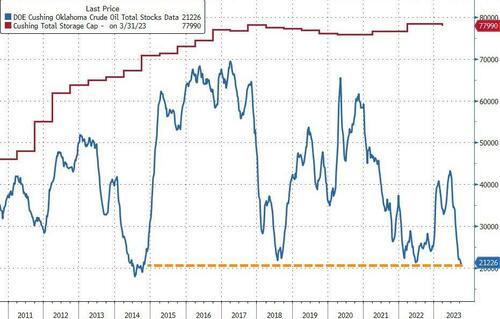 Source: Bloomberg
US Crude production remained at record highs as the trend in rig counts continues lower…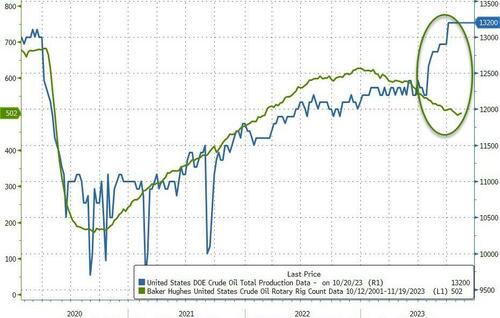 Source: Bloomberg
WTI was trading around $83.30 ahead of the official data and tumbled to an $82 handle after….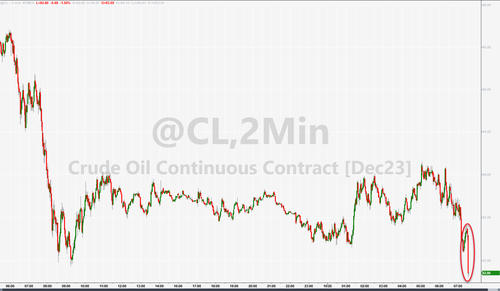 For context, most of the war premium has now left the building…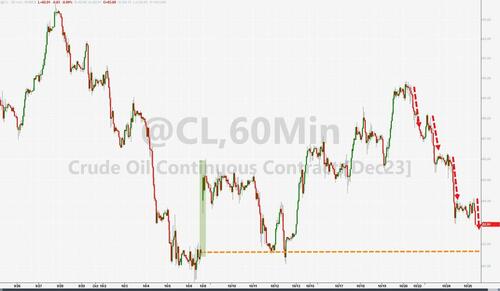 As Bloomberg Intelligence Senior Oil & Gas Analyst Fernando Valle notes, the rally in Brent and WTI prices is hitting a wall of concerns over demand, with China's real estate crisis and rising tensions in the Middle East adding to the geopolitical premium.
"The war premium and disruption fears continue to erode on news the US and Saudi Arabia agreed to pursue diplomatic efforts to prevent an Israelis ground invasion of Gaza, and as the demand outlook continues to moderate," Saxo Bank noted.
We see reasons to be cautious as US trucking demand weakens and consumers default on car payments at record levels.
Loading…