Oil prices are rebounding this morning, having perfectly filled the gap from Sunday's post-Israel-attack jump, after OPEC data continue to point to a record supply deficit this quarter, as demand climbs to an all-time high and group leader Saudi Arabia curbs output.
As Bloomberg reports, global oil inventories are on track to decline by about 3 million barrels a day in the final three months of the year, according to figures in the latest report from the Organization of Petroleum Exporting Countries. If realized, it would be the biggest shortfall in data extending back three decades.
On the other side, the International Energy Agency said earlier on Thursday that there is evidence the rally triggered "demand destruction," eroding gasoline deliveries in the US to the lowest in two decades. Emerging countries were hit even harder as their currencies weakened, it said.
For now, all eyes will be on the official data to see if it confirms the massive crude build reported by API.
API
Crude +12.94mm (+900k exp)

Cushing -547k

Gasoline +3.56mm (+400k exp)

Distillates -3.53mm (-300k exp)
DOE
Crude +10.18mm (+900k exp, whisper +3.96mm) – biggest build since Feb '23

Cushing -319k

Gasoline -1.313mm (+400k exp)

Distillates -1.837mm (-300k exp)
The official data confirmed API's huge crude build but products and Cushing saw inventory drawdowns…
Source: Bloomberg
For the second time in three weeks, the Biden administration drained the SPR (admittedly a tiny 6k barrels)…
Source: Bloomberg
Cushing stocks dropped to fresh cycle lows as 'tank bottoms' loom closer…
Source: Bloomberg
US Crude production soared to a new record high of 13.2mm b/d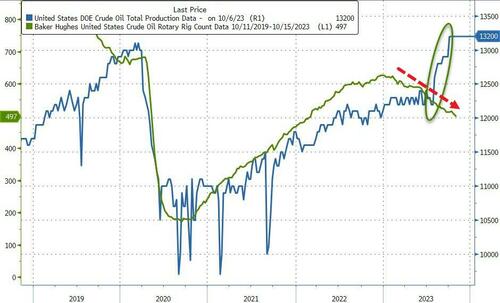 Source: Bloomberg
WTI dipped to fill the gap after last night's massive crude build reported by API, and has rebounded since, hovering around $85 ahead of the official data.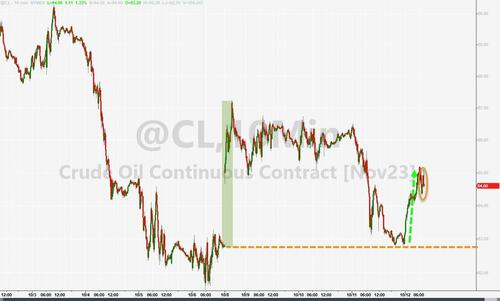 Gasoline demand rebounded strongly as pump prices have declined…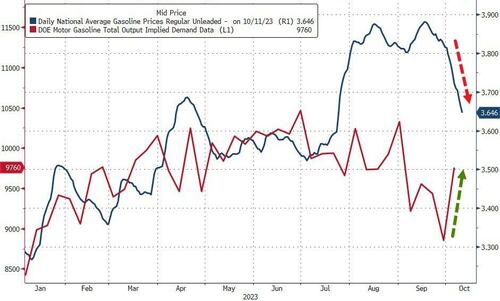 Source: Bloomberg
Meanwhile in the US, the Treasury Department sanctioned two companies and blocked ships accused of transporting Russian oil at prices above a cap instituted after its invasion of Ukraine.
The move is a result of Russia having built its own fleet of vessels to sidestep the price cap.
"Any additional sanctions will be taken as bullish," with demand currently outstripping supply, said Dennis Kissler, senior vice president for trading at BOK Financial Securities.

"The only headwind I see is higher interest rates" and the potential for demand destruction if crude rises above $100 a barrel.
The US and Venezuela, meanwhile, are close to reaching an understanding that would bring limited sanctions relief in exchange for steps to ensure fair elections, according to people familiar with the matter. As part of the informal deal, the US would be willing to lift some oil and banking sanctions.
Loading…