Oil prices surged overnight, recovering all of yesterday's losses after EIA made substantial upward demand revisions in its monthly reports (again) to the highest in four years. This combined with renewed war premia amid continuing escalations in the middle east with further incursions by Israel into Gaza and threats from Iran calling for exports of oil and goods from Muslim nations to Israel to stop.
On the bright side, some foreigners and Palestinians were allowed to leave Gaza for the first time since Israel began its ground invasion on Wednesday.
Also on the bearish oil side, manufacturing in China, the world's biggest oil importer, fell back into contraction last month.
So what will this morning's official inventory and production data show?
API
Crude +1.35mm (+500k exp)

Cushing +375k

Gasoline -357k (-500k exp)

Distillates -2.48mm (-1.9mm exp)
DOE
Crude inventories rose – very marginally – for the second straight week and stocks at Cushing also rose (against de minimously). Distillates saw the only notable draw – 5th week in a row…
Source: Bloomberg
The SPR was left untouched for the 4th week in a row…
Source: Bloomberg
Cushing remains barely off tank bottoms…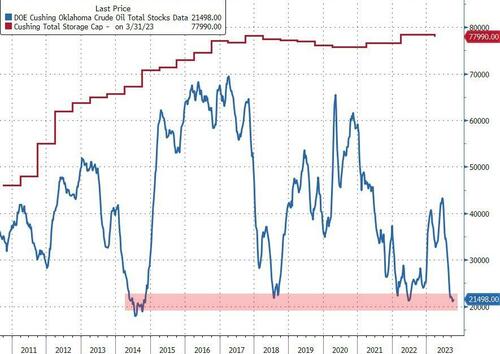 Source: Bloomberg
US Crude production was steady at record highs (13.2mm b/d) as the rig count trends lower…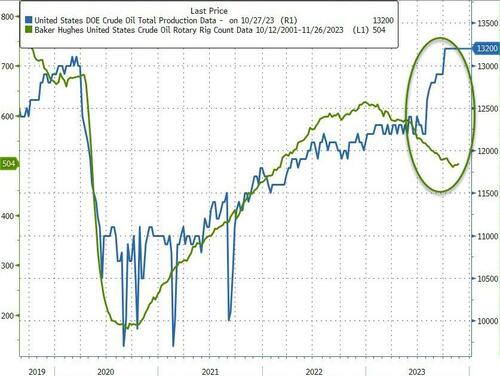 Source: Bloomberg
WTI was hovering around $83 and leaked lower after the print…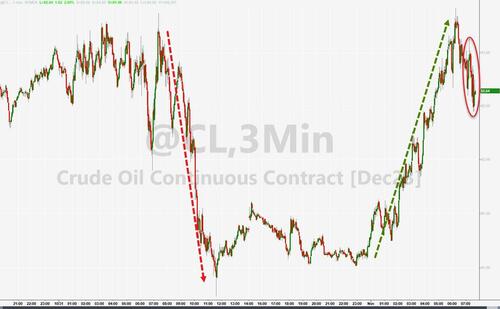 We note that today's bounce in WTI occurred right the 100DMA…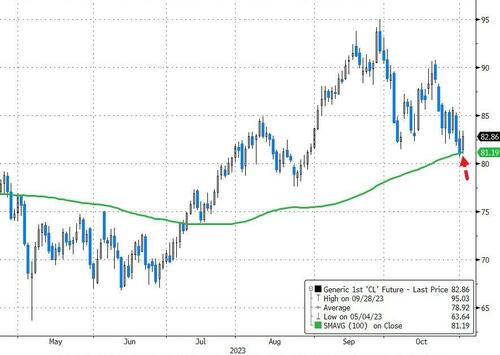 Additionally, oil options are tentatively pricing in a smaller risk of escalation in the Middle East as a result of the Gaza war.
As Bloomberg reports, a rare so-called call skew emerged – and then became extreme – in oil options trading in the days after the war began. It meant traders were willing to pay more for protection against prices spiking than for insurance against a slump.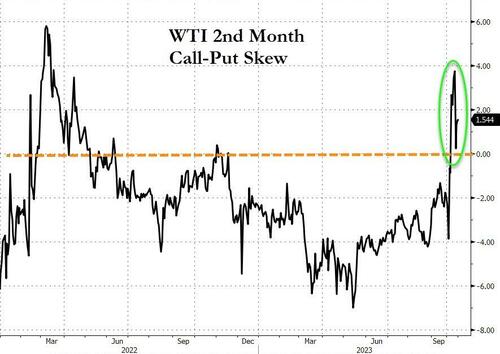 But, as the chart shows, while the skew remains, it has reduced significantly – indicating less confidence that the war will spread/escalate.
Loading…