Oil prices managed gains on the day amid utter carnage everywhere else, bouncing off 3-week lows after 3 straight daily declines, as traders look ahead to an OPEC+ meeting of the Joint Ministerial Monitoring Committee, or JMMC,tomorrow morning.
For now physical supply tightness is trumping the risk-off appetite across other markets.
API
Despite expectations of crude inventories being little changed last week, API reports a 4.2mm barrel inventory drawdown (the 3rd weekly draw in a row). Cushing saw its first inventory build in 8 weeks and gasoline stocks saw a big build…
Source: Bloomberg
WTI was hovering around $89.50 ahead of the print and held those gains…
Notably, margins for gasoline cracks have compressed dramatically, but jet fuel and diesel remain profitable…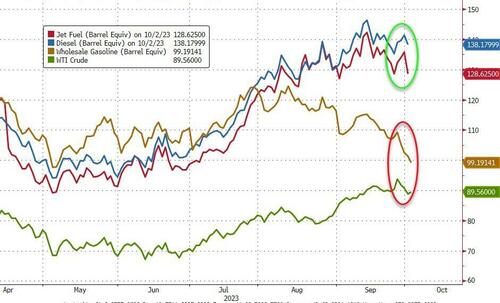 The path of least resistance is still higher for oil right now "although the countertrend pullback is not necessarily over just yet," said Tyler Richey, co-editor at Sevens Report Research.
"Eventually it will be time to 'sell the recession news' in oil as demand tends to fall off sharply amid the onset of an economic downturn, but the evidence does not definitively suggest we are at that point just yet," he told MarketWatch.
Another run towards $100 is "a possibility depending on the news flow and economic data trends in the near term."
Loading…