Oil prices are higher from yesterday's close but well off their overnight highs this morning after the hospital attack and strong Chinese data sent crude soaring and then prices started to sink back as it appeared Israel's version of events was being supported by the US (though we would suggest not many arab states).
Last night's API report also provided support for crude prices with across-the-board inventory draws.
API
Crude -4.38mm (+400k exp)

Cushing -1.00mm

Gasoline -1.58mm (-600k exp)

Distillates -612k (-1.2mm exp)
DOE
Crude -4.49mm (+400k exp)

Cushing -758k

Gasoline -2.37mm (-600k exp)

Distillates -3.19mm (-1.2mm exp)
The official data confirmed API's with inventory draws across all cohorts, most notably Gasoline stocks plunged…
Source: Bloomberg
Refilling the Strategic Petroleum Reserve (SPR) has ground to a halt (from what was a de minimus effort anyway). SPR has basically gone nowhere now for 6 weeks…
Source: Bloomberg
Cushing is getting ominously close to 'tank bottoms' with its lowest stockpile since Oct 2014…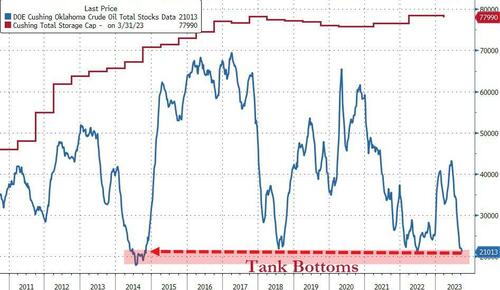 Source: Bloomberg
US Crude production remained at record highs of 13.2mm b/d (as rig counts trend lower)…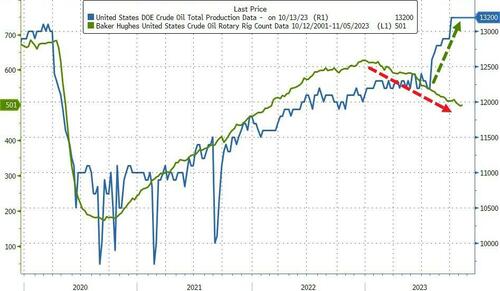 Source: Bloomberg
WTI was hovering just above $86.50 ahead of the official data and extended gains after…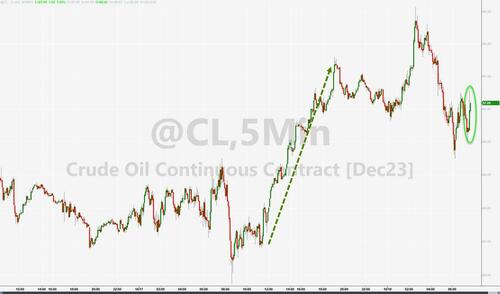 Finally, Bloomberg Intelligence Senior Oil & Gas Analyst Fernando Valle notes that the Brent and WTI forward curves have shifted higher on expectations supply disruptions may last. The potential US-Venezuela deal on sanctions will have a limited short-term effect on supply due to poor infrastructure in the country. We believe demand remains the more relevant short-term driver for oil prices.
Loading…