Oil prices closed higher on the day, after a roller-coaster ride down this morning after Russia's Central Bank reiterated expectations that OPEC+ may consider an increase in output at the beginning of 2024, but that was quickly pushed back on by Russian Deputy Prime Minister Alexander Novak.
Crude traders are also tracking events in Barbados, where Venezuela's government is expected to sign a deal with the US-backed opposition later on Tuesday. In exchange for a freer presidential election next year, the agreement could pave the way for the US to ease sanctions against the country, potentially boosting oil exports.
"Traders remain on high alert" while oil remains in a holding pattern, said Rebecca Babin, a senior energy trader at CIBC Private Wealth.

"Many investors are not willing to make outright bets on crude in the current environment but are actively buying upside call options in the event crude supply is impacted. It is a low conviction, highly volatile trading environment."
WTI accelerated its rebound after the missile strike on a Gazan hospital.
After last week's large crude build (and draws at Cushing and in products), all eyes are for any signs of further demand destruction.
API
Crude -4.38mm (+400k exp)

Cushing -1.00mm

Gasoline -1.58mm (-600k exp)

Distillates -612k (-1.2mm exp)
API reports inventory drawdowns across the board with Crude stocks unexpectedly falling 4.4mm barrels (+400k exp) and Cushing getting ever closer to 'tank bottoms'…
Source: Bloomberg
WTI was hovering around $87.20 and extended gains after the draws…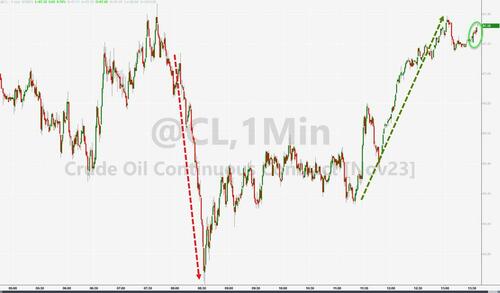 Bloomberg's Javier Blas penned an interesting op-ed, blasting the fact that the Biden administration has allowed the SPR to run so low, saying that this ignorance could not come at a worst time.
Henry Kissinger called it "the economic equivalent of the Sputnik challenge." 
Exactly 50 years ago today, the US found itself under economic assault after Arab nations weaponized oil, starting a petroleum embargo that brought the global economy to its knees.
Kissinger, vowing America would never be blackmailed again, designed a shield against the oil weapon: the Strategic Petroleum Reserve. A stockpile containing hundreds of millions of barrels of crude, its function was to offset the impact of any future supply disruption, intentional or not. Half a century later, Washington has forgotten that lesson.
The SPR today contains less than half the crude it had at its peak just over a decade ago. At about 350 million barrels, it's at its lowest since 1983. To put what's left into perspective, the US released about 270 million barrels over the last two years to cap oil prices.
[ZH: For context, there is less than 20 days of supply left to meet current levels of demand… but we know SPR can't go to 'zero' so good luck]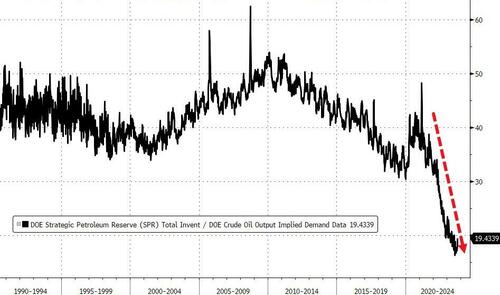 If the SPR is a revolver, it has a final round left in the chamber — and that's it.
Loading…