Jamie Dimon dares to question goldilocks/soft-landing narratives overnight, warning that The Fed may be forced by stickier inflation to hike rates further (to 7%) fearing a stagflationary scenario that no one is prepared for… and (away from the main headlines), Dimon warned of more bank failures as rate rise (and that didn't help) as the KBW Bank Index fell below the initial SVB collapse levels…
Source: Bloomberg
Then the macro data started with Dallas Fed Services and Manufacturing ugly (prices up, activity down), new home sales finally hitting the wall (as homebuilders folded on filling the affordability gap and their stock prices are starting to realize that)…
Source: Bloomberg
…then consumer confidence crumbled (driven by a slump in hope and worsening labor market conditions). Overall, 'hard' data is near 5-month lows, as 'soft' survey data hits its highest since Jan 2022, sending 'hope' about as high it goes (before the soft surveys collapse)…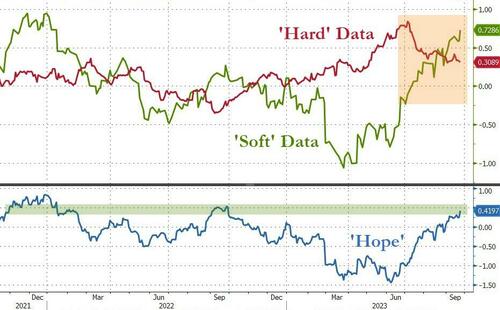 Source: Bloomberg
Add to that the wrath of Lina Khan as the FTC sued Amazon (again) and that was enough – with corporate buybacks blacked out still – to take the equity market lower, dollar higher, gold lower, and yields higher (rising after early declines).
Khan to Amazon/Bezos: "I've done far worse than kill you. I've hurt you. And I wish to go on hurting you… I mean to avenge myself upon you, Amazon."
AMZN at 3-mo lows…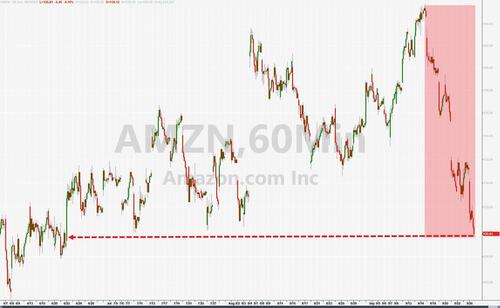 Early on we saw the Megacap Tech names getting hit hard (while unprofitable tech was not), which Goldman suggested was driven by derisking overall. But as the selling continued, everything was dragged lower…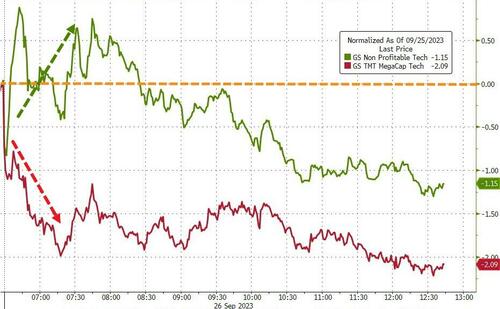 Source: Bloomberg
The drag of the Magnificent 7 weighed everything down with Nasdaq and S&P the big underperformers on the day, but everything was ugly…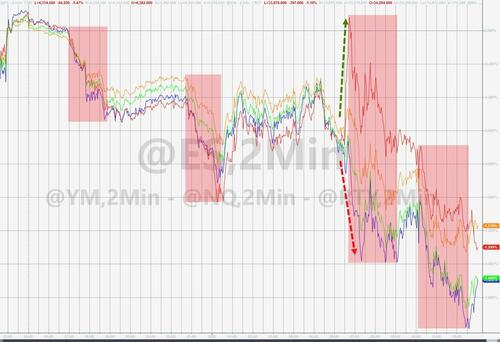 0-DTE traders countered the initial thrust lower after the cash open (as the S&P broke below the Put-Wall at 4300), but as Khan unleashed her FTC ear-bugs,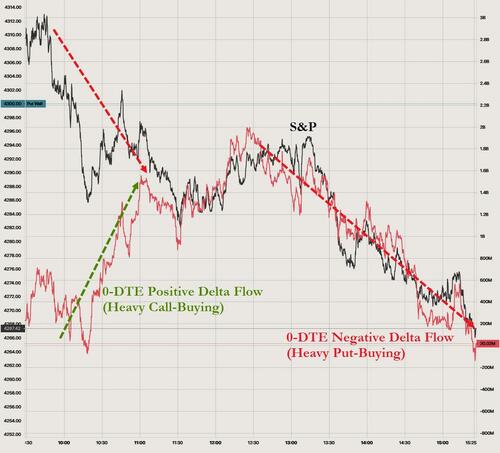 The last month has seen both Value and Growth stocks hammered as the broad market weakens, but most notably, the Russell 2000 Value index is now in the red YTD (down around 3%)…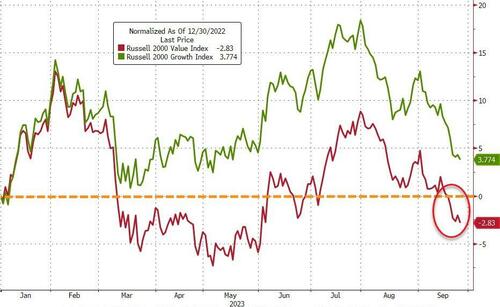 Source: Bloomberg
VIX soared up near 20 today, its highest since May and VVIX surged up into the danger-zone above 100…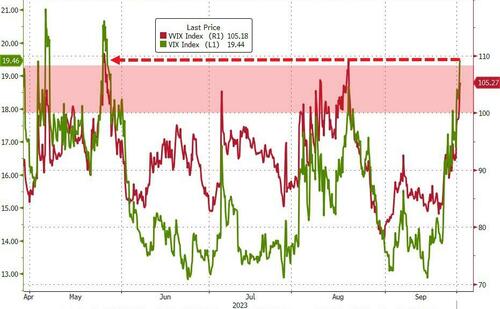 Source: Bloomberg
The long-end of the yield curve was sold again today with 30Y yields up another 4bps to fresh cycle highs (and the 2Y auctioned at 16 year highs)…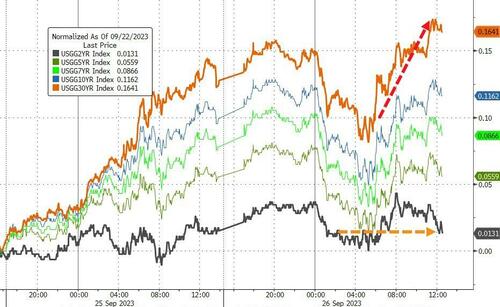 Source: Bloomberg
And that sent the yield curve (2s30s) steeper still (to its least inverted since May)…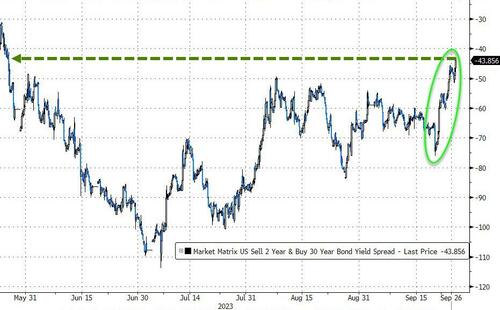 Source: Bloomberg
The dollar rallied for the 5th day in a row to its strongest since Dec 2022…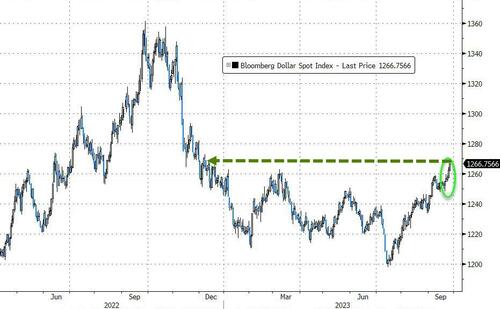 Source: Bloomberg
And as the dollar rallied, so gold was clubbed like a baby seal with spot prices testing back below $1900..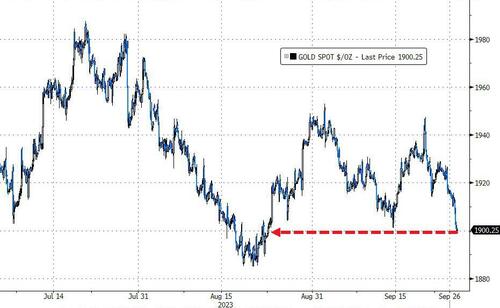 Oil ended the day higher, back above $90 (despite the strong dollar) bouncing back hard from an overnight plunge…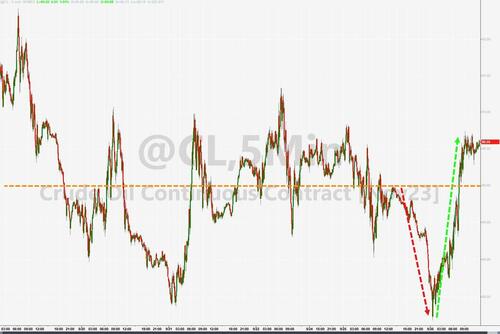 Finally, the Magnificent 7 stocks have lost over $1 trillion in market cap from their July highs falling back to near 4-month lows.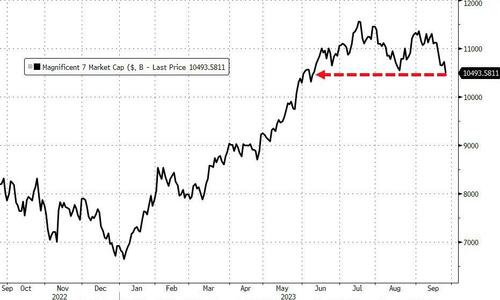 Source: Bloomberg
From Greed to Fear… fast!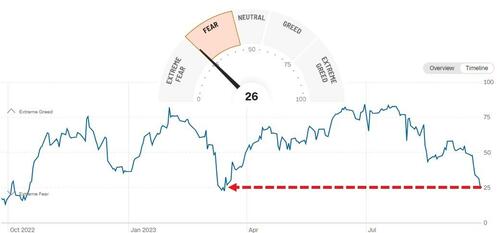 That escalated quickly… as suddenly the markets' blinkers on consumer strength (remember Bidenomics) are ripped off.
Loading…