The U.S. is a country created and built by immigrants from all over the world. As a result, it's home to more immigrants than any other country.
As of 2021, more than 45.3 million people living in the U.S. were foreign-born, accounting for about one-fifth of the world's migrants. But while some come to reunite with family, others are seeking work or escaping dangerous situations.
So why do people immigrate to the U.S.? The following graphic, by Visual Capitalist's Omri Wallach and Joyce Ma, using U.S. Department of State data compiled by USAFacts, shows the different reasons cited by new arrivals to America in 2021.
Why Immigrants Came to the U.S. in 2021
New arrival data in a given year includes non-tourist visas, new arrival green cards, refugees, and asylees.
Each arrival falls under a broad class of admission:
Work: Includes visas for specialty occupations or temporary agricultural work, as well as new arrival green cards issued for employment.

School: Includes student visas and families of student visa recipients.

Family: Includes immigrant visas and new arrival green cards issued for relatives of American citizens.

Safety: Includes refugees and asylees, as well as immigrant visas and new arrival green cards issued for fears of safety or persecution.

Diversity: Entry through the Diversity Visa Program—also known as the "green card lottery"—which accepts applicants from countries with low numbers of immigrants in the previous five years.
In 2021, the United States saw 1.53 million new arrivals. Here's how the arrivals break down by class and origin:
New arrivals for work were the largest cohort of entries to America, totaling 638,551 people or 41.8% of new arrivals. The majority came from neighboring Mexico, which accounted for 55% of incoming workers and was the largest single country of origin.
School and education saw 492,153 people 32.2% of new U.S. arrivals, with the majority coming from Asian countries. China had the most school-related entries into the U.S. out of individual countries, accounting for 19.0% of total school-related entries, followed by India at 17.4%.
Family entries to the U.S. comprised just 23.2% or under a quarter of incoming new arrivals. In these instances, the largest cohorts came from India (17.6% of family entrants) and Mexico (15.2% of family entrants).
Compared to the larger classifications above, safety (1.9% of total entrants) and diversity (0.9% of total entrants) accounted for significantly fewer U.S. arrivals. The countries with the most citizens seeking refuge or asylum were the Democratic Republic of the Congo (4,876 refugees) and Venezuela (1,596 asylees) respectively.
Growth of U.S. Immigration
Though 2021 saw less entrants than before 2020 as a prolonged result of the COVID-19 pandemic, it still tracks with increased immigration to the U.S. in the long term.
In 1965, the U.S. updated its immigration laws, removing a national origins quota system with regional caps and preferences "emphasizing family reunification and skilled immigrants."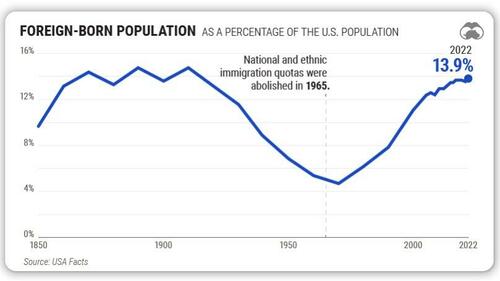 Since then, the number of immigrants living in the U.S. has more than quadrupled. As of 2022, immigrants accounted for 13.9% of the U.S. population, or nearly 1 in 7 people.
U.S. Immigration from Global Perspective
The U.S population contains a high level of immigrants, though immigration is an even more pronounced factor in some other countries in the world. For example, Canada's foreign-born population accounted for 23% of the country's total population in 2021.
Some countries actually have immigrants constitute the majority of their populations. In the Persian Gulf, the United Arab Emirates saw 88% of its population in 2020 come from foreign countries, while Qatar saw 75%.
Immigration levels have waxed and waned over time, but remains a vital part of the American story today.
Loading…