Ding, Ding, Round Two!
But once again, there's no real contender as former President Trump heads to Detroit, skipping the second Republican presidential nominee debate tonight at the Ronald Reagan Presidential Library in Simi Valley, California.
You can't really blame him, given his position in the polls is still dominant, but one thing is for sure, tonight is make-or-break for any hopefuls…
Everyone from debate No. 1 qualified for debate No. 2 except former Arkansas Gov. Asa Hutchinson.
Those who tuned into the first debate may have noticed some major topics and questions were missing or minimized – everything from election integrity, a huge concern for many Republicans after the 2020 election, to the fate of Jeffrey Epstein, which Tucker Carlson tackled during an interview with former President Trump that ran at the same time as the debate.
Nathan Worcester, writing for The Epoch Times, lays out some more things to look out for at the showdown in Simi Valley.
Trump, Trump, and More Trump

A transcript of the first debate shows the word "Trump" was spoken more than 25 times.

President Trump will likely remain a significant focus of the conversation on Sept. 27. As he faces multiple indictments while campaigning for his previous office, the real estate developer turned politician is still the main character in American politics and certainly in the Republican Party.

"He has a huge lead. As the debates have gone on, his lead has only increased. While there were some standout performances in Milwaukee, nobody really made a dent in that," Mr. Kall said.

"They can't just attack each other and hope to do well. They really have to take the fight to Donald Trump," he added.

"There's definitely a split in the Republican Party—those who want to move into the populist direction and those who want to stay with the 2000s or even earlier type of Republicanism, like Nikki Haley or Mike Pence.

"That's going to be something for Republican primary voters to decide at the ballots," Ms. Krieger said.

Mr. Ramaswamy and Gov. DeSantis are closer to the populist camp. A strong attack on President Trump from either one would be noteworthy.

More Foreign Policy Clashes

During the first debate, some of the biggest arguments erupted over foreign policy.

That's unsurprising. In a party reshaped by President Trump and, before him, the likes of Ron Paul and Pat Buchanan, hawkishness has given ground to what some call non-interventionism and what others call isolationism.

As the closest equivalent to President Trump in Milwaukee, Mr. Ramaswamy sparred with Ms. Haley and Mr. Christie as well as former Vice President Pence.

Mr. Pence described Mr. Ramaswamy's vision of ceding parts of Ukraine to Russia to sever it from Beijing as a "giveaway … to Putin."

Ms. Haley, who served as the United States ambassador to the United Nations during the Trump administration, argued with Mr. Ramaswamy over Russia, China, Taiwan, and Israel.

Count on foreign policy remaining a hot topic at the Reagan Library. After all, the president has considerable power over foreign policy, as outlined in Article II of the Constitution, and American foreign policy decisions resonate across the country and the planet.

The 'Laptop from Hell'

Special counsel David Weiss's investigation of Hunter Biden, President Biden's son, didn't come up as part of the moderators' questions in Milwaukee.

Mr. Christie and Mr. DeSantis did mention his legal issues at the first debate.

Although Hunter Biden has been under investigation for years, no charges were filed until whistleblowers with the IRS testified that multiple U.S. attorneys declined to let Mr. Weiss bring charges.

Now, an FBI agent has come forward and confirmed their accounts during a closed-door interview with members of Congress.

"I remember learning at some point in the investigation that Mr. Weiss would have to go through his other processes because the U.S. Attorney's Offices had, I guess, in that sense, using that terminology, wasn't going to partner," the agent said, as recorded in a transcript The Epoch Times has obtained and reviewed.

Hunter Biden is also suing former Trump aide Garrett Ziegler in connection with the laptop linked to him in the runup to the 2020 election, dubbed "the laptop from hell."
As Newt Gingirch writes at The New York Sun, overall debate performance is not all that matters. In this kind of wide-open environment – with seven candidates maneuvering to become the Trump alternative – candidates have two simple goals. 
First, do not get too eager and screw up. One big mistake could lead people to write you off as unable to beat Mr. Trump or lead the country. 
Second, find no more than three breakthrough moments in which your ideas, language, delivery, intelligence, courage, and authenticity vividly come through. Networks will specifically hunt for these moments to highlight repeatedly. And they will go viral on social media. 
Ambassador (and former Governor) Haley came close to breaking through after the first debate. Many polls showed that people felt she was the most effective and forceful debater. Her focus on Vice President Harris worked to her advantage. 
Ms. Haley's range of experience in foreign policy and national security was impressive.
Her toughness about balancing the budget and lessons she learned as a reform governor of South Carolina communicated an important authenticity. She may be the best positioned to break out.
Mr. Ramaswamy impressed in the first debate.
As a remarkably successful 38-year-old entrepreneur, he has a lot going for him. However, many people refuse to consider him because they don't believe he has enough experience to be President. If he can perform well enough to overcome those concerns, he could take off and have an exciting run.
Mr. Desantis may be facing his last chance to prove he is a contender.
He has been an excellent governor of Florida. It has been perplexing to watch him decay under the dual assaults of the Trump team and the left-wing press. This may be his last opportunity to resurrect his candidacy and convince people — especially major donors — to give him a second look.
Gingrich closes by suggesting that "it will be an interesting and important debate. It is worth your time to watch and think about it."
The two-hour event will be moderated by Fox News' Dana Perino and Stuart Varney as well as Univision's Ilia Calderon.
The debate is being hosted on Fox News and Fox Business, accessible online only via login. Click the image below to link to the live Rumble feed (not embeddable)…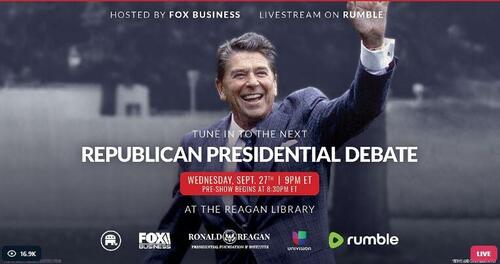 Loading…