Wall Street bonuses are set for another disappointing year, affected by elevated inflation, high-interest rates, failures of regional banks, and a downturn in dealmaking and new stock listings.
A new survey released by New York-based pay consultancy Johnson Associates found investment bankers (on the advisory side) are expected to see bonuses tumble by 15-25% from a year ago, including both cash and stock-based compensation. Retail and commercial bankers at regional banks could see 10-20% smaller bonuses. And investment bankers in debt underwriting could see their payouts slide by as much as 10%.
Here's the complete list of expected bonus cuts for Wall Street 2023:
"It's another disappointing year, and you overlay that with inflation, people's incomes are down meaningfully," stated Alan Johnson, Managing Director at Johnson Associates, as reported by the Wall Street Journal.
It's the second consecutive year of sliding compensation for Wall Street after record low-interest rates, helicopter money, and juiced-up financial markets sent bonuses to record levels. Global dealmaking has since fallen after peaking at record highs. 
Last year, the average Wall Street payout plunged 26% to an average of $176,000 across all NYC financial services employees. According to data from the NY State Comptroller Thomas DiNapoli, this was the most significant annual drop since the financial crisis. 
Johnson Associates expects 2024 will be "another challenging year" for Wall Street as the Fed holds interest rates' higher for longer', which already has rate traders pricing in 50bps of rate cuts for July 2024 on fears of an economic downturn.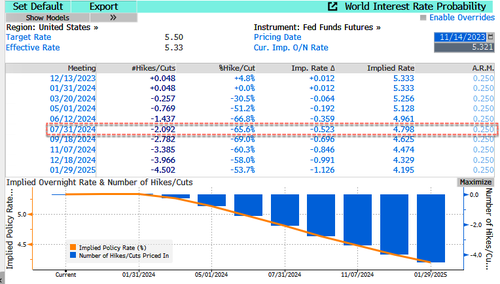 This year, Goldman Sachs, UBS, Citigroup, and JPMorgan Chase, among others, have been laying off staff over economic uncertainty. Some of these banks have reproed declines in trading, leaving the bonus pool with less cash to pay staff. 
Loading…