Update (0910ET): We hate to be the ones to steal the jam from the exuberant consumer's donut BUT on a non-seasonally-adjusted basis, retail sales actually crashed 5.4% MoM in September – that is the biggest drop for September since 2019…
On a YoY basis, it's not as dramatic – as one would expect, with retail sales up 3.4% NSA (vs 3.8% SA)…
* * *
Despite reports of plunges in card spending from Citi and Barclays, and a huge downward revision in US consumption (per GDP), expectations were for a modest rise in retail sales (nominal, remember) this morning, with the omniscient BofA forecasting a slightly stronger than consensus rise for headline sales (and Goldman even more exuberant, "reflecting increases in auto, gasoline, and restaurant sales").
Goldman: "We estimate core retail sales edged up 0.1% in September (vs. -0.1% consensus) and headline retail sales rose 0.6% (vs. 0.3% consensus)…. we think the largest effects of the hit from the resumption of student loan payments will come in October."

— zerohedge (@zerohedge) October 16, 2023
And Goldman was right with a huge beat, headline retail sales soared 0.7% MoM (vs +0.3% exp). The previous two months were also revised higher (rising for 6 straight months), lifting retail sales up 3.8% YoY (the highest since Feb 2023)…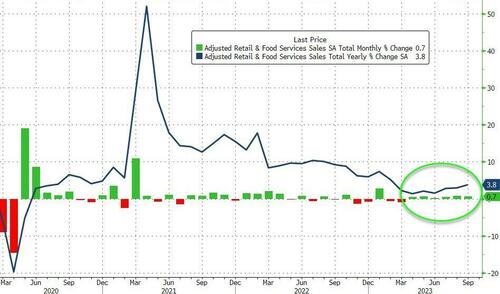 Source: Bloomberg
Retail sales soared across the board with core (ex-Autos and Gas) exploded higher (+0.6% MoM) and the Control group (used for GDP calc) also jumped 0.6% MoM…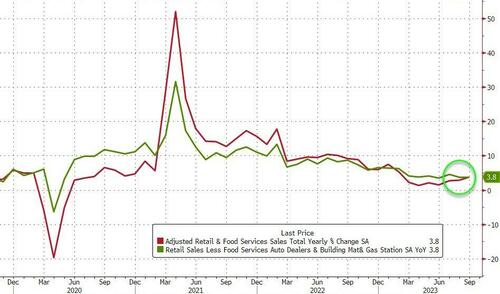 Source: Bloomberg
Under the hood, there is barely any red, with miscellaneous store retailers soaring…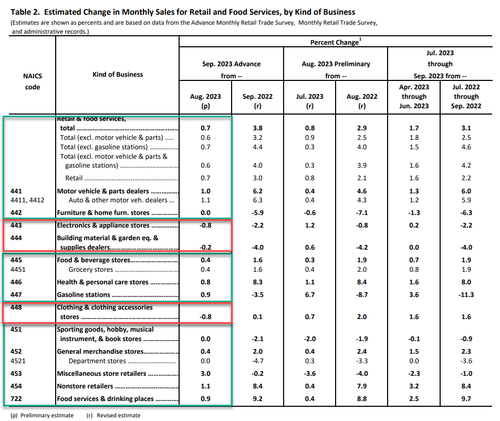 …after miscellaneous store retailers plunged last month…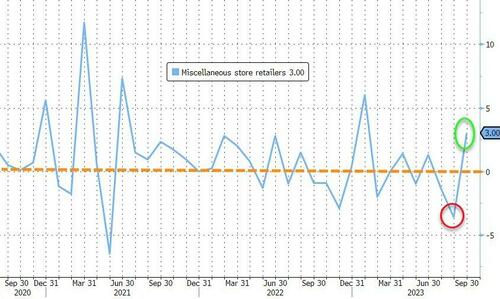 Source: Bloomberg
This is certainly not the 'slowdown' The Fed would have hoped to see.
But there is some worrying data in there…Building Materials, Appliances, and Furniture all saw sales decline MoM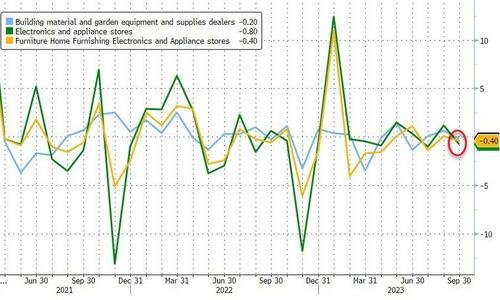 Source: Bloomberg
That doesn't bode well for housing markets… and as Goldman warned… brace yourself for October.
Loading…