Authored by Darlene McCormick Sanchez via The Epoch Times (emphasis ours),
Playing a role in the sudden rise of transgender children may be "transhausen by proxy," a term coined for narcissistic parents who push so-called "gender transitioning" on their children, some experts say.
Celebrities are increasingly in the limelight with announcements about their children who come out as transgender or nonbinary. Nonbinary individuals identify as neither male nor female.
"Transhausen by proxy" isn't an officially recognized psychological condition. It's a play on an official condition known as Munchausen Syndrome by Proxy (MSBP). MSBP is a mental illness that's also sometimes called medical child abuse or factitious disorder imposed on others. It's exhibited mostly by women seeking attention by exaggerating or making up an illness of children or others in their care. 
Transhausen by proxy has very real effects on society, experts told The Epoch Times.
They point to headlines like the one on Pride.com in May, which gushes: "15 Celebs Who Are Out & Proud of Their Trans & Nonbinary Kids." The article praises stars such as Cher, Sade, Jennifer Lopez, and Charlize Theron for supporting their children who reject their biological sex.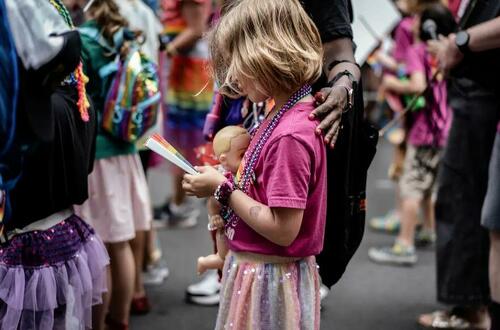 Another article by Pink News details how United Kingdom television stars Carrie and David Grant claim three of their four children are transgender or nonbinary.
Ms. Grant is a singer and voice coach. Her husband was part of the '80s band Linx and worked with groups such as the Spice Girls. The couple told the publication they had discussed alternate gender identities before their children "came out."
They're currently pitching their book, "A Very Modern Family," on the topic of "understanding queer and neurodivergent children."
But celebrities aren't the only ones heralding transgender and nonbinary children.
Parents routinely post on social media cheering their children's transition or advocating for "transgender rights." Some parents have been featured in news articles for fleeing red states that block transgender procedures for children and moving to blue states where "gender-affirming care" is allowed.
The increase in cases of gender dysphoria and families with multiple transgender children have led some medical and mental health professionals to suspect psychological illness, such as narcissistic personality disorder, is involved.
A Parent-Fueled Condition?
Dr. Erica Li is a pediatrician in Spokane, Washington, who considers herself an old-school liberal. She's not necessarily against gender transitioning. Early in her career, she considered becoming a pediatrician specializing in gender dysphoria.
However, she began to question why doctors were advocating for medical procedures to transition children without solid scientific evidence that the procedures came with an overwhelming benefit for their young patients, she told The Epoch Times.
If the cause of gender dysphoria is unknown in a patient and the prognosis of treatment is uncertain, then radical treatment with morbid side effects isn't justified, she said.
Dr. Li believes contemporary gender medicine is no longer based on reality. Now, she said, it's more about ideology. And the outcomes and long-term side effects of treating gender dysphoria are "murky."
Until recently, gender dysphoria was rare and occurred mainly in young males. Left untreated, the condition often resolves naturally after puberty. In some cases, children struggling with gender dysphoria turned out to be gay, according to studies.
But in recent years, many in favor of "gender-affirming care" argue that medical interventions save lives by reducing suicidal tendencies in youth. They assert that it's a human right for people to be able to identify as the opposite sex and that society must be accepting.
Dr. Li now, in some cases, sees another force at work—parents with personality disorders.
Narcissism, which has similarities to MSBP, may contribute to the proliferation of gender dysphoria claims and shouldn't be ignored, she said.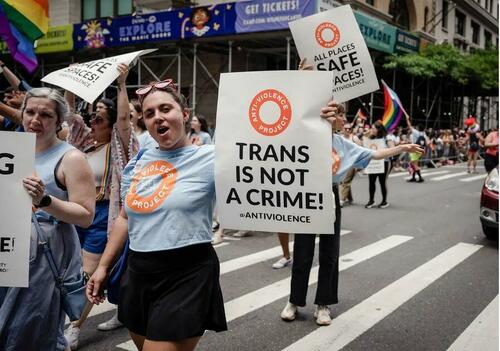 "The narcissism of some of these mothers has to be exposed," she said.
Mothers, in particular, may use the attention from having a transgender child to climb the social hierarchy, she said. She's not the only medical professional to feel this way. MSBP in parents has been described by insiders working in gender clinics in the United States and abroad, Dr. Li said. The condition is associated with what's known in personality research as the "Dark Triad," she said.
Those exhibiting the Dark Triad express Machiavellianism, which uses deception to win power. They also express underlying psychopathy, such as amoral behavior. And they express narcissism, which is the need for admiration coupled with an absence of empathy for others.
'Transhausen by Proxy'
In February, Jamie Reed, a former case manager at the Washington University Transgender Center at St. Louis Children's Hospital, exposed practices at the clinic and described parents who were adamant about transitioning their children.
Her revelations became the catalyst for Missouri lawmakers to draft a law barring hormone therapy for minors.
In a July article appearing in LGBT Courage Coalition, Ms. Reed wrote about how children at the clinic were the victims of "one parent's own psychological needs."
"As horrible as this is to say, I did see parents (primarily moms) who showed signs of Munchausen Syndrome by Proxy," Ms. Reed wrote.
Ms. Reed, a lesbian and mother of five, described how the center tore families apart when both parents didn't agree to putting their children on hormones.
Fathers often attempted to stop the medical transitioning of their children, she wrote. And staff, she wrote, often referred to those fathers as "idiots" or said they had "patriarchal issues."
"Often the dads were fighting for the most reasonable things—more time in therapy, therapy with a provider who would actually explore where his child's desire to escape his or her own body was coming from, time to allow mental health professionals to do proper psychotherapy."
Ms. Reed wrote that she no longer trusts "affirming" doctors because they are "blinded by ideology."
Likewise, in the United Kingdom, the Tavistock and Portman gender clinics accepted about 30 children under the age of 5 in the two-year period ending in 2022, according to National Health Service data. About half were younger than 4.
Dr. Az Hakeem, a psychiatrist who worked at the Portman Clinic until 2012, was quoted by The Telegraph and the Daily Mail as saying he was concerned with cases that smacked of "transhausen by proxy."
Dr. Hakeem told the news outlets he saw a significant number of grieving parents who had lost a child and eventually had another baby. Some parents wanted to transition the later-born child to the sex of the child who died.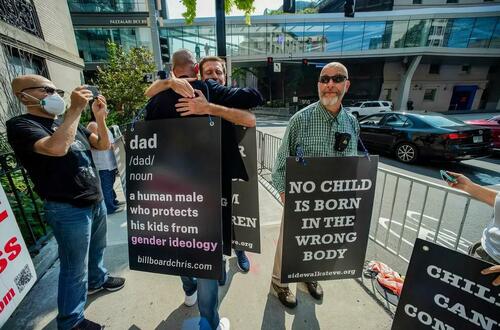 Loading…