From football games to live concerts, stadiums serve as a gathering place for some of life's most exciting moments.
While some stadiums are famous for their history, others are truly massive in size, capable of seating over 100,000 people at once.
In this graphic, Visual Capitalist's Marcus Lu and Sabrina Lam have ranked the 10 largest stadiums in the world by seating capacity, with Madison Square Garden included as a reference point.
Data and Highlights
As shown in the graphic above, the world's largest stadium belongs to India. Named after the country's Prime Minister, the Narendra Modi Stadium was designed to host cricket games.
See below for the full list in tabular format.
The number two spot is held by Rungrado 1st of May Stadium, which is surprisingly located in North Korea. It was completed in 1989 with the purpose of hosting the 13th World Festival of Youth and Students, and is now used to host various government events.
It's interesting to note that this arena initially had a higher capacity of 150,000 people, but was reduced to 114,000 after renovations in 2014.
Looking further down the list, the third to tenth largest stadiums belong to the United States. All of these arenas are primarily used for college football, serving as the home field for their respective university team.
A shocking fact is that these arenas are significantly larger than NFL stadiums. For example, the largest NFL stadium is MetLife Stadium, which has a seating capacity of 82,500.
The Runner-Ups
While just three countries are represented in the top 10 list, there is plenty of geographical diversity once we look a little further down. Shown below are the 11th to 14th largest stadiums in the world.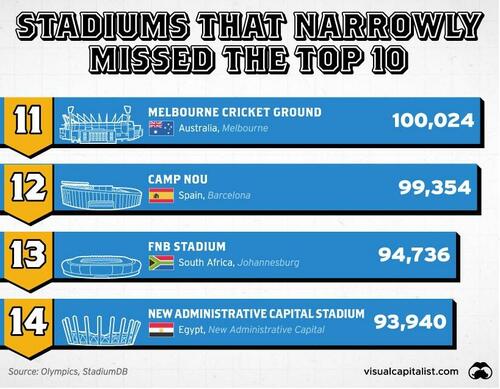 Camp Nou and FNB Stadium are two historic soccer stadiums which have both hosted a FIFA World Cup tournament. Camp Nou is owned by FC Barcelona, the world's third most valuable soccer club.
New Administrative Capital Stadium is expected to replace the Cairo International Stadium as Egypt's new national arena, and could be used to host the Olympics or a FIFA World Cup in the future if called upon.
Loading…