Tesla is reporting earnings after the bell today and analysts will certainly be focusing on the company's margins after yet another quarter of slashing prices. This report will also mark the first quarter since CFO Zachary Kirkhorn announced he would be stepping down from his position. Vaibhav Taneja now holds the roles of both CAO and CFO.
Analysts are expecting $0.73 cents per share in earnings on $24.1 billion in revenue, per CNBC, who cited Refinitiv estimates. The company is expected to report diminished financials due to its aggressive cost cutting and the key question remains whether or not investors are willing to look forward and see Tesla as more than an automobile company for yet another quarter.
While the fundamentals around the company's auto business slow due to price cuts, the market is faced  with the question of whether to value Tesla as a traditional automaker or an emerging tech "growth" company. 
Meanwhile, on the auto side of things, delivery guidance still stands at 1.8 million vehicles for the year and margins will continue to be the key focus, with Tesla continuing to aggressively slash the price of its vehicles moving into Q3 this year. We noted about a week ago that Tesla's vehicles are now officially priced to compete with traditional ICE vehicles. 
And the company's biggest analyst friend over the years, Adam Jonas, is feeling cautious heading into the report, The Tokenist noted:
In a note last week, Morton Stanley strategist Adam Jonas said that sentiment toward Tesla's earnings for the rest of 2023 "skews cautions," and warned that profits could be revised lower. Additionally, investors are "wondering if Tesla can grow earnings at all" in the following year, which is expected to be "volatile," the analyst added. 
Through most of 2023, the cost cutting strategy has worked, but Tesla's most recent round of price cuts, putting their vehicle prices close to those of conventional ICE vehicles, is catching the eyes of not only customers, but company investors. Those investors will continue to watch to see what impact the cuts are making on Tesla's margins. 
"At $38,990, the base Model 3 sedan now costs $8,700 less than the average amount paid for a car or truck in the US," Bloomberg pointed out earlier this month. 
The latest cuts we detailed less than a week ago: 
Model 3 Now $38,990 From $40,240

Model 3 Performance Now $50,990 From $53,240

Model 3 Long Range Price Cut To $45,990 From $47,240

Model Y Long Range Now $48,490 From $50,490

Model Y Performance Now $52,490 From $54,490
Tesla uber-bull and genial human haircut Ross Gerber also commented to Bloomberg at the time: "Sadly Tesla continues to have to cut prices to sell cars. Piss off core demo and kill margins to unload inventory. The master plan!"
We'll certainly be anxiously awaiting Ross's unique and astute analysis of today's earnings. 
The latest round of price cuts came just days after Tesla missed its modest Q3 delivery estimates.  In Q3, the company delivered 435,059 vehicles and produced 430,488 vehicles, missing consensus delivery estimates of 456,722. The quarter marked the first sequential drop in total deliveries since Q2 2022. Prior to that, the last sequential drop in total deliveries occurred in early 2020, as the chart below shows. 
The company acknowledged the miss and chalked it up to downtime, stating in its press release the "sequential decline in volumes was caused by planned downtimes for factory upgrades, as discussed on the most recent earnings call."
The company delivered 15,985 Model S/X vehicles, missing estimates of 17,721 vehicles.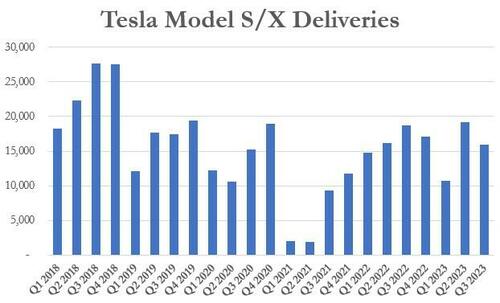 And Tesla delivered 419,074 Model 3/Y vehicles, missing estimates of 439,362.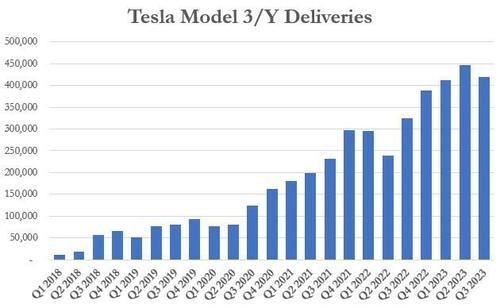 Despite the Q3 miss, Tesla claims that its 2023 "volume target of around 1.8 million vehicles remains unchanged". CEO Elon Musk had said on the company's last conference call that it would "continue to target 1.8 million vehicle deliveries this year." However, he also warned about production numbers dwindling due to "summer shutdowns for a lot of factory upgrades."
Analyst Gordon Johnson of GLJ Research called the price cuts a "Midnight Price Cut Massacre" in a note out earlier this month, and suggested that the Q3 miss was not due to line upgrades, but rather due to lack of demand. 
"Tesla is already resorting to margin-destroying price cuts just five days into the fourth quarter of 2023," he wrote. "Despite selling only 4,500 more cars than it produced in the third quarter and entering the fourth with a record inventory of 106,000 cars, it's clear that Tesla's issues rest mainly with lackluster demand."
"This means to hit its goal of 1.8mn cars produced in 2023, Tesla may have to sell those cars at negative net income margins," he continued. 
According to CNBC, the conference call following earnings may also address shareholder submitted questions about "when Tesla expects to begin deliveries of its Cybertruck" and "when it plans to make an updated version of its entry-level Model 3 sedans". Shareholders who submitted questions also "wanted an update on Tesla's latest FSD software improvements", the report says.
Sleuths and bears will also likely be waiting for Tesla's 10-Q to drop to search for legaleze updates, if any, about ongoing regulatory probes both into Elon Musk personally and the company's Full Self Driving software. 
Investors will also have their ears open for the next carrot on a string piece of CEO Elon Musk's masterplan in its "Dojo" supercomputer. As we wrote earlier this month, Tesla is building a "bunkerlike" structure in Texas that it will use to house part of a new supercomputer that the company is calling "Dojo". 
The supercomputer is being put together by the company "to help run the artificial intelligence software behind the self-driving capabilities in its vehicles," according to The Information. The supercomputer could also eventually be used to sell cloud services to other companies, the report says. The project is is being called an "an audacious plan by Musk to take greater control over the technology it needs to run the AI software at the heart of its products".
We'll have our answer on Tesla's earnings in just minutes now, and a conference call will follow…
Loading…