This morning Tesla released its production and delivery numbers for Q3, stating it delivered 435,059 vehicles and produced 430,488 vehicles, missing consensus delivery estimates of 456,722, according to Bloomberg.
Shares were down as much as 3.5% in pre-market trading on Monday before slightly paring losses. The market had expected lackluster numbers for the quarter, but Tesla's report still missed the street's most modest of estimates. 
A consensus of analysts polled by StreetAccount and cited by CNBC had even higher estimates for the quarter of 461,640 deliveries. The company appears to have sent out a consensus of 455,000 for the quarter, per social media posts last week. 
The quarter marked the first sequential drop in total deliveries since Q2 2022. Prior to that, the last sequential drop in total deliveries occurred in early 2020, as the chart below shows. 
The company acknowledged the miss and chalked it up to downtime, stating in its press release the "sequential decline in volumes was caused by planned downtimes for factory upgrades, as discussed on the most recent earnings call."
CEO Elon Musk had said on the company's last conference call that it would "continue to target 1.8 million vehicle deliveries this year." However, he also warned about production numbers dwindling due to "summer shutdowns for a lot of factory upgrades."
The company delivered 15,985 Model S/X vehicles, missing estimates of 17,721 vehicles.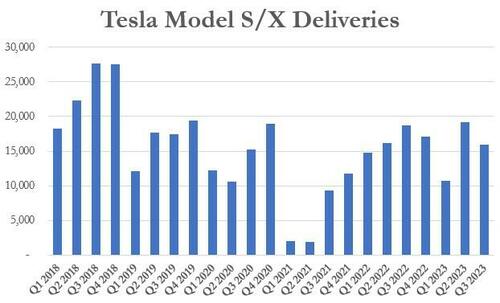 And Tesla delivered 419,074 Model 3/Y vehicles, missing estimates of 439,362.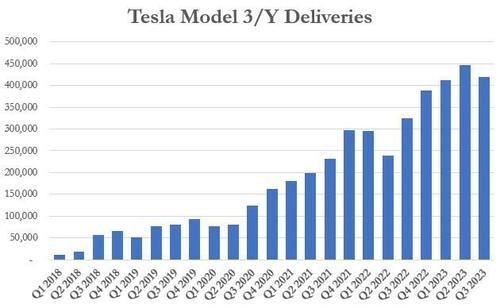 Despite the Q3 miss, Tesla claims that its 2023 "volume target of around 1.8 million vehicles remains unchanged". Tesla didn't weigh in on sales of its semi or its Cybertruck yet and says it will report earnings on October 18. 
This quarter's earnings will be the first with Chief Accounting Officer Vaibhav Taneja in the CFO role. 
Loading…