Shocking scenes have been emerging from the Armenian enclave of Nagorno-Karabakh this week, after last week an Azerbaijan military offensive targeting a breakaway region killed at least 200 people and wounded many more.
An exodus of tens of thousands of ethnic Armenians is underway from their 2,000-year ancient homeland of Artsakh, which in modern times has existed within the internationally recognized borders of Azerbaijan. 
Some observers have declared that this marks the final end of the Republic of Artsak, given long lines of cars have been observed exiting toward Armenia's borders, on fears that Azeri troops are conducting an ethnic cleansing campaign. 
The Armenian foreign ministry has tallied that at least 13,500 people have fled into Armenia from Nagorno-Karabakh by Tuesday.
That number was later revised to at least 19,000, and many more are expected, given blocked traffic in the direction of the Armenian border stretches for miles.
Footage showing mass exodus of Armenians now leaving Nagorno Karabakh for Armenia, normal travel time of 2 hours now taking 20 or more. Kids the hardest hit, with little food after months of blockade. Cars are literally halted, as vehicles checked one-by-one by Azeri officials. pic.twitter.com/3jzrLv2FnB

— Nagorno Karabakh Observer (@NKobserver) September 26, 2023
Making matters worse for fleeing civilians, there may have been a terror bombing, or else horrific accident, at a gas station which was fueling cars in the mass exodus: 
As many more were attempting to flee the enclave on Monday evening, a powerful explosion ripped through a gas station near Stepanakert, where people had been attempting to get fuel before driving to Armenia.

At least 20 people were killed and 290 wounded in the blast, Armenian state news agency Armenpress said. The wounded were taken to four hospitals across Nagorno-Karabakh, one of them being a Russian peacekeeping mission clinic.
An Artsakh official has explained that ethnic Armenians are refusing to enter the territory of Azerbaijan: "Our people do not want to live as part of Azerbaijan. Ninety-nine point nine percent prefer to leave our historic lands," the official said as quoted in Reuters.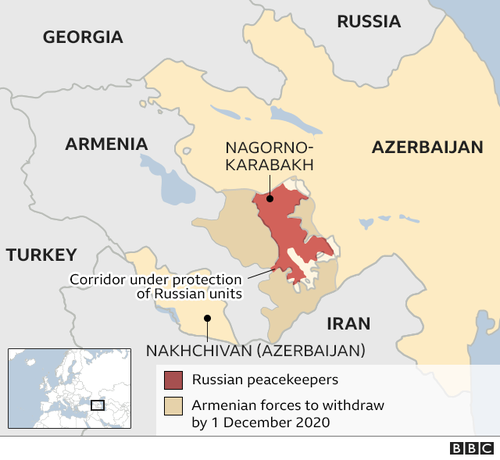 Washington has urged restraint amid accusations that Azerbaijan is conducting genocide:
US Agency for International Development (USAID) chief Samantha Power, in the Armenian capital Yerevan, called on Azerbaijan "to maintain the ceasefire and take concrete steps to protect the rights of civilians in Nagorno-Karabakh".

Power, who earlier handed Armenian Prime Minister Nikol Pashinyan a letter of support from U.S. President Joe Biden, said Azerbaijan's use of force was unacceptable and that Washington was looking at an appropriate response.

She called on Azerbaijan's President Ilham Aliyev to live up to his promise to protect ethnic Armenian rights, fully reopen the Lachin corridor that connects the region to Armenia and let in aid deliveries and an international monitoring mission.
Just a river of cars… from Stepanakert to Hakari…

We drove two meters, waited two hours…

Be patient, those who haven't arrived yet… pic.twitter.com/8e95LotNru

— Marut Vanyan (@marutvanian) September 26, 2023
For Armenians, however, both the pleas and lack of action from both Washington and Moscow have been cause of frustration and anger. 
Videos have since emerged (unverified) showing Azerbaijan troops ransacking or also shooting into ethnic Armenian homes…
Videos are circulating online showing Azerbaijan troops shooting into civilian homes in Nagorno-Karabakh. pic.twitter.com/YYzy2Gkwuc

— Geopolitics.wiki (@GeopoliticsW) September 22, 2023
Local officials have warned that amid the armed Azeri advance, not a single ethnic Armenian family is going to stay in Nagorno-Karabakh, which is home to dozens of ancient Christian monasteries and churches.
Russia has meanwhile issued a rare statement lambasting the Armenian government under Prime Minister Nikol Pashinyan for failing to uphold agreements which helped lead to this unfolding disaster…
The Russian Foreign Ministry has released an extraordinary statement on what is happening in Artsakh (Nagorno-Karabakh) and Armenia.

What's more, the Russian MFA has effectively confirmed that Nikol Pashinyan has treasonously colluded to undermine the sovereignty of Artsakh and… https://t.co/3GHIrZNygv

— William Bairamian (@Bairamian) September 26, 2023
Meanwhile, it's become clear that Azerbaijan is ready to reunite the disputed territory by force. Those Karabakh Armenians who remain must accept Azerbaijani citizenship or else leave, statements from Baku have made clear.
Anna Ohanyan, a senior scholar in the Russia and Eurasia program at the Carnegie Endowment for International Peace, explained to CNN that "If the Armenian community will not leave, but also will not take up Azerbaijani passports, I think that basically would be suicidal."
Loading…