After two ugly, Dealer-heavy auctions, moments ago the Treasury concluded the week's coupon issuance with the sale of $20 billion in 30Y paper, and boy was it ugly.
The auction, a reopening of 29-Year 10-month cusip TT5, priced at a high yield of 4.837%, which was almost 50bps higher than just last month's 30Y auction (which priced at 4.345%). This was not only the highest stop on a 30Y auction since August 2007, but it tailed the When Issued 4.800% by 3.7bps, the 4th consecutive tail and the biggest since Nov 2021 when we saw a record 5.1bps tail, and the 3rd biggest tail on record.
The bid to cover was ugly, coming at 2.349, the lowest since February. and well below the six-auction average of 2.44%.
The internals were also ugly, with Indirects awarded 65.125%, up modestly from last month's 64.487%. But since Directs dipped down to 16.7%, the lowest since January, Dealers were left holding a whopping 18.2%, the most since Dec 2021. As a reminder, the last time Dealers saw such a build-up in unwanted duration "awards" was right before the Fed's "NOT QE" started, so look for an "credit event" in the next few days.
Bottom line, this was the ugliest 30Y auction in years, and the market reacted accordingly with yields surging to session highs, 10Y surging almost 20bps from session lows to 4.70%…
… while stocks and risk are both getting nuked.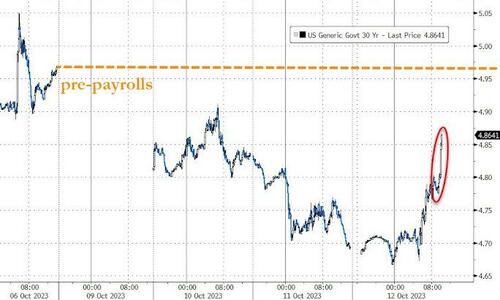 Loading…