After last month's dismal 3Y auction, which priced with one of the highest tails on record, some rates traders had a foreboding sense of deja vu ahead of today;s $48 billion sale of 3 year paper dreading a repeat of October. Luckily, it was not meant to be because after last week's bondgasm which sent yields sharply lower across the curve, today's 3Y auction not one came off without a hitch, but saw the highest demand since August.
Here are the details: the high yield of 4.701% was not only below last month's near-record stop of 4.723%, it also stopped through the 4.702% When Issued by the smallest of increments, of 0.1bps. This was the first stop following two tails of which last month's 1.7bps was especially harrowing and was the third highest in the past decade.
The bid to cover was nothing special: at 2.668 it was above last month's 2.562 but excluding that, it was the lowest since April and well below the six-auction average of 2.787.
The internals were far better, with Indirects spiking from last month's 56.0% to 64.6%, the highest since August, and in line with the recent average of 65.319.
Overall, this was a very impressive auction, and certainly stellar compared to last month's dismal 3Y offering. No surprise that moments after the results, yields across the curve and especially at the 10Y tenor slid to session lows just below 4.57% as the rollercoaster in TSY yields continues.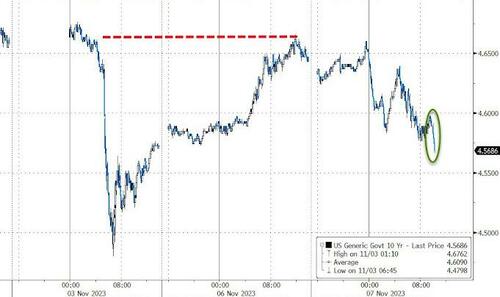 Loading…