A potential new crack in Europe's support for the war in Ukraine emerged Saturday, as a populist left-wing party took the most votes in Slovakia's national election. 
With 98% of the districts having reported their results, the populist Smer (or "Direction Social Democracy") party had racked up 23.4% of the votes, well ahead of the 16.9% received by the newcomer, liberal Progressive Slovakia (PS) party, Reuters reports. The leftist Hlas ("Voice") party took 15%. The populist party solidly outperformed opinion polls leading up to the election, which showed a neck-and-neck race. 
Smer is led by former Prime Minister Robert Fico, who has been pointed in his determination to pursue peace in Ukraine rather than continuing to pour weapons into an increasingly hopeless campaign to evict Russian forces from the country's eastern provinces. 
"Peace is the only solution," said Fico in early September. "I refuse to get criticized and labeled as a warmonger just for talking about peace, whereas those who support war and killing are being called peace activists. We have it all messed up in our heads. We will not send a single bullet to Ukraine from the state stocks."
Fico has also said the Ukraine war didn't start in 2022: "I say it loud and clear and will do so: The war in Ukraine didn't start yesterday or last year. It began in 2014, when the Ukrainian Nazis and fascists started to murder the Russian citizens in Donbas and Luhansk."
A March opinion poll found that 51% of Slovakians think the West and/or Ukraine are responsible for the conflict. Half also said the United States posed a security threat to their country. 
Fico's opposition to arming Ukraine and his support for an immediate, negotiated peace echoes the stance of neighboring Hungary, led by Prime Minister Viktor Orban. Both countries have borders with Ukraine.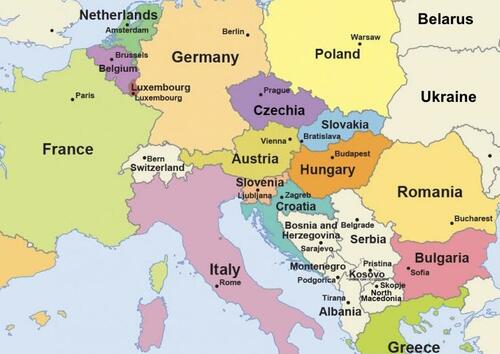 To this point, Slovakia has been an eager military supplier of Ukraine, having donated its entire fleet of 13 Soviet-era MiG-29 fighters, as well as an S-300 air defense missile system. The aircraft donation left Slovakia without any fighter jets; fellow NATO members Poland and the Czech Republic are securing the country's airspace.  
Aside from ending military aid to Ukraine, Fico has also pledged to veto Ukrainian membership in NATO and economic sanctions against Russia. Slovakians tend to identify with their Russian slavonic "cousins." 
Fico, who was was prime minister from 2006 to 2010 and 2012 to 2018, has also sounded alarms over a rising tide of migrants traversing Slovakia en route to Western Europe. 
Though Fico's Smer party took the most votes, it fell well short of an outright majority, which means it will have to form a governing coalition with other parties. Promisingly, the third-place Hlas party is lead by Fico's former deputy, Peter Bellegrini. Expect Washington to take a keen, active interest in the negotiations. 
As the election tally is finalized, observers are watching two parties on the cusp of the 5% threshold required to earn representation: the ultranationalist Slovak National Party, and the People's Party Our Slovakia, whose members cherish Slovakia's Nazi-Germany-subservient World War II government and use Nazi salutes. Both are potential members of a Fico-led coalition. 
Earlier on Saturday, Slovakian progressives and their international backers were crowing on social media as exit polls indicated the progressives would win: 
Wow! If this holds its an amazing outcome – for @progresivne_sk & @MSimecka
– but mainly for #Slovakia 🇸🇰
– wait for the final result & expect bumps on the road to any coalition but WOW!
– liberal, pro-NATO, pro-EU, pro-🇺🇦Progressive Slovakia are in the lead. 🎇🎆🎇
(Exit poll) pic.twitter.com/rWHgMP0nkJ

— Benjamin Tallis 🇺🇦 (@bctallis) September 30, 2023
However, when the votes were counted, their premature parade was rained upon. Aside from its allegiance to the US-led proxy war in Ukraine, the PS party is also defined by its support of green energy and LGBT-backing policies.  Fico, on the other hand, has said adoption of children by same-sex couples — which is illegal in Slovakia — is a "perversion." He also opposes same-sex marriage. 
A Fico campaign ad mocked the PS party's LGBT-catering stances, depicting a character similar to PS party leader Michal Simecka wrapped in a rainbow flag as he decides which school bathroom to use. 
"While the progressive Misho (Michal) decides whether he is a boy, a girl or a helicopter today, for us gender ideology in schools is unacceptable and marriage is a unique union between a man and a woman," Mico says as he grins into the camera. 
"Keep LGBT out of schools" Political advertisement by Robert Fico's SMER party in Slovakia pic.twitter.com/oKVsQUhagj

— Polish Connection (@PoleConnection) September 12, 2023
Loading…