Great news everyone!! Bidenomics is working or something. Retail sales soared more than expected, so did Industrial Production, so did Manufacturing Output… and continuing claims are still low…
WTF are people so miserable out in all these sentiment surveys?
Well… it's all illusion/delusion (economics PhD speak for 'adjustments')…
And remember what Goldman warned about on jobless claims: ongoing seasonal distortions have increasingly weighed on the level of continuing claims over the last six months, and we now expect that the reversal of those distortions could exert a cumulative boost of 375k to the level of continuing claims between the end of September and March.
The economic data (seasonally-adjusted) has been holding in 'so strong' as financial conditions have tightened dramatically…
Source: Bloomberg
The "good news" prompted a big jump in rate-hike expectations (Dec 2023 and Jan 2024 basically now at 50% and 60% respectively)…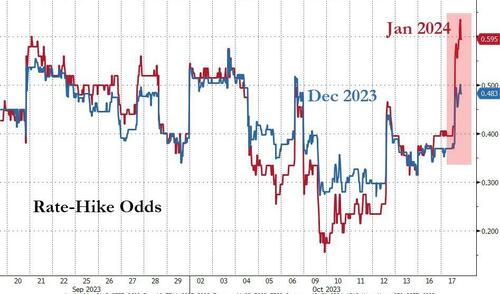 Source: Bloomberg
And, the "good" news headlines sparked another panic-puke in bonds, sending yields to cycle highs. All yields were significantly higher but the belly underperformed the wings on the day (2Y +10bps, 5Y +15bps, 30Y +7bps), and that is evident on the week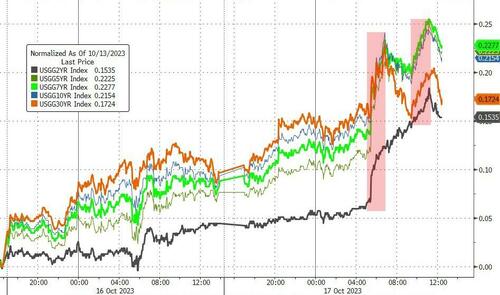 Source: Bloomberg
2Y yields hit 5.23% today… 2006 highs was 5.275%… before that we go back to Dec 2000.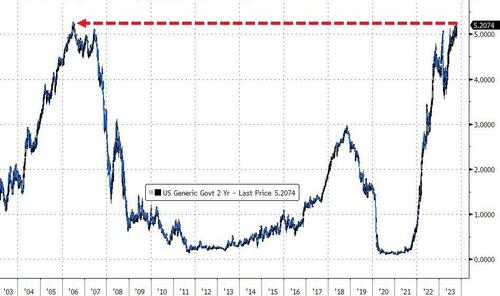 Source: Bloomberg
5Y yields hit 4.88%, its highest since July 2007 (that cycle high was 5.23% in June 2006).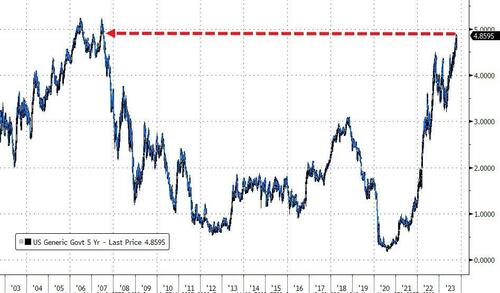 Source: Bloomberg
10Y yields reached up near last week's highs and reversed a little…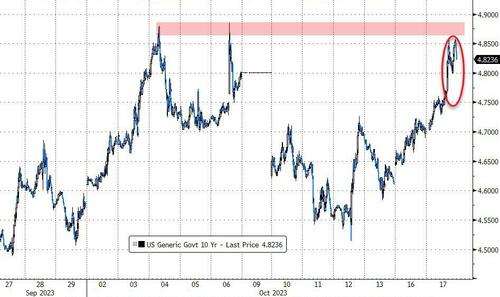 Source: Bloomberg
And in case you wondered, 30Y mortgage rates are inching ever closer to 8% – more than 23 year highs – are unprecedentedly decoupled from the effective rate of current mortgage-holders…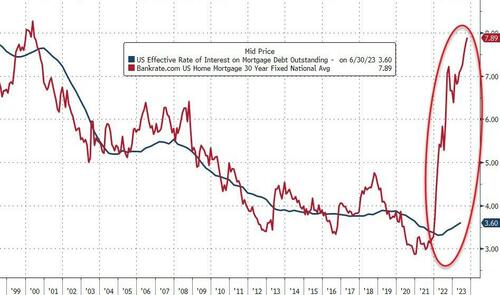 Source: Bloomberg
Translation: sellers are trapped and buyers are priced out.
Higher yields, lower stocks right? Nope. The economy must be doing  great so buy, buy, buy. Around 1230ET stocks rolled over (as the S&P 500 tagged its 50DMA) and stocks dipped when a rocket hit a hospital in Gaza and killed 100s (who the f knows where the missile came from at this point). By the close, Small Caps were dramatically higher (short squeeze) while Nasdaq was the biggest loser (China AI exports) with The Dow and S&P trying to hold on to unch…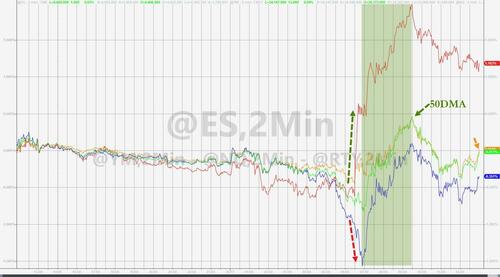 Another short-squeeze…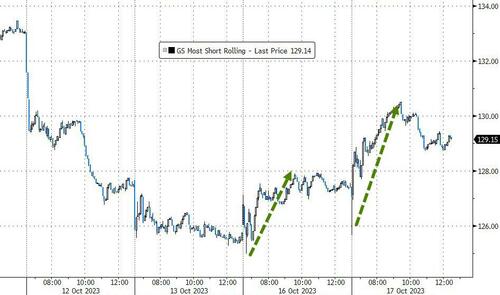 Source: Bloomberg
Tech stocks took a spill as the Biden admin confirmed new crackdown rules on exports of AI chips to China. SOX tumbled (bounced, then slid lower again)…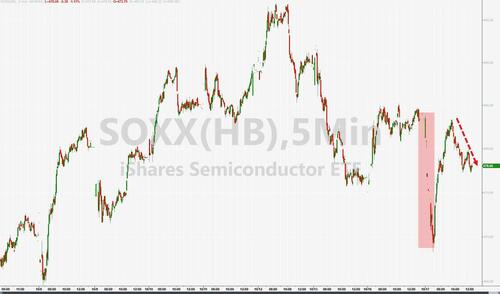 NVDA was punched in the face, despite its claims it would not be affected?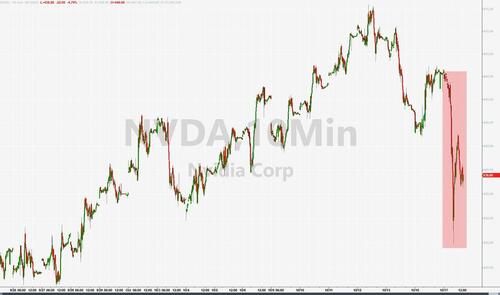 VIX tumbled down to a 16 handle briefly intraday before bouncing back above 18 and ending higher on the day…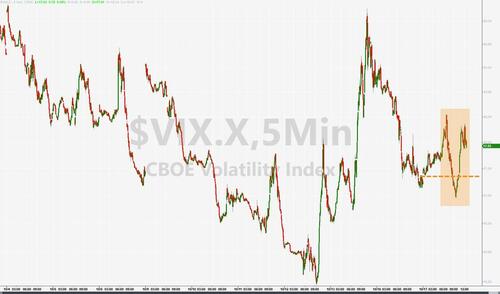 The dollar chopped around wildly to end unchanged…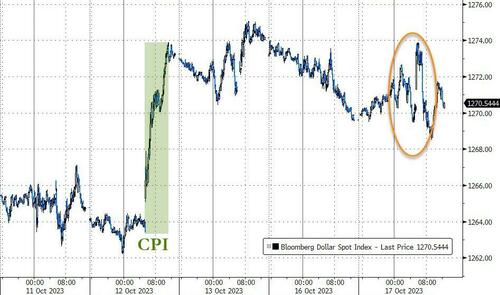 Source: Bloomberg
The dollar's action was echoed in crypto – Bitcoin went sideways to slightly higher…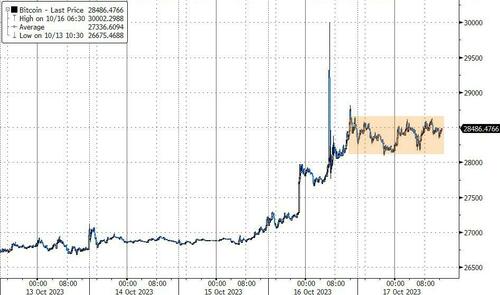 Source: Bloomberg
And gold sideways to slightly higher…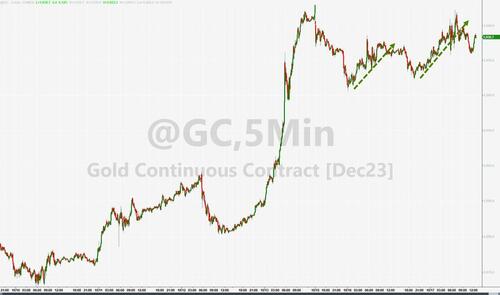 Crude… did the same… dropping and popping to end slightly higher…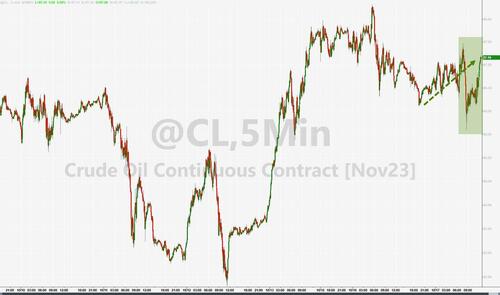 Finally, with real-yields back near cycle highs, valuations for stocks start to get "questionable" again…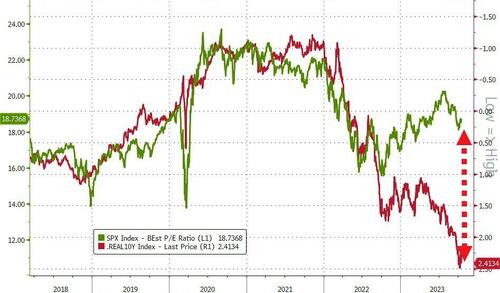 Source: Bloomberg
Did Biden just bust his AI bubble?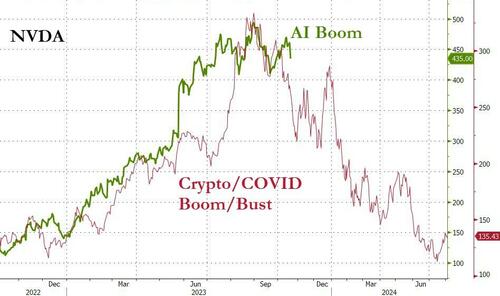 Source: Bloomberg
Is that another big 'head and shoulders' pattern?
Loading…