Whether it's the former CEO of Walmart, Mike Wilson from Morgan Stanley, or credit card data from various research desks, there's a unified message emerging about waning consumer strength. 
In the luxury space, we asked in May Did Europe's Luxury Bubble Just Burst? 
By June, we pointed out Luxury Recession: Diamond Prices Crash, Rolex Downturn Persists. 
In early October, we noted:
On Friday, luxury group Richemont provided what appears to be the latest evidence of faltering consumer demand for luxury watches, jewelry, and clothing. The owner of Cartier Jewelry reported first-half profits that missed Wall Street's forecasts. 
Richemont Chairman Johann Rupert said on a call with analysts that inflation, slowing economic growth, and rising geopolitical tensions hurt sentiment, while interest rates' full effects have yet to be seen. 
"There has been a moderation in demand, which was to be expected, because that's exactly what the central banks of the world intend. They wanted less demand, and it's across all asset classes," Rupert said. 
He continued, "We will see a softening in demand across all categories, across all asset classes, whether it's housing, art, the automobile sector, because that's the goal of the reserve banks. Otherwise, how do you get inflation down? So, and I suspect that interest rates will remain higher for longer than most people think." 
A slowdown in luxury spending comes as the labor market is softening, and according to JPM's market desk, "Sentiment is quickly turning very negative across retail/discretionary (seeing weakness across retail, casual diners, casinos etc)." 
The message from Richemont and other luxury brands in recent months signals a broader slowdown in spending that could signal dismal outlooks for Black Friday and Christmas sales across the West. 
Richemont shares in Switzerland were down more than 6% on Friday. Rival luxury brands, such as Paris-listed LVMH and Kering, were down as much as 4%. These luxury stocks have been sliding all year. 
Additionally, the company behind Don Julio tequila, Diageo, saw shares plunge 12%, the largest intra-day drop since 1997, following a warning about a "materially weaker" performance in Latin America and the Caribbean.
Global luxury and goods stocks via MSCI are in a bear market, down 23% from the peak in November 2021, but remain well above pre-Covid levels.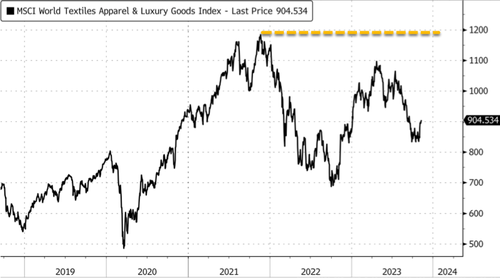 The slowdown in luxury spending comes as corporate America has delivered its "bleakest sales reports in four years this earnings season, a sign that weakening consumer demand is limiting companies' ability to raise prices further," according to Bloomberg's Sagarika Jaisinghani and Farah Elbahrawy.
Loading…