Authored by Ted Dabrowski and John Klingner via Wirepoints.org,
Gov. J.B. Pritzker promised to cut property taxes in 2020, part of his State of the State speech. Even then he recognized that those taxes, some of the nation's highest for decades, were a real drag on Illinois homeowners. 
Here's what he promised:
"Property taxes in Illinois are simply too high. And that's why it's time to put the best ideas to work from both sides of the aisle. Local governments continue to max out their levies even when they don't need to. There are perverse incentives in state law that encourage that. We can change the law to support local governments and lower property taxes. And with nearly 7,000 units of government in Illinois, it's time to empower local taxpayers and voters to consolidate or eliminate them. [Emphasis added]. 
Nearly four years on and Pritzker and his Democratic-led supermajorities have done nothing for homeowners. The property tax commission he put together to lower taxes was a flop and many laws that have been passed since he took office have increased property taxes. The pain has only gotten worse. 
Illinois falls dead last nationally when it comes to home value appreciation since 2000 – worse even than Michigan, which suffered the Detroit bankruptcy. Property taxes are a big reason for that. The Tax Foundation just released new numbers showing Illinoisans still pay the nation's second highest taxes. 
Then there's the threat of even more bad news. Illinois leads the nation for counties most at risk of a housing market downturn – as if residents in cities like Decatur can handle more losses. 
And about those most-in-the-country units of government, nothing's been done there either. It's just part of the massive government bloat that ensures property taxes only go higher. 
Here are some of the reasons why it stinks to be a homeowner in Illinois:
1. Illinois is the nation's worst state for home appreciation. 
Yes, home prices have jumped in some parts of Illinois in the last couple of years. Pandemic disruptions and the trillions poured into the economy by the federal government have boosted nominal values as people have escaped Chicago and moved to the suburbs.
But the short-term blip can't hide the fact that Illinois home values, after taking into account inflation, have only appreciated 13 percent over the past two decades – the nation's worst growth. 
Compare that to Texas and Florida, where home values are up 100 percent, or to the mountain states like Montana and Idaho where prices have grown 117 percent and 139 percent, respectively. Even Illinois' neighbors' prices – though worse than the national average – still managed to grow two to three times more than in Illinois.
For Illinoisans hoping to grow their property nest-eggs for retirement, beware. It's likely to get worse. Illinoisans are leaving in record numbers and the state's pension crisis is pushing governments further into debt. Higher taxes are inevitable.
2. Twelve Illinois counties among the 50 property markets nationwide most 'at-risk' of a downturn
What's worse, home values here are in danger of falling. Illinois is home to 12 of the nation's 50 housing markets most at-risk of a downturn according to ATTOM Data Solutions, a company that provides comprehensive data on property values and taxes across the nation.
Macon County, home of the struggling city of Decatur, is ranked the 2nd-most at-risk market in the entire country, behind only Essex County, New Jersey.
And the Chicago metro area is, collectively, among the most "vulnerable to decline" markets along with the New Jersey-NYC metro area. 
Property in DeKalb County is ranked the 15th-most at-risk of a decline. Cook County is 24th. Will County is 41st and Kendall County is the nation's 46th most at-risk. 
Downstate communities besides Decatur are also in trouble. St. Clair County, where East St. Louis and Belleville are located, is the nation's 17th-most at-risk market. And Peoria is 34th.
Many of those places are already struggling with poor economies, dismal educational outcomes and fleeing residents. A property market downturn will only add to their woes.
3. Illinois property taxes are still the nation's 2nd-highest
One of the reasons why Illinois' home prices are so low is due to the 2nd-highest property taxes in the nation. The more of a homebuyers' income that has to go to property taxes, the less they have to pay up for a home, which depresses home prices. 
Illinois' 2.1 percent rate is only beaten by New Jersey's 2.2 percent rate, though whether Illinois or New Jersey takes the top spot for property taxes tends to change depending on who you ask.
Regardless, Illinois property taxes are more than double the effective rate that residents in Missouri pay (1.0 percent) and 2.5 times what Indianans (0.8 percent) and Kentuckians (0.8 percent) pay.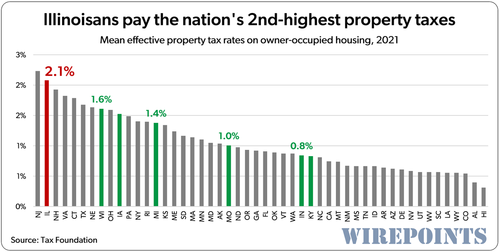 4. Illinois residents pay for too many local governments.
Illinoisans are swamped by many overlapping and duplicative governments. Nearly 7,000, the most in the nation. 
Yes, local control is important, but Illinois often has too many taxing governments for one person to keep track of, let alone to try and keep accountable. Some residents, like those living in parts of Elgin, are subject to 13 taxing governments – from the county to the city, township, library district, park district, cemetery district, and many, many more.
All those governments have bureaucrats that run them, and that means additional property taxes to fund the salaries, benefits and pensions of those officials.
We outlined the expenses of one of Illinois' worst offenders, the state's 850-plus school districts, in Administrators over kids: Seven ways Illinois' education bureaucracy siphons money from classrooms.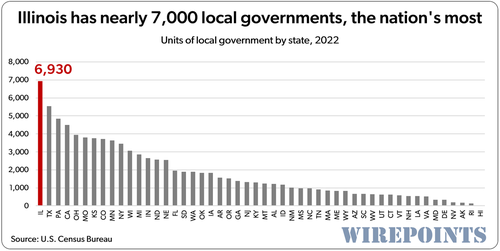 Nothing done
Gov. Pritzker needs to be held accountable for his failure to do anything about property taxes and the state's too-many 7,000 units of local government. 
He's got no excuse for breaking the promises he made. He certainly can't blame the few Republicans in office – the governor has the supermajorities in both chambers to pass whatever "reforms" he desires.
Unfortunately, making property taxes more bearable is not among Pritzker's priorities. His five years of no action is proof enough of that.
Until that changes, Illinois will remain one of the worst states to own a home.
Loading…