Several years ago, roughly around the time Masa Son's SoftBank launched a truly unprecedented, historic capital misallocation campaign (which will one day be a case study in how to vaporize tens of billions), which was nothing more than a levered bet on easy monetary policy and central banks reflating markets, and also around the time we first asked if "SoftBank was the Bubble Era's "Short Of The Century", his earnings presentations were filled with jolly-if-ridiculous, unicorn-riddlged slides such as these pitching the financial conglomerates ill-fated foray into "AI":
And speaking of Artificial Intelligence, where according to SoftBank every entrepreneur in world was somehow an key cog in the AI wheel…
… and where SoftBank saw itself as the "conductor" of the "AI revolution"…
… despite burning billions in shareholder capital, Masa Son still has nothing at all to show for it, not even some woke chat.
Instead, what Masa does have to show is a neverending series of investment disasters in companies that have either ended up worthless, or frauds, or worthless frauds – reminded the world how easily Wall Street is duped by confident-sounding one-hit-wonders in fancy suits.
Sure enough, overnight Japan's VC dumpster fire conglomerate SoftBank racked up another huge loss in the July-September quarter as its "technology" investments, most notably WeWork, went (even more) sour.
SoftBank's loss totaled 931 billion yen ($6.2 billion) in the last quarter; analysts had expected a net profit of ¥180.8bn, according to S&P Capital IQ. The group had made ¥3tn in net profit in the same quarter last year after selling a stake in Chinese ecommerce group Alibaba.
And while SoftBank has a "sprawling" investment portfolio and tends to have erratic financial results that fluctuate with market trends (one of Warren Buffett's big laments too, which is why he uses operating income), lately the company's cumulative investment performance has been nothing short of a disaster as the chart below shows.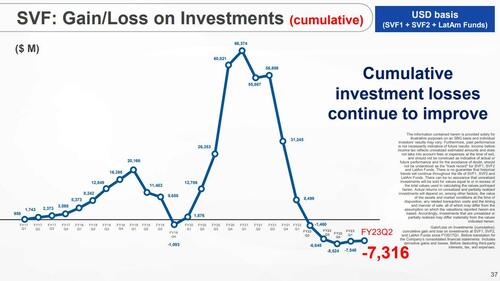 And while SoftBank did everything in its power to turn attention to the recent IPO of ARM – which at least hasn't imploded just yet – dedicating like 90% of all pages in its bevy of Q3 investor and earnings presentations, what the investing public was more interested in was how the company's was impacted by its former "golden egg", WeWork, which filed for Chapter 11 this week amid turmoil in the U.S. commercial real estate market (and which was barely mention in the earnings presentation despite being responsible for the bulk of the Q3 loss).
Well, as hinted above, SoftBank's flagship Vision Fund reported another loss with the drop in valuations at WeWork and other portfolio companies, on top of foreign exchange losses. The Vision Fund segment lost ¥258.9 billion ($1.7 billion) through the end of September, including declines in the value of holdings such as SenseTime Group, AutoStore and Symbotic. The Vision Fund unit has lost $53 billion in the last two years on startup missteps (The recent $4.9 billion initial public offering of chip unit Arm Holdings Plc has given SoftBank some capital to pursue deals).
And yes, the company finally wrote down the value of WeWork, where it holds a nearly 80% stake, and disclosed its cumulative losses from backing the office-sharing startup were $14.2 billion through September, though that figure may rise with WeWork's bankruptcy filing this week.
The persistent losses, Bloomberg quips, have cast doubt over SoftBank's claims that the worst is over for the Vision Fund, which funneled more than $140 billion into hundreds of money-losing startups worldwide. There's little visibility into the performance of the majority of the Vision Fund's unlisted portfolio companies.
"It's hard to be optimistic, as there's a bit of uncertainty over how things will develop in the near term," said Tomoaki Kawasaki, a senior analyst at Iwai Cosmo Securities Co. "But attention is now on how and whether SoftBank's investments in AI-related firms will boost shareholder value and net asset value."
So far the answer is a resounding no.
As an aside, how do you know if SoftBank had another shitty quarter? Answer: if Masa Son is not physically present at the investor conference. After good quarters, he loves being the one showing off the idiotic unicorn slides or, worse, golden goose (like this one from the Q3 slidedeck).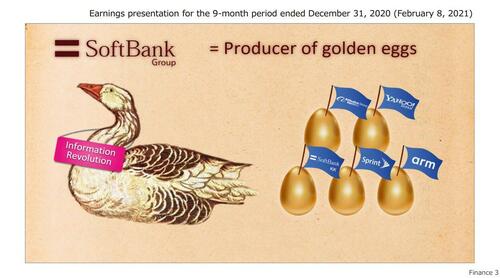 But today Masa was missing, and instead chief financial officer, Yoshimitsu Goto, was in charge of allaying investor worries, stressing in an online news conference that the company was still going strong overall, making cautious investment decisions and plans to keep growing.
Goto did the only thing he could, and leaned into the positives from the quarter. He said the value of Arm is now about three-fold its investment, from ¥3.3 trillion to ¥8.5 trillion. He also said there is more than $29 billion of assets in its portfolio that SoftBank may be able to cash in soon, calling out TikTok parent ByteDance Ltd., Fanatics Inc. and PayPay Corp.
"SoftBank is now in investment mode," Goto said during the investor presentation. "We're investing two to three times more than we did on a quarterly basis, compared with the same period a year ago." Translation: the company has reverted back to cash incineration mode, "allocating capital" to grifters and smooth-talking frauds, and ensuring even more losses for softbank shareholders.
Still, SoftBank said it invested $1.5 billion in the September quarter and $1.8 billion a quarter earlier. That's far below the tens of billions of dollars it invested quarterly in its heyday.
Goto also comically pointed out that by certain metrics, the Vision Fund "made money on investments in the latest quarter", a figure it lists as ¥33.8 billion. Of course, like every pro forma metric, this too excludes a host of expenses at the Vision Fund, including changes in third-party interests, SG&A and an unspecified category of "other loss."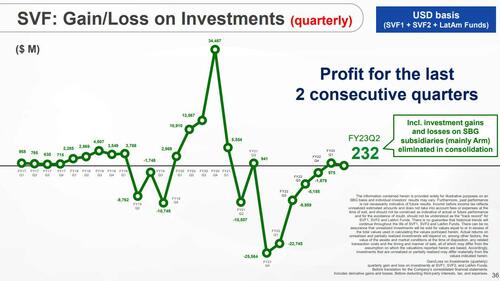 Essentially, bullshit, and analysts agreed, repeating their skepticism, especially because SoftBank – formerly a stock repurchasing machine – hasn't committed to buy back its own shares.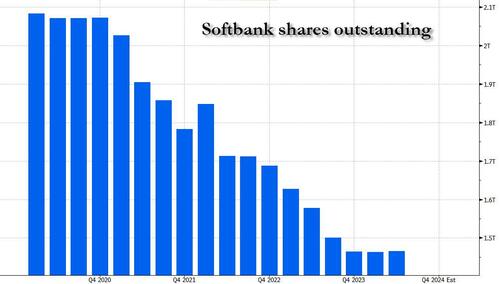 "It was a disappointing quarter. We didn't expect them to take impairment charges for private investments and at a higher rate than the last quarter," said Kirk Boodry, a SoftBank analyst at Astris Advisory in Tokyo, highlighting $2.9bn of writedowns in the private portfolio at the group's flagship Vision Funds.
Doing what he does best, or rather worst, Masa Son has made a series of bets this year on autonomous technologies, particularly in transportation and logistics. They include investments in autonomous trucking startup Stack AV, an AI-using warehousing joint venture with Symbotic and a follow-on investment in Vision Fund portfolio firm and navigation software maker Mapbox. We fully expect all of them will be doughnuts in the near future.
As SoftBank invested billions of dollars in unprofitable startups beginning in 2017, it inflated valuations worldwide before they were punctured by China's tech crackdown from 2020 and the US Federal Reserve's rate hikes last year. In the past year, the company has been busier writing down its historical losses than investing.
At the end of September, SoftBank Group had approximately 110 portfolio companies, including Alibaba, T-Mobile US Inc. and Deutsche Telekom AG…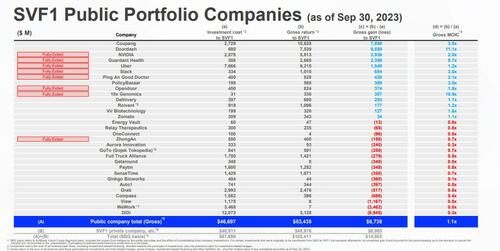 … but the pride and joy of the company is  Arm Holdings, which recently IPOed, and – shocker – just gave a disappointing sales forecast on a prolonged smartphone slump and uncertainty regarding license agreements, sending the stock down in late trading to below its September IPO price of $51 per share.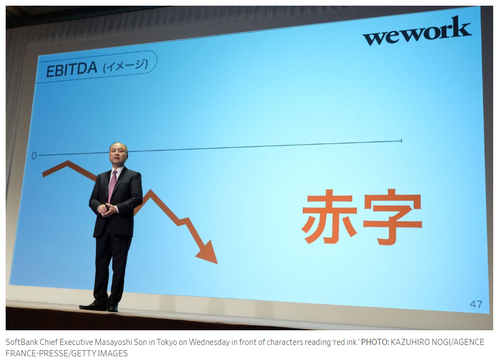 Loading…