Voters in New Zealand on Saturday ousted the party once led by Jacinda Ardern, and have instead elected the country's most conservative government in decades.
Turns out forcing your citizens to take vaccines, decreeing state news the only 'truth,' and locking up peaceful protesters opposed pandemic authoritarianism did not go over well.
On Saturday, conservative Christopher Luxon was elected New Zealand's next prime minister. While the exact makeup of Luxon's government has yet to be determined, his center-right National party looks set to form a coalition government with one or two minor parties.
The National Party will likely combine its indicated 50 seats with the ACT party (11 seats), to give them 61 seats, providing a slim majority in the 121-seat New Zealand parliament. As Goldman notes, the results are largely in line with pre-election polling, with the incumbent Labour party on track to lose their outright majority in parliament for the first time since 2017.
"You have reached for hope and you have voted for change," Luxon told supporters to rapturous applause at an event in Auckland, alongside his wife Amanda and their children.
Outgoing Prime Mininster Chris Hipkins, who's held the job for nine months following the abrupt resignation of Jacinda Ardern, told supporters late Saturday that he'd called Luxon to concede.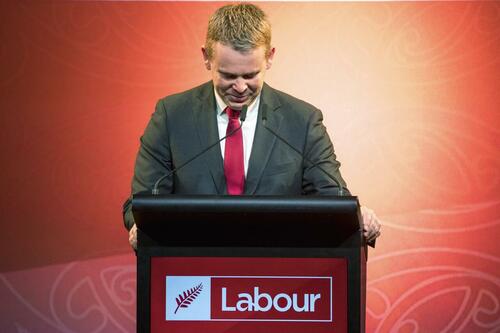 Hipkins said that while the result wasn't his desired outcome, "I want you to be proud of what we achieved over the last six years," he told supporters in Wellington.
On the economic front, Goldman notes that Luxon's party has vowed to reduce effective tax rates on incomes and investment parties. And while National has pledged to offset the fiscal impact of tax cuts with savings elsewhere, Goldman sees the risks as "skewed to more stimulatory fiscal policy in 2024" vs New Zealand's current fiscal projections.
The proposed tax cuts and new spending amounts to around 0.8% of annual GDP, which would boost household disposable income by around 1.5% and also provide a tailwind to house prices in 2024. While National has pledged to offset the new spending and lower taxes with a reduction in spending and new taxes, overall we view the risks as skewed to more fiscal stimulus (compared to the current fiscal projections) and additional rate hikes from the RBNZ (GSe: base case on hold at 5.5%).
Luxon has also addressed crime in New Zealand, telling supporters that it's "out of control," adding "And we are going to restore law and order, and we are going to restore personal responsibility."
He's also vowed to fix the capital's traffic woes with a new tunnel project.
Loading…