Authorities in Maine are investigating three active shooter events and a suspect remains at large, the Androscoggin County Sheriff's Office said in a post on Facebook.
"We are encouraging all businesses to lock down and or close while we investigate," the sheriff's office said.
As The Sun Journal reports, police, fire and rescue personnel descended on Sparetime Recreation on Mollison Way about 7:15 p.m. after a report of an active shooter.
Shortly after, reports came in that there was another shooting at Schemengees Bar & Grille Restaurant on Lincoln Street.
Lewiston public information officer Derrick St. Laurent told the Sun Journal at about 8:15 p.m. that another shooting was reported at the Walmart Distribution Center on Alfred A Plourde Parkway.
Early reports, though unconfirmed by police as of 8 p.m., were that multiple people had been shot, with some fatalities possible.
🚨#BREAKING: Mass Casualty Incident Declared as Active Shooter Strikes Multiple Locations

Currently, numerous emergency personnel and other authorities are responding to an active shooter in Lewiston, Maine. Reports indicate that at least 16 people,… pic.twitter.com/M3S6TAcp9l

— R A W S A L E R T S (@rawsalerts) October 26, 2023
The Sheriff's office released this image of the alleged suspect….
Maine State Police also said they are responding to an active shooter situation in Lewiston in a post on Facebook.
"Please stay inside your home with the doors locked," state police said.

"If you see any suspicious activity or individuals please call 911."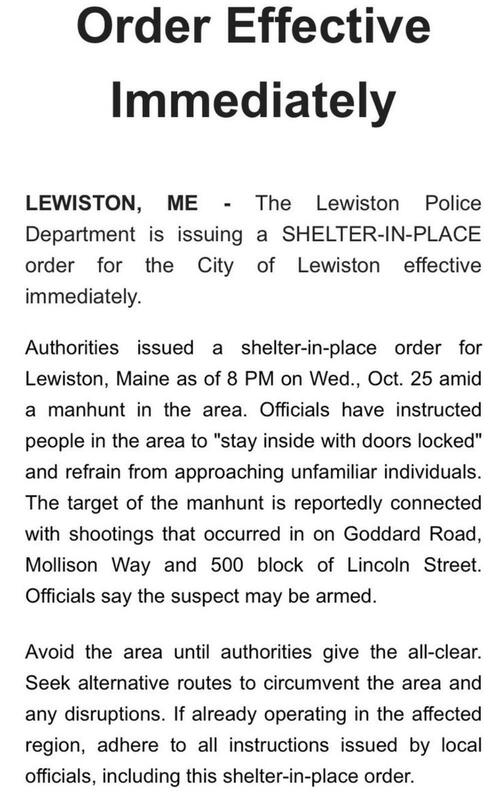 Developing…
Loading…