As the race for the Speaker of the House unfolds, Senate Republicans are split between a mainstream candidate and a populist. 
The mainstream faction has largely thrown their support behind Majority Leader Steve Scalise (R-LA) – who they see as a stabilizing force that can best collaborate with Senate Republican Leader Mitch McConnell (R-KY) in guiding must-pass bills through legislative intricacies. To these Senate Republicans, a rapid transition to Scalise's leadership is deemed imperative to appease voter apprehensions regarding the GOP's governing capabilities.
On Wednesday, McConnell expressed disappointment over the ouster of Kevin McCarthy (R-CA).
"The Speaker and I worked closely throughout his tenure, but I was particularly struck by his persistence. He literally willed the President of the United States to the negotiating table and kept coming back again and again until he had helped secure the nation's full faith and credit," he said on the Senate floor, praising McCarthy as "a partner I could trust to be honest and candid."
Conversely, MAGA-aligned populists are rallying behind Rep. Jim Jordan (R-OH), who enjoys the robust endorsement of former President Trump. Jordan, championed as a "fighter" by his proponents, is praised for his unyielding stance against opposition and dedication to disrupting Washington's established order. His leadership symbolizes an assertive, defiant GOP, unafraid to engage in unbridled confrontations.
"Jim Jordan is a fighter that doesn't back down, and that's what we need to secure the border and stop Joe Biden's inflation bomb agenda. He would stand up to the D.C. establishment and serve the American people well as Speaker of the House," said Sen. Mike Braun (R-IN).
According to GOP strategist and former Senate and House GOP leadership aid Ron Bonjean, Jordan is a "hardliner," but that could help him if he can convince his party that he'd be best to deal with the conservative hardliners in the House Freedom Caucus.
"A number of Republican are attracted to Jordan because they feel that the Freedom Caucus won't cause trouble for the entire conference and that they will be kept at bay, which is not necessarily true because as Speaker you can't take completely hardline positions, you have to figure out a path forward. That will be a different place for Jordan to operate. That's not his comfort zone. He's a partisan hardliner that generates plenty of headlines that please the [party] base," said Bonjean, adding "It makes sense that they would prefer Scalise because he's in leadership now and he understands how deals get made."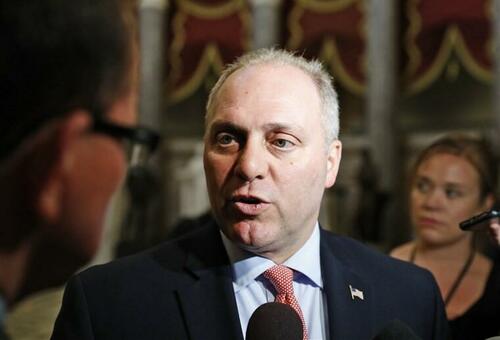 Uniparty Republicans within the party have warned against aggressive moves like the impeachment inquiry led by Jordan – instead arguing that Jordan leave the Bidens alone and instead shift towards issues of broader appeal to the electorate, such as the economy, border security, and crime, ahead of the pivotal 2024 election.
Instead of a ball buster, Scalise emerges as a bridge-builder, bearing resemblances to McCarthy – who wanted to heap more money on Ukraine, a move which has become increasingly unpopular among the base.
"It is kind of a classic contest between the inside candidate and the outside candidate and each of them have strengths in both areas. I think Scalise would be masterful leader inside the institution and negotiating with the Democrats but I also see that Jordan would be an excellent spokesperson for the outside world," GOP strategist Vin Weber told The Hill.
As the undercurrents of power dynamics swirl, the GOP finds itself at a critical juncture. The path they choose now – whether to align with Scalise's traditional, cooperative approach or Jordan's combative, populist style – will indubitably sculpt the party's trajectory.
"While most people don't really care who the Speaker of the House is they do care about whether the party itself is acting in a reasonable and thoughtful manner," said Republican strategist, Scott Jennings, who says that if voters think the GOP-controlled house is in "constant chaos and not able to work with the Senate on advancing conservative or Republican priorities," it could have a serious impact on their 2024 ambitions.
Loading…