District court judge Analisa Torres has rejected the SEC's motion to appeal its loss against Ripple Labs, the company responsible for issuing the XRP token.
The SEC needed Torres' permission to appeal her ruling because it wasn't a final judgment.
The regulator was also seeking to put on hold its suit against Ripple for allegedly offering unregistered securities while the appeal is pending.
As CoinTelegraph's Tom Mitchellhill reports, in the court order, Judge Torres denied the SEC's motion, claiming that the regulator failed to meet its burden to show that there were controlling questions of law or that there were substantial grounds for differences of opinion on the matter.
"The SEC's motion for certification of interlocutory appeal is denied, and the SEC's request for a stay is denied as moot."
As a reminder, Bloomberg reports that Torres' initial ruling was widely hailed as a victory for the crypto industry, which has resisted attempts to categorize digital assets as securities subject to regulation.
In her July 13 decision, Torres drew a distinction between sales of XRP to institutional investors, which she said met the test for an investment contract under federal securities law, and sales to the public on exchanges.
Ripple's XRP token is up over 6% following the headlines…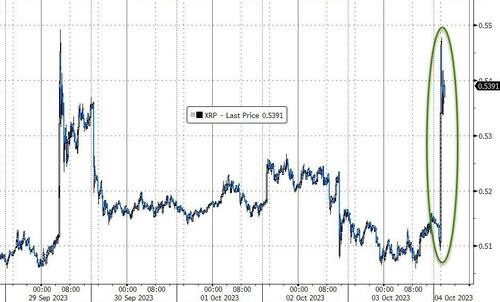 Notably, the decision isn't an outright loss for the regulator, as judge Torres scheduled a trial for April 23, 2024 to address the remaining issues on the matter.
Loading…