Doctors in Gaza have sent out an "SOS message" to the world, saying that after four straight nights of the biggest Israeli air campaign in years (or perhaps history), all civil services including electricity, fuel and water are suffering collapse.
Officials at Shifa Hospital in Gaza City have further claimed the Israelis are targeting first responders, as the death toll among Palestinians has soared passed 940, with at least 140 children among the dead. An estimated 263,000 Palestinians have been displaced thus far.
Israel has also revised its numbers, announcing the gruesome Hamas attack on Saturday into Sunday killed over 1,200 Israelis. Among these were at least 14 Americans and many other foreign citizens.
A Gaza health official announced Wednesday, "We are suffering … and the world is not moving a finger. This is an SOS to the whole world… you must help us," and further confirmed Gaza's sole power plant has run out of fuel. Israel had already cut all external electricity and water supply sources.
Al Jazeera has cited its correspondent to say Gaza residents are "trapped in a cage" with nowhere to exit amid the unrelenting Israeli airstrikes: 
Gaza has been completely locked up by Israel, and it was already in a deteriorating humanitarian condition for many years because of a long-lasting blockade.

But these five days have been extraordinary. A complete blockade, no power, no water, no food supply, no medical supply and on top of all of that, continuous bombardment.

All supplies are running out since there are no open emergency or humanitarian corridors for any kind of aid to enter the Gaza Strip. The people are trapped in a cage with no access to help from the outside.
Reports of Palestinian medics killed…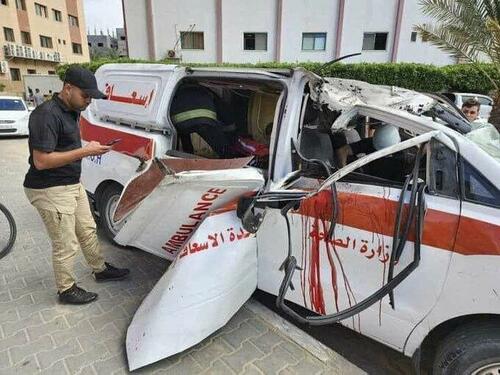 Controversially, the Biden administration says it is in talks with the Egyptian government and regional officials to establish a humanitarian corridor through which Palestinian civilians, particularly American citizens and passport holders still stuck in the strip, could evacuate.
"President Joe Biden's administration began coordinating with other countries to set up a humanitarian passage through Egypt to evacuate Palestinians and citizens holding American nationality, Kan reported," regional sources say. "The Israeli channel did not provide further details regarding which Palestinians would be allowed to leave the heavily bombarded enclave, or where they would be settled upon reaching Egyptian territory."
Israel using white phosphorus shells in the Port of Gaza, densely populated with civilians pic.twitter.com/2HmGkILxLL

— What the media hides. (@narrative_hole) October 11, 2023
But skeptics of the humanitarian corridor plan have presented the following key questions:
How would Gazans actually make it to the 'humanitarian corridor' exit amid the constant bombs?
How can Egypt, itself suffering economically and with lack of infrastructure, hope to resettle all these refugees?
Would this be facilitating a massive demographic 'emptying out' of Gaza by encouraging the population to leave, instead of world powers pursuing a ceasefire deal?
On Tuesday, Israel bombed the lone border crossing between Gaza and Egypt. There are over 2 million Palestinians in the Gaza Strip packed into an area just a few square miles in size. The Rafah crossing is essentially the only possibility of escape for Gaza civilians. The Washington Post has noted, "the Gaza Strip is just over twice the size of Washington, D.C., but has triple the population" – at around 2.3 million people.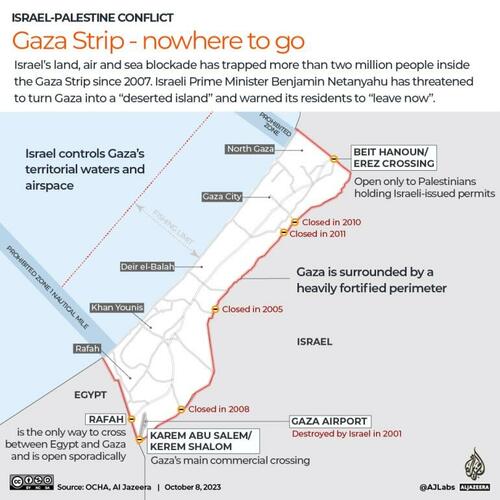 And now the population is dealing with a total blackout and lack of communications, also as an Israeli ground incursion is looming: 
"The situation is exceptional and horrible on the ground", Ziad Shehadah, general manager from Humanitarian Care Malaysia, has told Al Jazeera as humanitarian workers attempt to deliver aid in Gaza.

"We are trying to provide them [people who fled from their houses to UNRWA schools] with food packs, pillows, blankets and so on, but we are facing two problems. First, most of the supplies are stored near the border, so it's unreachable. The second point is that most of the products are about to finish," Shehadah said.
🇵🇸🇮🇱🚨‼️ BREAKING: Video analysis shows that they specifically target the foundation of houses with two JDAMs at once … to ensure their collaps.

-> With this method, nothing will be standing soon! pic.twitter.com/muY4xPCbX2

— Lord Bebo (@MyLordBebo) October 10, 2023
While the US and West has focused on the horrific images and reporting to come out of the terror massacre of Israelis that happened over the weekend, Palestinian officials have accused the West of dehumanizing Gazan civilians. 
This was on full display during the following heated exchange at the State Department on Tuesday:
After Biden cheered on Israel's decimation of Gaza, The Grayzone's @MaxBlumenthal challenged the State Dept on the calls for genocide and collective punishment by Israeli leaders, and pressed @StateDeptSpox to acknowledge that Israel has killed masses of children this week pic.twitter.com/hskUQOrcUj

— The Grayzone (@TheGrayzoneNews) October 10, 2023
The US has repeatedly asserted the right of Israel to defend itself against the heinous terror attacks of Hamas and Palestinian Islamic Jihad (PIJ), also at a moment hundreds of rockets continue to be fired from Gaza, but at the same time the majority of Palestinian victims from the Israeli bombing campaign are civilians, including women and children. 
Israel has countered that Hamas hides among civilian residences and facilities, making 'collateral damage' all but impossible to avoid.
Footage captured in the streets of Gaza showcases the destruction caused by Israeli air strikes over the past days.

At least 950 Palestinians have been killed since Israel began launching air strikes on Gaza, after an attack on Israel by Palestinian fighters on Saturday. pic.twitter.com/YxihotPogj

— Middle East Eye (@MiddleEastEye) October 11, 2023
Critics have said that Israel's military disregards civilians, and that recent statements of Israeli officials point to a genocide in progress. Israel has said it is Hamas terrorists committing genocide against Jews.
Loading…