Ryan Preclaw, head of research investment sciences at Barclays, stated last December that wealthy consumers were beginning to dial back spending as "it may be the start of a luxury recession." Fast forward to summer, when we pointed out that diamond and Rolex watch prices were in free fall. Then, in the last several weeks, we penned two notes, one from JPM Markets Desk that warned, "Sentiment is quickly turning very negative across US consumer," and another from several other banks that show credit card spending unexpectedly cratered in September. 
Given the weakness of the US consumer, as well as ongoing threats of a global trade slowdown, it is no surprise that sales of Mercedes-Benz Group AG's luxury vehicles, such as the S-Class, dropped in the third quarter, according to Bloomberg. 
Mercedes reported an 11% decline in premium vehicle sales, totaling 69,900 units in the quarter compared to the same quarter last year. On Tuesday, the automaker disclosed that worldwide sales for its flagship S-Class model recorded an 18% drop. Additionally, sales in China, the brand's largest market for the model, tumbled 12%. 
Bloomberg said Chief Executive Officer Ola Källenius would redirect resources toward the most expensive vehicles, including the Maybach limousines, AMG performance cars, and G-Wagon, while shifting resources away from entry-level models like the compact A-Class. 
The sales slump and move by Källenius are possible signs the German automaker could be preparing for a global economic downturn. Days ago, the World Trade Organization warned: "The trade slowdown appears to be broad-based, involving a large number of countries and a wide array of goods," adding, "Trade growth should pick up next year accompanied by slow but stable GDP growth."
But what happens if global trade doesn't pick up steam next year? 
That could be why Goldman Sachs' survey of America's executives shows 84% of them are preparing for a recession in the next 12-18 months. 
Meanwhile, a new market survey of Deutsche Bank clients found that more respondents were "nervous about yield-led global accidents." 
And a majority of respondents expect a recession in 2024.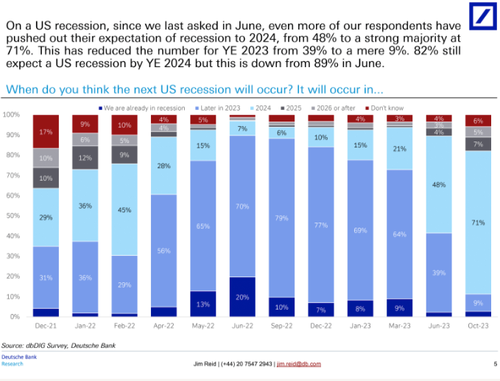 The signs of consumers, the wealthy and the working poor, pulling back on spending, such as diamonds, Rolexes, and now luxury S-Class sedans, should be a warning sign of trouble ahead. 
Loading…