Exxon Mobil Corp. is buying Pioneer Natural Resources in an all-stock transaction valued at $59.5 billion, or $253 per share, based on ExxonMobil's closing stock price on Oct. 5. The supermajor's largest takeover in more than two decades will make it a dominant producer of shale oil – as well as being extraordinary transformational for the US energy sector that might unleash another shale revolution.  
As part of the agreement, Pioneer shareholders will receive 2.3234 shares of ExxonMobil for each Pioneer share at closing. The deal (implied total enterprise value of the transaction, including net debt, is approximately $64.5 billion), the largest since Exxon's corporate takeover of Mobil Corp. in 1999, is also the world's largest corporate takeover announced this year and will close in the first half of 2024. 
ExxonMobil's Permian production volume would double to 1.3 million barrels of oil equivalent per day (MOEBD), based on 2023 volumes, and could exceed 2 MOEBD in 2027. "ExxonMobil believes the transaction represents an opportunity for even greater US energy security by bringing the best technologies, operational excellence, and financial capability to an important source of domestic supply, benefitting the American economy and its consumers," the company said. 
When the deal is finalized, Exxon will be crowned 'king shale' in the Permian Basin of Texas and New Mexico and increase the company's daily production to nearly 4.5 million barrels per day – more than 50% than the next largest supermajor. 
"Pioneer is a clear leader in the Permian with a unique asset base and people with deep industry knowledge. The combined capabilities of our two companies will provide long-term value creation well in excess of what either company is capable of doing on a standalone basis," said ExxonMobil Chairman and CEO Darren Woods.
The transaction amounts to an 18% premium for Pioneer investors, based on the closing price on Oct. 5. Bloomberg quoted Pioneer CEO as saying this stock will be the best to own over the next several years. 
*PIONEER CEO: EXXON IS BEST STOCK TO OWN OVER NEXT SEVERAL YEARS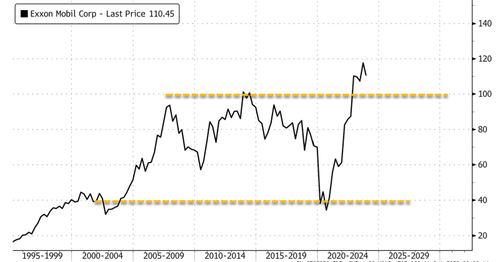 Pioneer Chief Executive Officer Scott Sheffield commented, "The combination of ExxonMobil and Pioneer creates a diversified energy company with the largest footprint of high-return wells in the Permian Basin.
The announcement comes after we reported last Thursday, Exxon "Days Away" From Buying Shale Giant Pioneer In "Seismic Deal" That Will Reshape US Energy. 
We noted this deal would not only eclipse the US oil industry's most recent blockbuster, Occidental's 2019 acquisition of Anadarko Petroleum for about $38 billion, and top Exxon's 2010 purchase of XTO Energy for more than $30 billion. It would make Exxon the second most important energy company in the world after Saudi Aramco.
It would also be a legacy-shaping move for Exxon CEO Woods, whose tenure at the company has seen its peaks and valleys.
Woods, who became CEO in 2017, initially promised to dramatically grow Exxon's oil production, only to see his plans ruined by the virus pandemic. An oil market collapse in 2020 led to Exxon's first annual loss in decades—more than $22 billion. It lost a historic proxy fight in 2021 to investment firm Engine No. 1, which criticized Exxon's finances and argued it had no long-term strategy. Now, Exxon sees $2 billion a year in synergies on the new deal. 
And yet, without any handouts from the Biden admin, unlike so many of its unionized corporate peers, Exxon rebounded to a record profit of $55.7 billion last year, propelled by soaring global demand for oil and gas as economies reopened. Exxon has used its prolific cash flows to reward investors with buybacks and dividends and pledged disciplined spending. However, many wondered whether the company would dip into its coffers for a megadeal in the oil patch.
We now know the answer.
This is also great news for the Strategic Petroleum Reserve that the Biden administration has been so hell-bent in draining.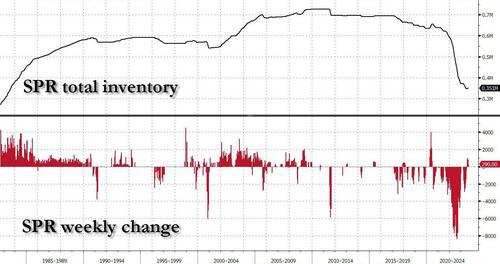 Exxon's mega deal is yet another sign fossil fuels aren't going anywhere. 
Loading…