Wealthy Los Angeles homeowners are having a tough time selling amid a new tax on luxury sales, and turmoil in the entertainment industry. Rather than unloading their mansions in a sluggish market, many homeowners have resorted to renting them out, Bloomberg reports.
Rob DeSantis, a serial entrepreneur who cofounded Ariba and was an early investor in LinkedIn Corp, is a prime example of this trend. He recently placed his 13,000 sqft Manhattan Beach estate on the rental market for $150,000 per month. "This is a hedge," DeSantis said. "I believe leasing it out will highlight the value of the property in a much better way."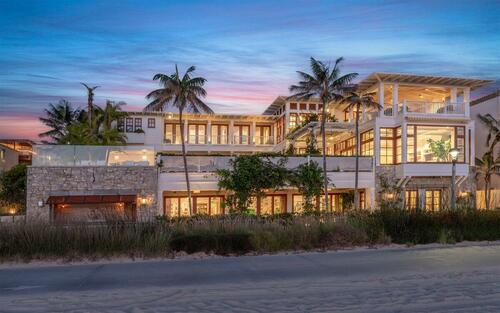 The broader Los Angeles area is not immune to the downturn affecting the U.S. housing market. Sales have plummeted, with luxury homes lingering on the market for double the time compared to average properties. The new "mansion tax," targeting properties over $5 million, has further complicated matters for sellers.
Patrick Michael, founder and CEO of LA Estate Rentals, sheds light on the situation: "A lot of owners took on homes and mortgages and extra vacation homes when lending criteria was easier" he explained. "I feel like everybody's in panic mode now. Even wealthy owners are asking if I have anybody for their house." Michael – who represents around 250 short and long-term rentals, says he's seen a surge in luxury rentals, likening it to the situation following the 2008 housing crisis.
Los Angeles hasn't been left out of the slowdown that's gripping the US housing market as soaring borrowing costs sideline potential buyers. Home sales in the area are down 26.6% this year through September compared with the same period a year ago, according to data from appraiser Miller Samuel Inc. and brokerage Douglas Elliman Real Estate. Luxury home listings — with a median price of $13.25 million — languished on the market for 73 days, or twice as long as the average single-family house.

But the country's second-largest city is facing added issues of labor strikes. While the studios and actors tentatively agreed to a new contract this week, the strife in Hollywood has upended production for months. Plus, Los Angeles has a new transfer tax on properties selling for at least $5 million. The so-called "mansion tax" survived a lawsuit recently and now makes selling less profitable. It's spurring some owners to find other ways to monetize their rarely used palatial properties. -Bloomberg
Zach Goldsmith, a broker with the Agency, says he's struggled to lease properties in Beverly Hills and the Bel-Air district due to the oversupply of inventory on the market. What's more, the Hollywood strikes have led to a reduction in productions that often rent luxury homes for locations, decreasing demand for high-end rentals.
"Because of the strikes, that well dried up," said Goldsmith.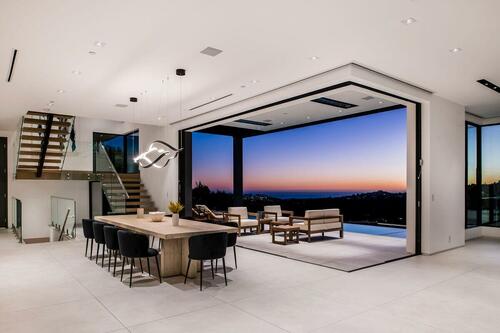 As a result, rental prices are under pressure. Michael anticipates a significant drop in asking rents, potentially by as much as 35% over the next six to 12 months. Even homes that once fetched high prices are now seeing reduced rental rates. Most of Michael's properties have been offered at reduced prices for leases longer than four or five months.
"We have to be creative to lure in tenants in this market," he said.
Ken H. Johnson, associate dean at Florida Atlantic University's College of Business, suggests a broader market trend. He notes that the cost of buying is currently about 8% higher than renting in the L.A. area, indicating a potential future decline in both rental and sale prices.
"As the owner of short-term rental, I think you're going to get a supply shock in LA," he said. "A lot of people are cashing out of LA now and moving. You're probably at a peak price."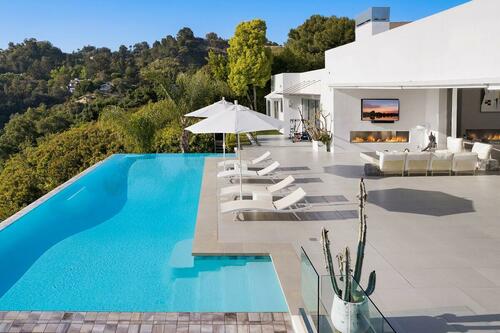 Despite these challenges, leasing remains an attractive option for owners like DeSantis. "People who can afford to lease are probably people who can afford to buy," DeSantis remarked, expressing hope that renting might lead to a future sale. He maintains a realistic yet optimistic view: "Everything has a price. If someone offered me $1 billion now, the answer is definitely 'Yes.' If they offer $90 million, it's a definite 'No.'"
It seems the cracks in the market go all the way to the top.
Loading…