The number of Americans filing for jobless benefits for the first time tumbled back below 200k last week (198k vs 210k exp vs 211k prior). Un-adjusted initial claims declined to 172k, the lowest since Oct 2022…
Source: Bloomberg
Ohio 'Fraud' has been erased completely and claims from that state are near record lows…
Source: Bloomberg
However, Continuing claims accelerated again, up to 1.734mm Americans – highest since July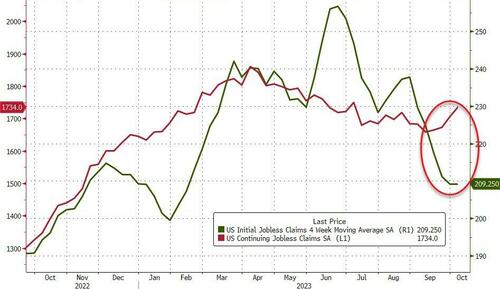 With regard to continuing claims, Goldman reminds us that ongoing seasonal distortions have increasingly weighed on the level of continuing claims over the last six months, and we now expect that the reversal of those distortions could exert a cumulative boost of 375k to the level of continuing claims between now and March.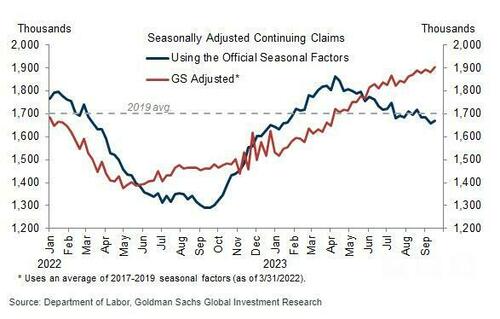 Interestingly, since we highlighted the recent surge trend higher in WARN notices (reminder – The WARN Act obliges employers with more than 100 full-time workers to provide written notice to the state and the workers themselves at least 60-90 days ahead of planned plant closings and mass layoffs), all of a sudden, those WARN notices have collapsed (suddenly out of nowhere the biggest MoM drop since Nov 2020 – COVID vaccines!)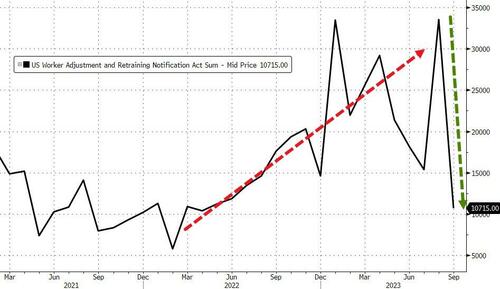 Seasonal adjustments to the rescue again?!
Loading…