Ahead of the highly anticipated talks between President Biden and China's Xi Jinping scheduled for Wednesday on the sidelines of the Asia-Pacific Economic Cooperation summit in San Francisco, Bloomberg News, citing people familiar with the matter, reported that Boeing Co. might secure a deal with China for its 737 Max aircraft following a prolonged commercial freeze. 
The Chinese government could announce a commitment to buy 737 Max jets at the APEC summit. As indicated by people familiar with the situation, this move could be a sign of easing tensions between the world's top superpowers – locked in a trade and tech war and an arms race. However, they also warned that the terms of the deal are still being negotiated and may be altered or entirely dissolved before the meeting on Wednesday. 
Boeing has been shut out of new orders from Chinese carriers since the trade war erupted in 2017. It lost market share in China due to arch-rival Airbus SE. Then, the crash of two Max jets, one in 2019 and the other in 2020, forced Chinese airlines to ground the Max jets. About 90% of the jets have resumed commercial operations as of June. 
In September, Boeing slightly increased its two-decade forecast for new plane deliveries to China, citing growing demand for domestic travel and economic growth. 
On Monday, Stan Deal, head of Boeing's commercial aircraft unit, said in an interview at the Dubai Airshow, "I'm optimistic about the discussions that are going to occur in San Francisco." 
Deal said it's still too early to predict whether a deal will be reached between Beijing and Washington, adding, "Our job is going to be, deliver airplanes one at a time and express to the Chinese the need to replace their fleets and provide growth for the future."
Bloomberg noted, "Boeing is also preparing to deliver the first 737 Max to China since March 2019, when the nation's regulators were the first globally to ground the aircraft. The planemaker has taken about a dozen of the planes earmarked for China out of storage, but work appeared to slow in recent weeks, Jefferies analysts said in a Nov. 6 report." 
Boeing shares have been trading laterally between $250 and $100 since early 2020 and have been halved since peaking in early 2019.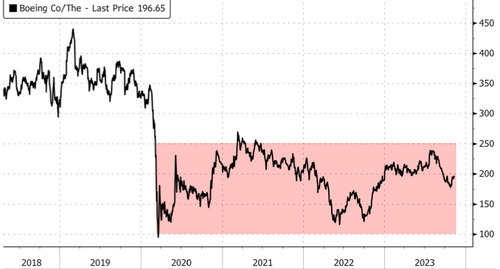 There's always a possibility that a diplomatic issue could emerge between Beijing and Washington before the meeting, potentially jeopardizing the deal that would be a breakthrough for Boeing. 
Loading…